Tuesday will be a blustery day and so feel cooler than Monday in the SW winds. A deep area of low pressure is already throwing cloud and rain over northern and western parts of the UK with strong winds through the Irish Sea and for W.Scotland if you're off on a ferry. Ahead of this frontal band, much of England has clear blue skies and sunshine this morning.
Best of the sunshine today remains in SE Britain with temperatures peaking at 21 or 22C. The wettest parts will be western Scotland, Isle of Arran particularly, Cumbria and Snowdonia, with over 30mm today. Windiest part – the Outer Hebrides with a southerly Gale and gusts 50-60mph.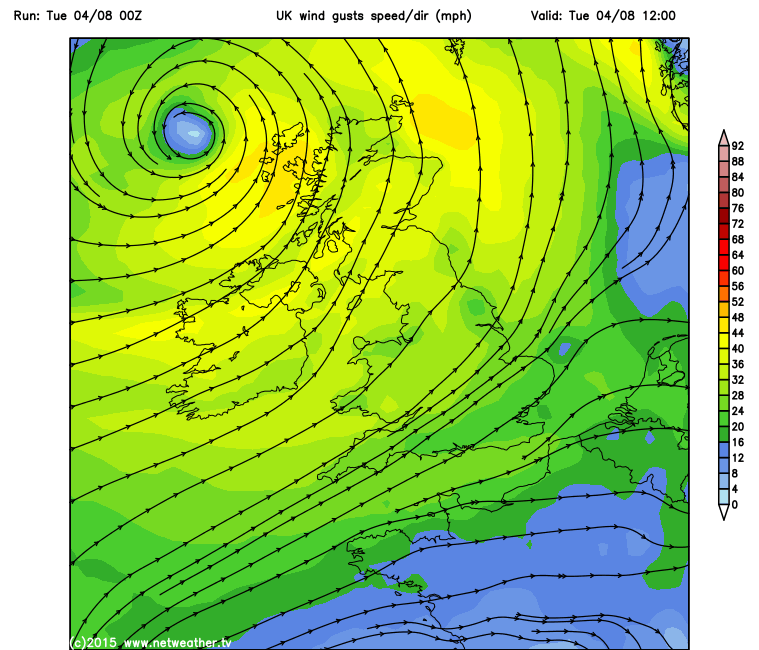 Much of central, eastern and south-eastern England has a great start this morning even though the breeze is picking up. Cloud will increase over the Midlands (17C) and eastern England (18 to 22C) during the day with just the odd shower possible but the emphasis is on a lot of fine and dry weather. The southeast will see move high cloud but keep sunny spells (19 to 22C) with a fresh SW wind around the coast. SW and NW England have more cloud and outbreaks of rain with some heavier bursts this morning for the high ground in Cumbria and Lancs. (14C). SW England will brighten up this afternoon and reach 19C in a fresh SW wind and NE England will manage to see sunny spells this morning, up to 17 or 18C before the cloud increases.
The winds over N.Ireland ease off a touch to fresh and veer to the SW. So a blustery day with temperatures of only 13 to 15C. The heaviest rain today will just sit north of the border from Fermanagh and Tyrone. Elsewhere, it will be cloudy and damp with bright spells coming through in the afternoon away from the NW.