Two very different areas of rain today. N.Ireland and W.Scotland have a wet start to the day from a cold front moving in from the Atlantic with temperatures of 11C. SE Britain is having a noisy start with thunderstorms, localised heavy rain and temperatures in the mid teens, already 18 or 19C in E.Kent. Yesterday NW London saw 23.8C 75F and today has the potential to go several degrees higher with this very warm and humid air over SE England. However, the heavy showers are bringing more cloud and the cold front from the west is also throwing cloud ahead of its rain. The feed of thundery showers from the south will miss the main heat of the day over the UK and have drifted eastwards into the North Sea by this afternoon. Still this morning is giving enough of a lively show, Essex and N.Norfolk showing the brightest echoes on the radar.
A stormy morning for the south east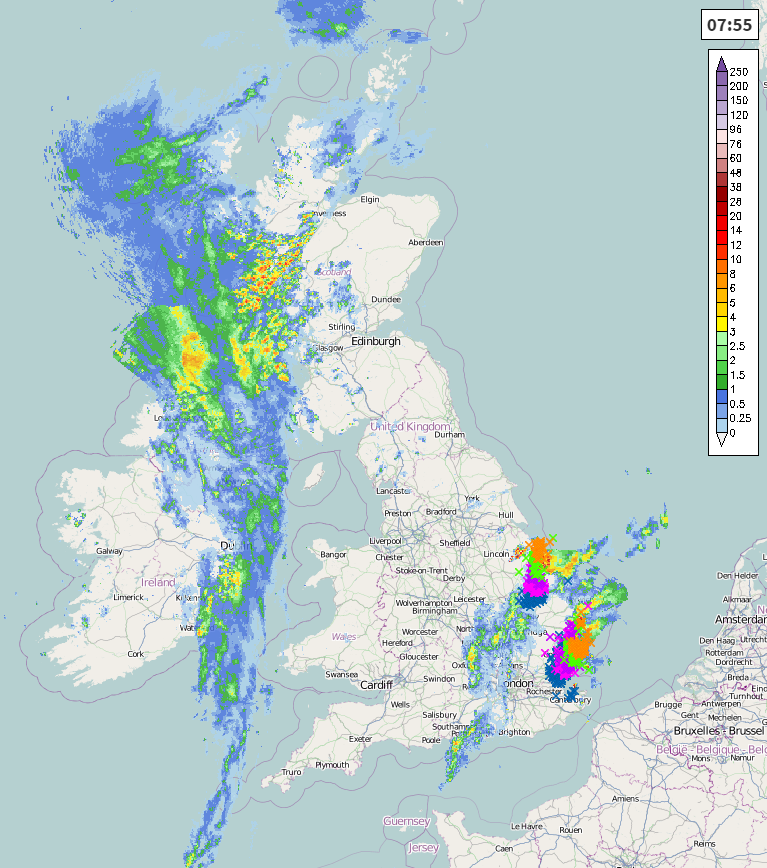 In between these wet areas there is dry, bright weather for the rest of Britain and where the sunshine breaks through the temperatures will rise quickly. Some muggy warmth today with temperatures 18 to 20 for central/ southern and eastern England. SE Britain could 26C maybe higher. Damp and cloudy weather will move into W.Wales and SW & NW England as the front arrives bringing cooler fresher air but some late brightness 14C. N.Ireland brightens up in the afternoon but will feel cool at 14 or 15C. Heavier pulses of rain will move over west and northern Scotland, with temperatures of 12C in the west but still the warmth further east 17C and sunny spells appear later in the day with a few lingering showers. For England it's a mixed day with some spots staying dry and bright, cloud coming and going. It will feel warm and muggy until the cold front moves in from the west with patchy rain by the afternoon. The thundery showers become more isolated for SE Britain by the afternoon in the heat and humidity. Eastern Kent and Essex, E.Norfolk could continue to see early afternoon lightning and downpours along the coast. As always with these downpours they will miss some areas as other spots run the risk of localised flooding in temporarily intense rainfall.
Heat & humidity being squeezed away by cold front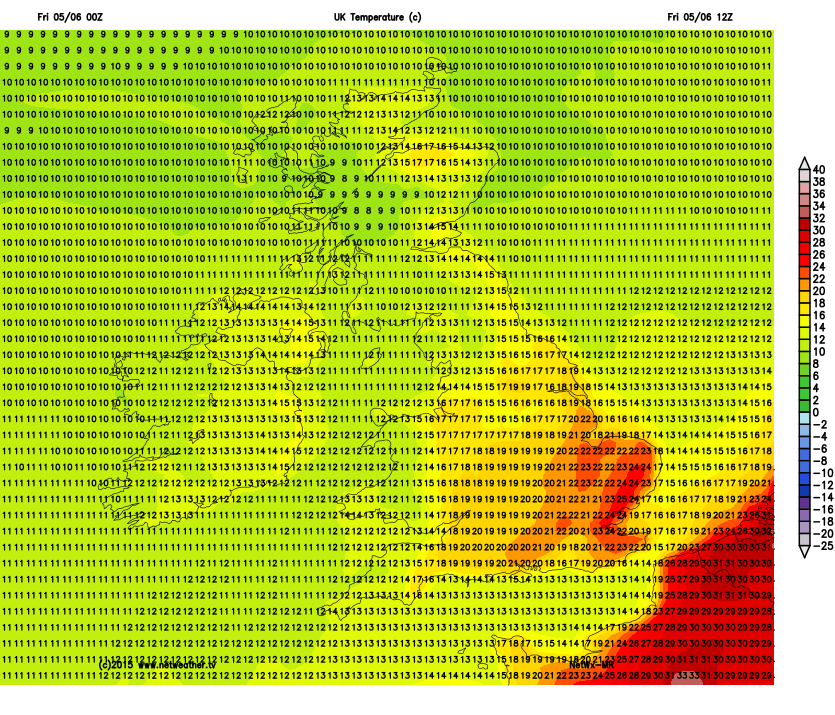 Behind the cold front, a brisk West or SW wind picks up with the cooler fresher air and that flow will clear away all of the muggy humid air, gone! It will be a cool night down to 4 or 5C inland and a low pressure will edge nearer to NW Scotland bringing strong S winds.