The UK is stuck in a bit of a nothing zone at the moment, we have a blocking high pressure to our northeast, low pressure to our west and we're stuck in the middle waiting for one of them to take charge. Eventually that looks likely to be the Atlantic weather, but as we stand the high pressure is resisting any attempts from Atlantic to make any real inroads.
The overall picture for the next few days - much higher than average pressure to our east and northeast.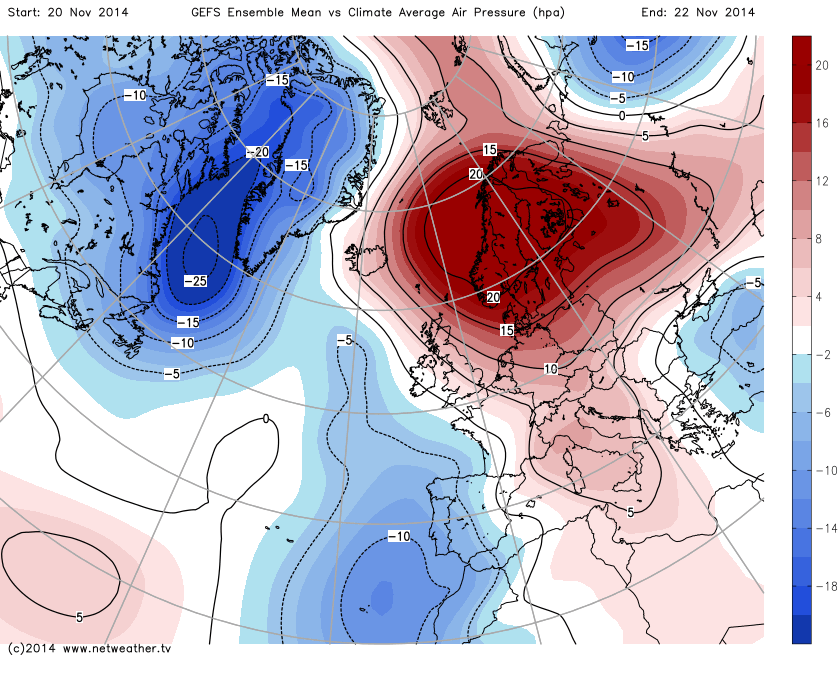 For today, that means we've got plenty of cloud with any sunny spells quite fleeting. We've also got showery rain running down the eastern side of the UK, with the showers quite widespread in northeast England and eastern Scotland - blowing some way inland during the day too. There's also an Atlantic weather front doing it's best to work in from the southwest today as well, it'll make it out of the southwest of England and EIRE, into Wales and Northern Ireland by the end of the day but it's going to be a struggle and it'll be weakening as it heads northeast.
Temperatures will range from 10-12c in the south of the UK, 8-11c as you head further north. It will feel chillier than this in the quite stiff easterly wind though which will be blustery close to coasts.
Overnight tonight, the showers in the east begin to ease down but continue to affect some northeastern parts, the rain which moved up from the southwest during the day will continue to journey northeast too - fading as it does so. Elsewhere it's a fairly murky night, with one or two fog patches possible.
Tomorrow keeps with a similar theme, the showers will continue in the northeast but shouldn't be quite as widespread as today, the rain from the southwest will get into western Scotland but will really have fizzled away a lot by this point. In between a lot of dry but still quite cloudy weather, but there should at least be some breaks coming through.