The extremely stagnant weather pattern of the past two weeks is finally shifting, albeit to a limited extent, as high pressure will still predominantly dominate the weather. Over the weekend and into early next week, it is set to turn hot in most parts of the country, with temperatures widely in the mid to high 20s Celsius and perhaps low thirties Celsius locally. With the heat, there will also be some heavy showers and thunderstorms developing.
Through next week, it looks like becoming dry and sunny for most of the country, with temperatures staying above average for the time of year, but not as hot and humid as we will see over the weekend. Low cloud, which affected large areas of the UK at times last week, looks set to be more confined to eastern, mainly north-eastern, coastal areas during the upcoming week.
Today
Today is set to stay dry and sunny in most parts of eastern Scotland and eastern England, though some low cloud will continue to affect North Sea coasts of eastern Scotland and north-east England. Currently, a band of cloud and rain lingers over the south-west, and this cloudier weather will slowly push northeastwards across the country, excluding the east. Both the cloud and rain are expected to break up as the band moves northeastwards, allowing some sunshine through, but this sunshine will also trigger a scattering of showers, some of which will be heavy and thundery. Today, the areas most likely to experience a thunderstorm are the Midlands, north-west England, and south-west Scotland. There will also be some sunny intervals, a fair amount of cloud and scattered showers over western Scotland and Northern Ireland.
A thunderstorm watch has been issued for today: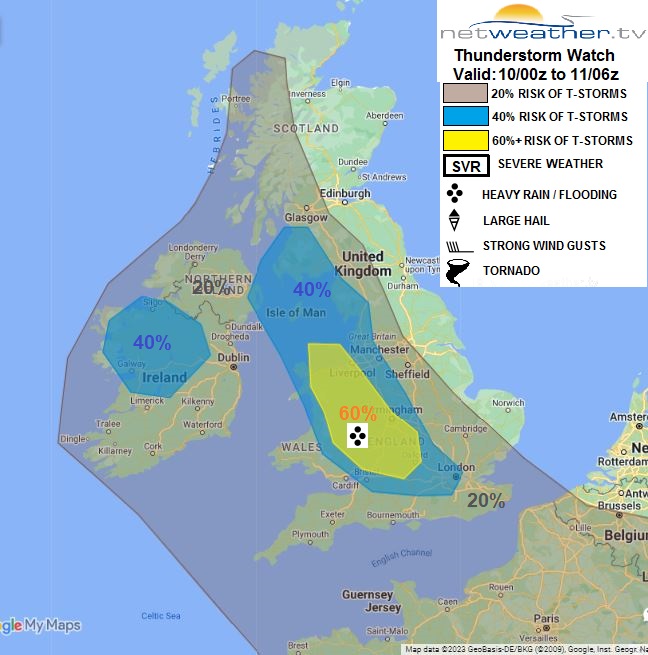 For many, it will be the hottest day of the year, with temperatures hitting 30C in parts of south-east England, as well as locally in the Midlands and north-west England. In most other regions, temperatures will reach the mid to high 20s Celsius. The exceptions will be south Wales and south-west England and Northern Ireland, where highs of 20 to 22C will be typical, and coastal areas of eastern Scotland and north-east England, where cooling onshore breezes and patchy low cloud will result in temperatures not exceeding 20C at some spots.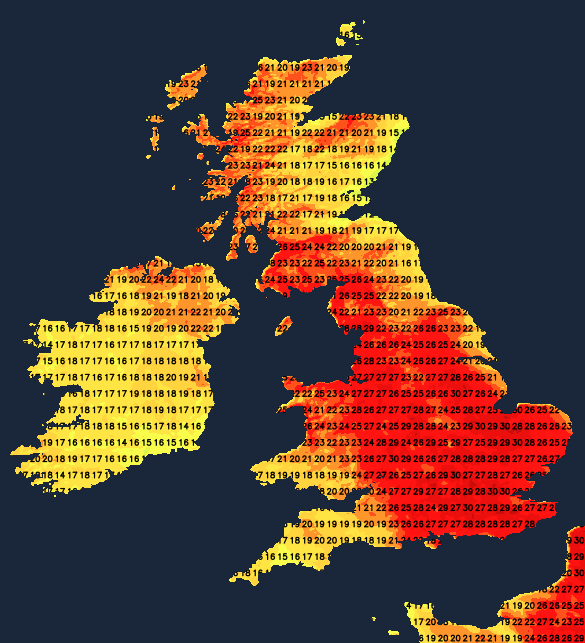 Tonight will be a warmer night than we've been used to recently, except in eastern Scotland and north-east England. In much of Wales and the southern half of England, temperatures will not fall below 14 or 15C. Showers, accompanied locally by thunder, will affect Scotland and northern England.
Tomorrow
Tomorrow will be a day of sunny intervals and scattered thundery showers, with east Wales, the Midlands and inland parts of southern England the most likely areas to see a thunderstorm. Some inland parts of Scotland may also be particularly affected late in the day. Temperatures will again be well above average for the time of year, potentially reaching 31 or 32C in the south-east. The exceptions will be the east coasts of eastern Scotland and north-east England, where again, onshore breezes will restrict the maximum temperature to around 20C, and low cloud off the North Sea will be an issue.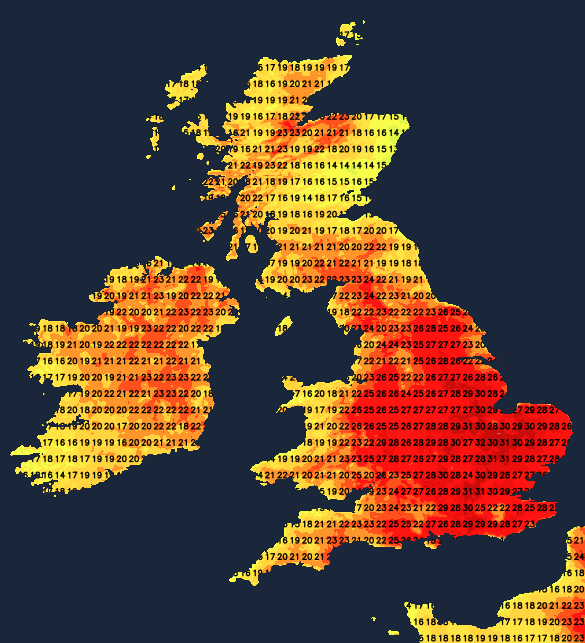 Sunday night into Monday will be the warmest night of the week for most, and it will be rather humid as well, which may make sleeping difficult for some, with many areas of England only falling to a minimum of 15 or 16C. Further thunderstorms are possible, most likely in the south-west.
Next week
Monday will be the last of the thundery days, with some scattered thundery showers affecting much of southern and western Britain, and isolated thunderstorms also developing in inland parts of eastern Britain. There is potential for northern Scotland to be particularly affected by showers and thunderstorms, as well as inland parts of south-western Britain. Some, especially eastern, areas will stay dry and sunny. Temperatures on Monday will again generally reach the mid to high 20s Celsius, but it will not be as hot in the south-east as it will be over the weekend.
For the rest of next week, the thundery low that is affecting us this weekend will fizzle out and we will see high pressure dominate the weather. Winds will remain predominantly easterly, which means that low cloud may affect eastern areas at times, particularly the coasts of eastern Scotland and north-east England. Temperatures will generally be lower, especially by night, but generally it will be warmer than during the past fortnight, with maximum temperatures mostly around the mid-20s Celsius. Low cloud is expected to be more confined to north-eastern coastal areas with the majority of the UK being dry and sunny.