A persistent layer of stratocumulus cloud from the North Sea covered a significant part of eastern Britain last week. However, by Friday, it had cleared away from most regions of the country. Presently, a large portion of the UK is experiencing a dry, sunny day. As the high-pressure area shifts slightly further south this weekend, the predominantly sunny weather is likely to continue throughout the weekend.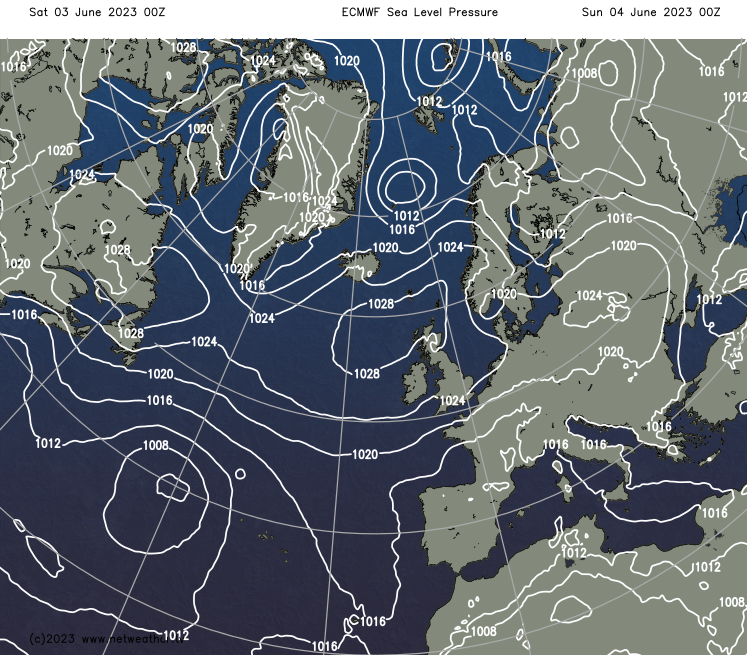 Nevertheless, eastern Britain could encounter extensive cloud cover again next week. In contrast, many western regions of Britain, particularly western Scotland, Northern Ireland, the northwest English coast, west Wales, and southwest England, can expect an abundance of sunshine for the foreseeable future. Currently, we are experiencing a remarkably stable weather pattern, with similar conditions prevailing across the UK. However, indications suggest this pattern may begin to alter slightly in about 7 to 10 days.
This weekend
Today's forecast indicates a fair amount of cloud in parts of southeast England and the far north of Scotland, with clear skies elsewhere. The far north of Scotland will remain cloudy throughout the day due to an onshore northerly wind, but the southeast will experience sunshine, resulting in a sunny day for the rest of the country. Thanks to the dominance of high pressure, it will remain dry everywhere.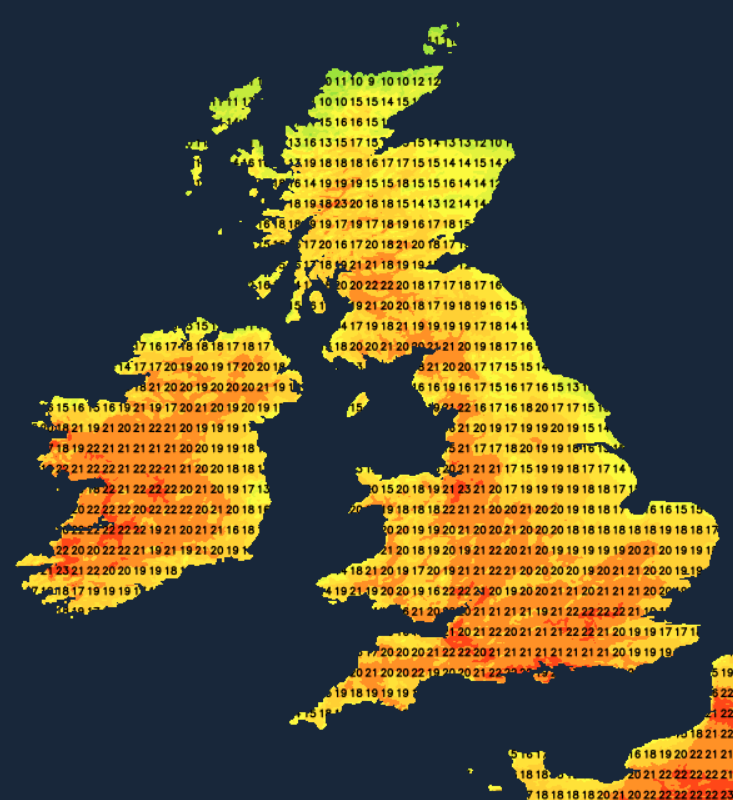 Most western regions of Britain will see temperatures around 20 to 22C, but despite the sunshine, the eastern coastal areas near the North Sea will be relatively cool, with temperatures peaking at around 15C. Highs of 18 to 20C will be common in inland eastern regions. Under generally clear skies and light winds, temperatures will drop significantly tonight, falling to between 4 and 7C in many inland parts of the country.
Moving on to tomorrow, early Sunday morning is likely to see some cloud cover returning from the North Sea. Areas most likely affected include the north and east of Scotland and Yorkshire and Lincolnshire. However, it is expected that this cloud cover will retreat to the eastern coastal areas during the day, leaving most of the country with another dry and sunny day.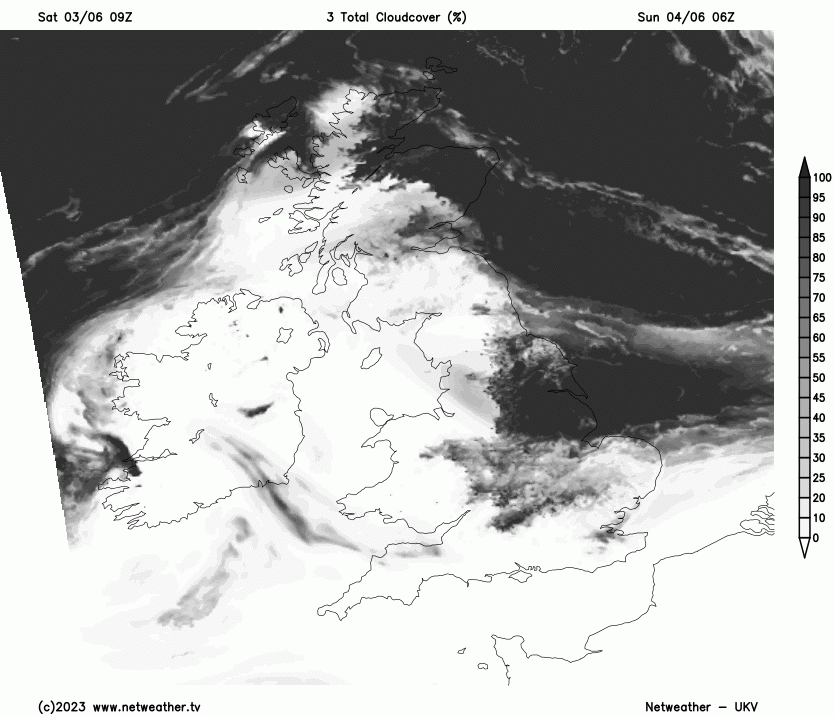 Temperatures will be roughly the same as today, possibly slightly warmer in Northern Ireland and southwestern Britain, with potential highs around 23C.
Next week and beyond
Looking further ahead, the UKV model suggests that from next Monday to Thursday, cloud cover from the North Sea will continue to advance overnight but retreat back to the east coast during the day. Nonetheless, given the model's past underestimation of the persistence of cloud sheets in eastern Britain and a similar synoptic setup to last week, it's likely that some eastern parts of Britain will experience significant cloud cover next week. As a result, counties along the North Sea may not see much sunshine. On the other hand, sheltered western areas are likely to remain sunny throughout the week. The west-east temperature split will also continue, with western Britain seeing around 22C and potentially 24 or 25C in the southwest's inland areas at times, but only around 15C near North Sea coasts. There's a slight chance of isolated showers in parts of the northwest, but the vast majority of regions should stay dry next week.
Some signs, particularly from the ECMWF model ensembles for days 7 to 10, suggest a subtle shift in the pattern. The high pressure is likely to become more centred over Scandinavia, rather than around Iceland and north-western Britain. If this prediction holds, it would result in a more south-easterly airflow, leading to generally higher temperatures, especially in the west and south.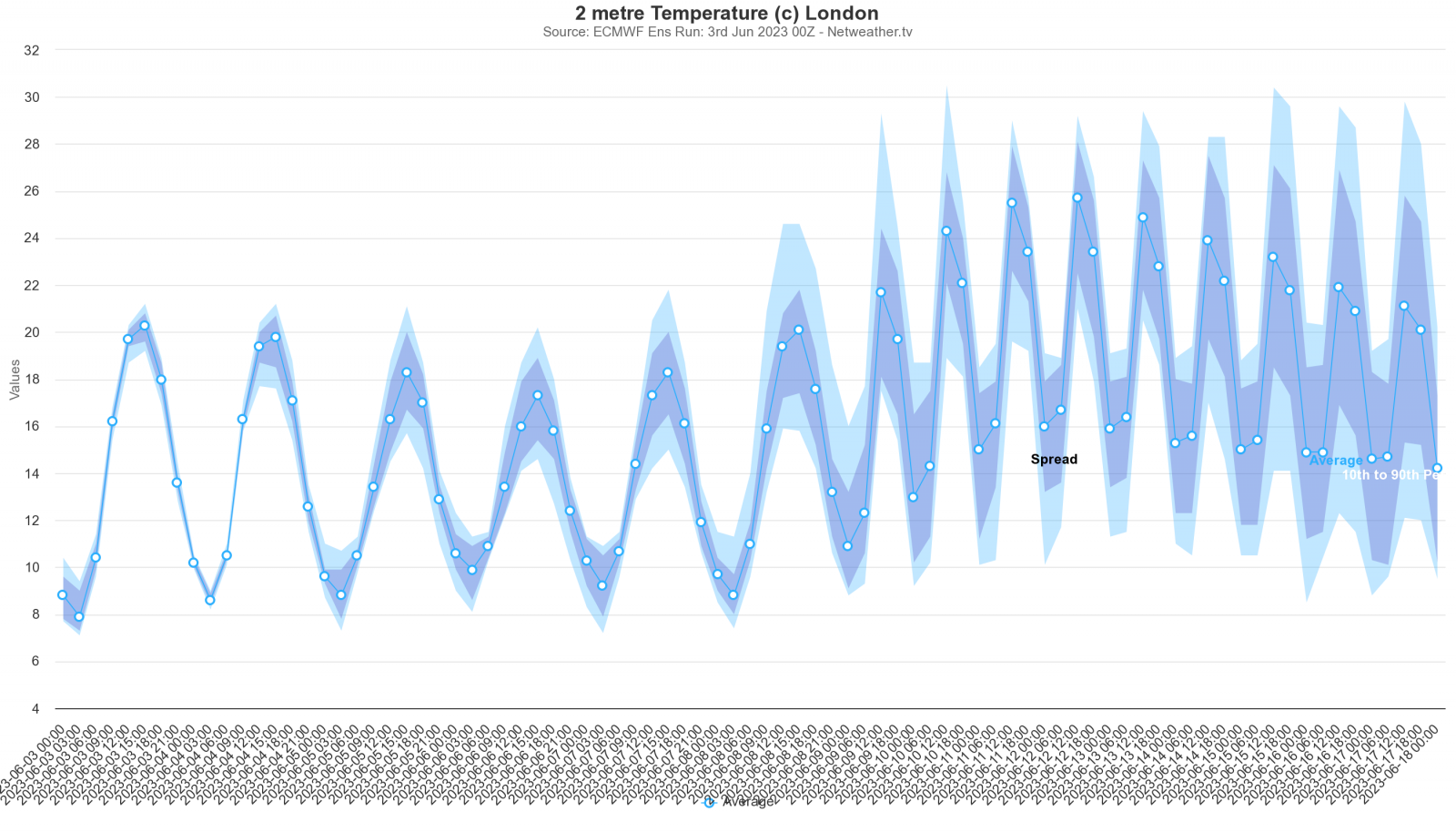 With the shorter track over the North Sea, much of eastern England may become sunnier, though we could still see low cloud cover in eastern Scotland and northeast England. This shift is not guaranteed as the forecast can change significantly 7 to 10 days out. However, there are hints of a pattern change that could eventually lead to a more unsettled, yet probably warm, weather regime moving in from the southwest during the second half of June.