We continue with high pressure near or over the UK, bringing a lot of settled, quiet weather. Often, there will be fine sunshine, but areas of cloud could muddle the forecast. This morning, there is low cloud over Kent, and high cloud will come and go as frontal bands skirt by Scotland in the coming days.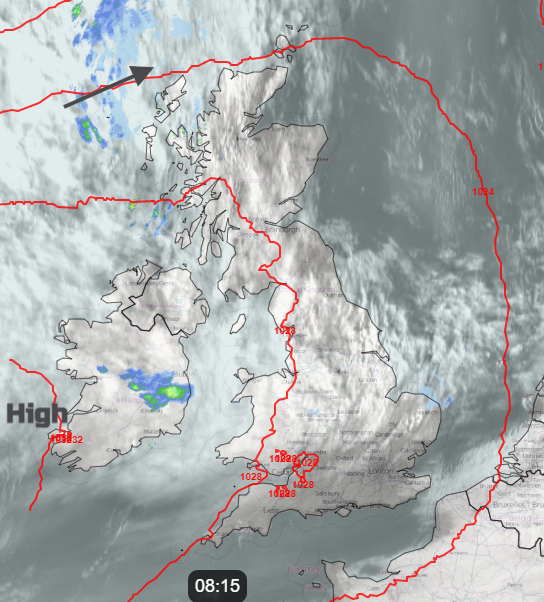 This week, we expect a lot of fine weather; for most areas, it will stay dry. The cloud cover and wind direction or strength will affect the feel of the day, but the top temperatures will tip over 20C.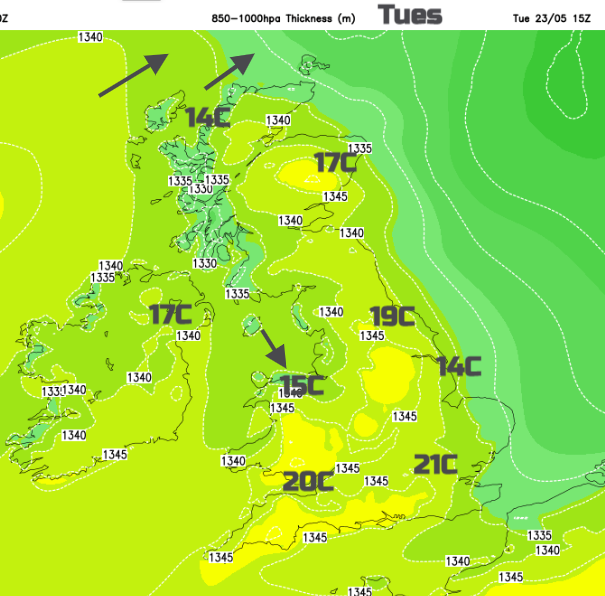 On Monday, Cardiff saw 23.4C. Today, Greater London might see 21 or 22C, with many areas reaching high teens. There is a significant amount of cloud trapped around the high today, although we can expect sunnier skies over southern England and the northeast to start Tuesday. The west to northwesterly flow over Northern Ireland and northern Britain will result in high temperatures for eastern parts. For Wales, the north coast will be cooler, but Cardiff could reach up to 20C.
Thicker cloud will bring some patchy rain to northwest, then northern Scotland today. This cloud will then sink across eastern England this evening and overnight. Behind it, there will be clear spells and a cooler feel to the night.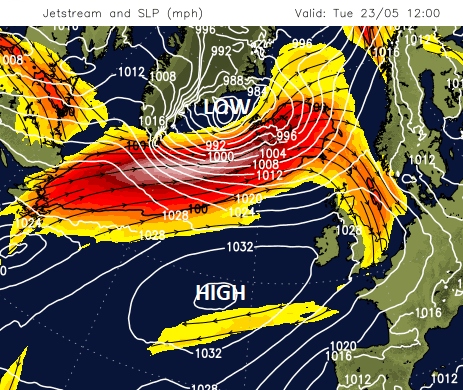 The Jetstream is now positioned to the north of the UK. Gentle waves will form as the week progresses, following a strong core on Tuesday. Iceland has severe gale warnings, with rain and sleet resulting from their nearby low. However, for the UK, the high pressure will hold on. The waving jet encourages frontal bands to clip Scotland on their way to Scandinavia, but there is little rain in the forecast, just increasing cloud cover.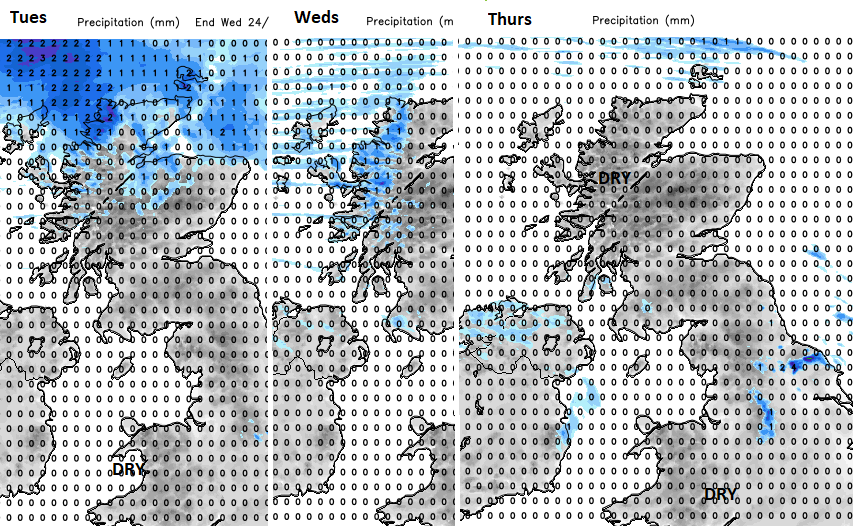 Wednesday
A weakening cold front will be over northern Scotland by Wednesday morning, with more cloud and dampness for west coast Scotland expected during the day. There could also be more cloud over Northern Ireland, sinking into the Central Belt and SW Scotland by the afternoon from this band and stubborn cloud around the Irish Sea. Elsewhere, there will be warm sunshine and a very light northerly breeze. Temperatures could reach 23 or 24C along the M4 corridor.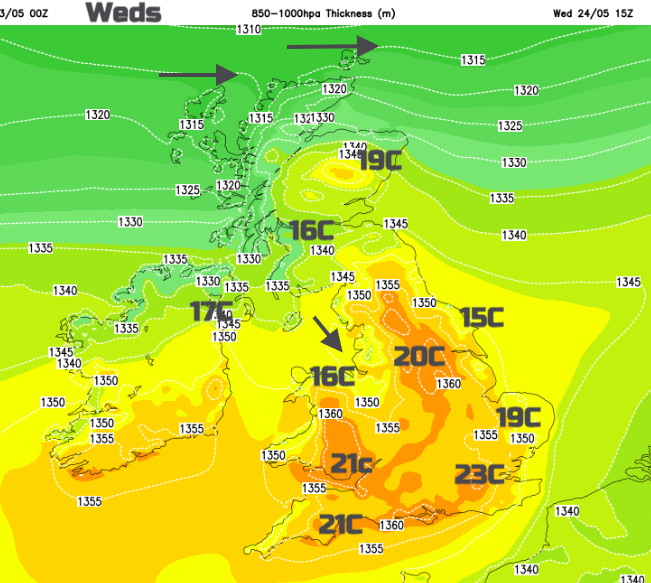 The pollen count is rising, with moderate grass pollen levels in the dry, sunny weather. The tree pollen season continues, with moderate oak pollen levels and moderate airborne fungal spores.
Under the slowly descending anticyclonic conditions, air quality will likely decline. DEFRAs forecast shows moderate levels of air pollution at times this week, affecting parts of England and Wales as conditions remain dry and settled. Also around the Forth on Friday in calm weather.