Any snow from the recent cold spell has disappeared for most, as very mild air has swept northeast across all parts over the last 24 hours. Temperatures are widely in double digits across England, Wales, island of Ireland and southern Scotland, the strong southerly wind bringing a foehn effect on the north side of the mountains of North Wales, with Rhyl reaching just shy of 16C at 11am.
The mild conditions look to remain for the rest of this week for most of England and Wales. However, after a few mild days across Scotland, cold air looks to return from the north towards the end of the week and this cold air could spread further south into England for Christmas, but there's a great deal of uncertainty how far south and where there could be snow in this colder air.
So we'll see a north-south split develop across the UK, with colder arctic air to the north of the boundary and milder conditions to the south. However, there is great deal of uncertainty at the moment between various weather model output how far south the boundary between cold and mild will get over the Christmas Weekend – which ultimately will influence where will be cold enough to bring a White Christmas should there be precipitation.
12z GFS ensemble average shows -5C 850 hPa temperature across middle of UK on Christmas Day, temps below which snow more likely to fall - as a rough guide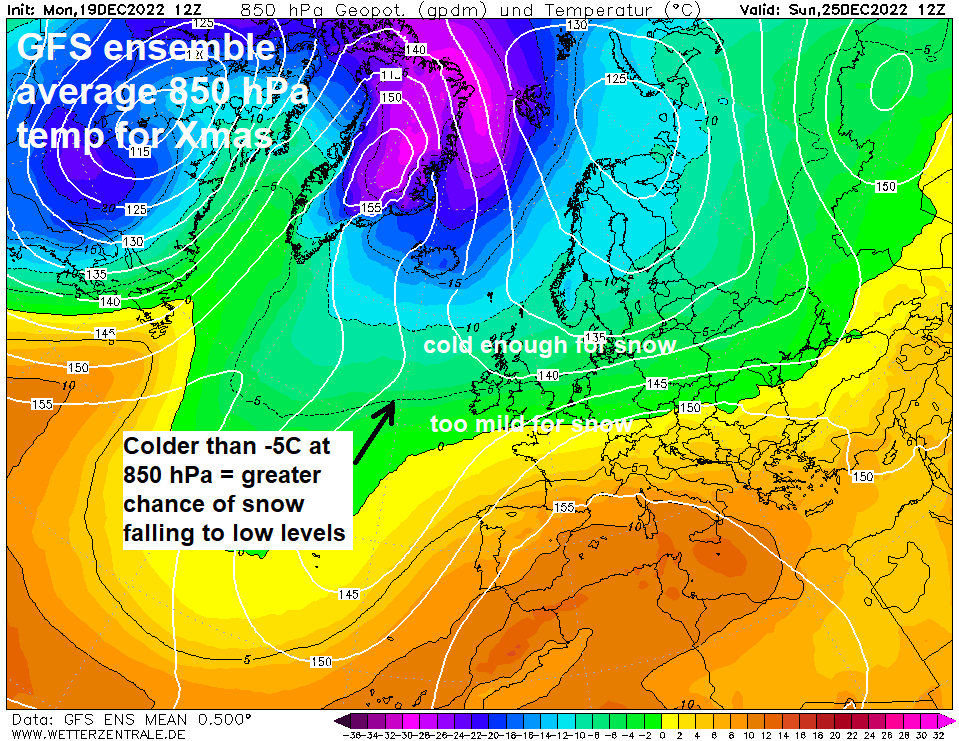 There will be quite battle between opposing airmasses playing out across NW Europe later this weekend and through the weekend. At the moment, an upper and collocated surface low to the northwest of Britain will dominate our weather, feeding in mild and moist south to southwesterly winds sourced from as far as Madeira and the Azores, bringing plenty of rain to the west and south.
However, later this week a tropospheric polar vortex / upper cold pool over western Siberia looks to push westwards over Svalbard and northern Scandinavia, likely due to an expanding arctic high over eastern Siberia. This will flood cold arctic air southwest across the NE Atlantic and Iceland and on towards Scotland later this week and into the weekend. Meanwhile, a strengthening westerly jet stream over the North Atlantic takes aim at NW Europe, but the jet stream will also buckle and amplify markedly upstream. This will pull the jet stream further south over the weekend, though how far south the jet stream will shift is still uncertain and will determine how far south the cold air will get at the surface too, as the jet stream will control the track of lows moving east off the Atlantic and the polar front boundary.
Battle of airmasses: mild air in charge at the moment, but later this week and through the weekend, cold air will try and push south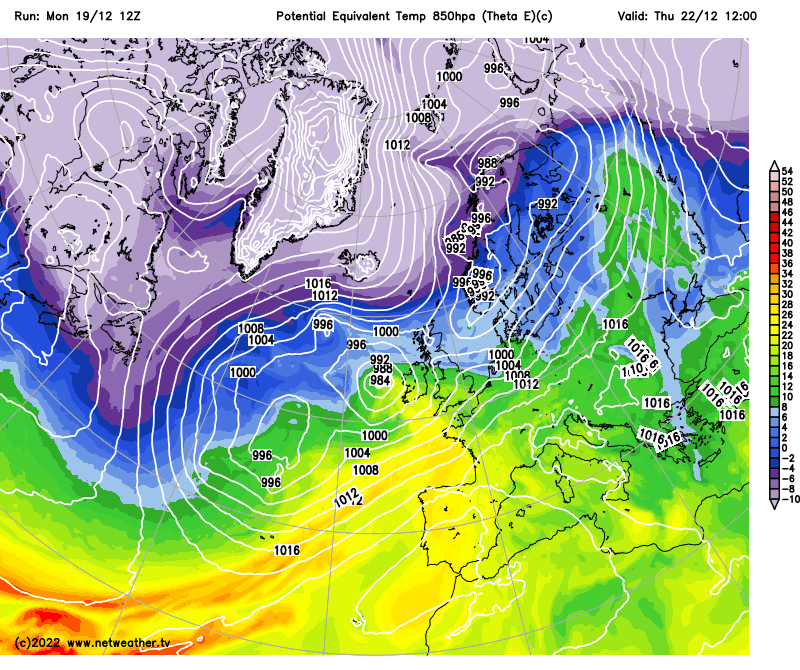 Jet stream position over UK and shape upstream over the weekend likely to determine how far south cold air gets, which remains uncertain for now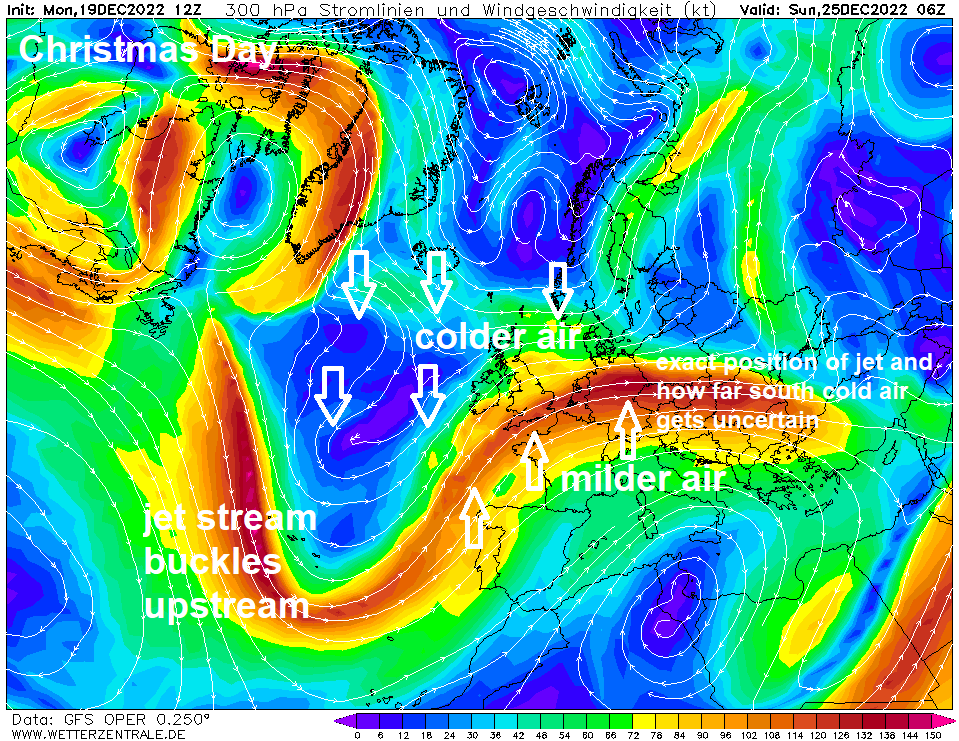 At the moment, the GFS model shows some snow across Scotland as early as Christmas Eve, as a low crossing east over northern Britain clears east over the North Sea and introduces colder air from the north in its wake. Perhaps some back edge snow as rain clears east with the low, particularly for high ground.
Then for Christmas Day, there could be chances for snow again across the north, but a great deal of uncertainty between models. GFS shows cold air in place from a brief northerly flow on Christmas Eve, with another frontal system moving in from the Atlantic moving into the cold air perhaps producing some snow across the north. The 12z ECMWF model run shows low pressure to the northwest on Christmas Day, with a westerly or southwesterly flow and the air too mild for snow even in the north.
12z GFS shows snow (purple) for parts of the north on Christmas Day, but this likely to change given model differences
12z ECMWF, on the other hand, shows a milder westerly or southwesterly flow on Xmas Day, so no snow in the north
We will update again over the next few days when it looks clearer to what the weather may do over the Christmas Weekend. But for now it looks like north may become cold enough for snow, especially hills, but predicting exactly where is futile at this range. Most of England and Wales away from northern England likely to stay mild and snowless over the Christmas Weekend, though could turn colder after Christmas Day.
A greater chance for cold arctic getting south across all parts, with a chance of snow and frost returning, looks to be after Boxing Day onwards through to the New Year. But again, a great deal of uncertainty for now, but will hopefully revisit this period's possible weather over the next few days.