For the coming weekend, we have a large high pressure over the northern Atlantic which will bring a spell of settled weather but cold fronts will topple around the high. These move down through the UK, the first taking its time through Wednesday night, Thursday into Friday introducing cooler air from the northwest and reluctant to clear SE Britain even by Saturday morning.
This synoptic setup links back to Hurricane Fiona which will smash into eastern Canada this weekend, surely as an extratropical cyclone by then but this is helping the high pressure and steer the flow of colder polar air which follows another frontal band which will reach the far north of Britain to end the weekend. This front will bring much colder air to the UK with night-time frosts and wintry showers for early next week.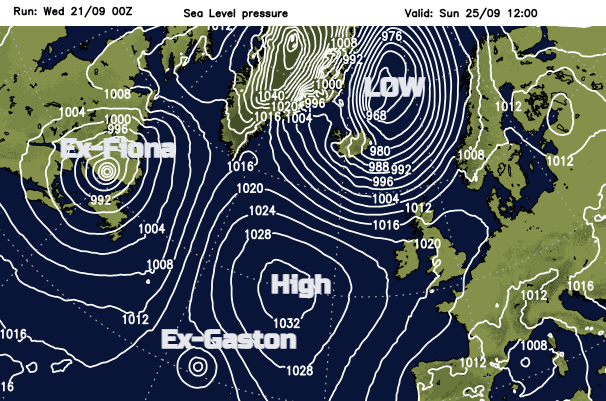 Before everyone gets excited that there will be some freakishly early lying snow, this is snow showers for the mountain tops and a chill in the air to lower levels. There is the possibility of wintry flurries in heavier rain showers in the north and over hills, passing by on a cold northwest wind.
The tops of the Cairngorm mountains did see a dusting of snow last week when it felt colder for everyone. Overnight temperatures fell well down into single figures and there was an air frost in a few places early on Saturday morning. For those out running, walking the dog or watching sports it was a chilly start to the weekend. This Saturday it will again feel cool and almost damp with mist in places where the winds are light, so away from southern Britain.