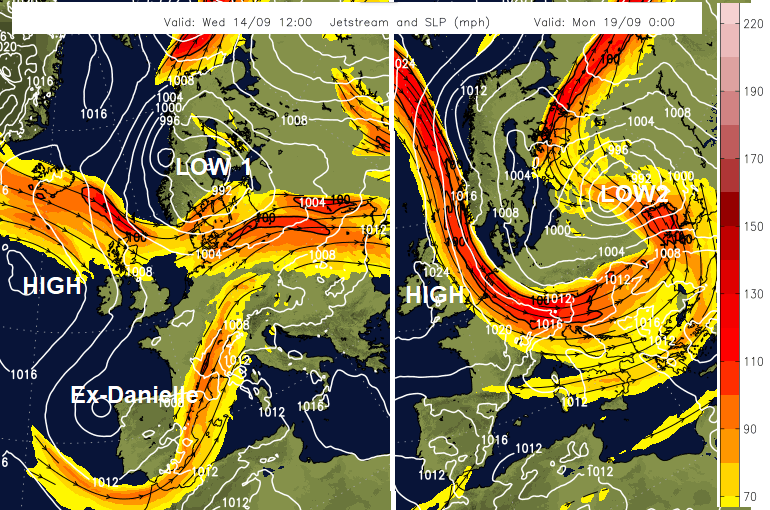 The northern low pressure will bring welcome rain but also blustery, unsettled weather across Scandinavia and the Baltic Sea as the low centre grinds to a halt.
High pressure will be building in from the Atlantic and allowing plenty of fine, settled weather for the UK this weekend. In between that high and the Scandi Low there will be a brisk cool flow from the north.
The midweek rain over southern Britain, and which accompanied the Queen's coffin from Northolt to Buckingham Palace, is the main cold front. This is clearing away down to the Alps by Thursday night and that same flow of cooler air reaching down through Greece by Sunday.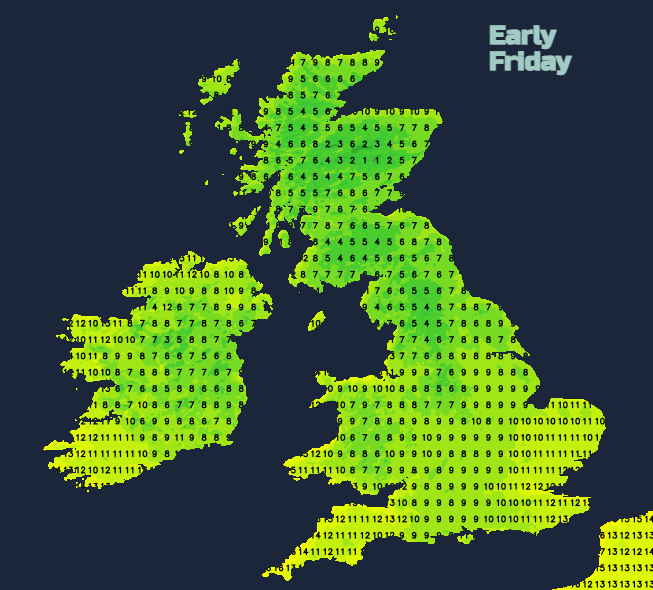 For the UK in this cooler airmass, there will be mist and shallow fog forming where winds are light. A few Highlands glens will see a frost on the grass as the overnight temperatures just before dawn on Thursday. London will feel cooler by Friday, although still with strong sunshine for those standing out in it, the air will feel different and noticeably colder for Friday night, down to 6C in the queue. There will be more of a frost risk for early Friday and particularly early Saturday extending from central/western inland Scotland down into Cumbria, the Pennines and the Yorkshire Dales
As the colder air passes over the relatively warmer waters of the North Sea, the air will become unstable and showers are forecast. These graze eastern England on Friday with the risk of a few heavier downpours, even hail and will also affect the far north of Scotland. The Friday MR charts show a few tiny bits of pink (for Snow), at 6pm on the top of Cairngorm but also at 9am in the showers along the north coast.
First Ground and Air Frost thread in the Netweather community forum
Tags:
UK Weather
&nbsp
Events