High to the west will build a little further east across the UK on Saturday and Sunday, so showers will tend to become confined to North Sea coasts of England and Scotland on Saturday. A cold start on Saturday though, a ground frost is possible in rural areas, especially in the north, but even in the south towards the west. Most places will remain dry and warm up quickly in sunny spells, though it looks to turn cloudier across Scotland, with some rain arriving in the north in the afternoon. Still a northerly breeze, brisk towards the east, so cooler than recently, temperatures reaching mid-to-high teens at best.
High pressure will be in charge over the long weekend, so most dry, but a few showers still possible and it will feel cool, chilly at night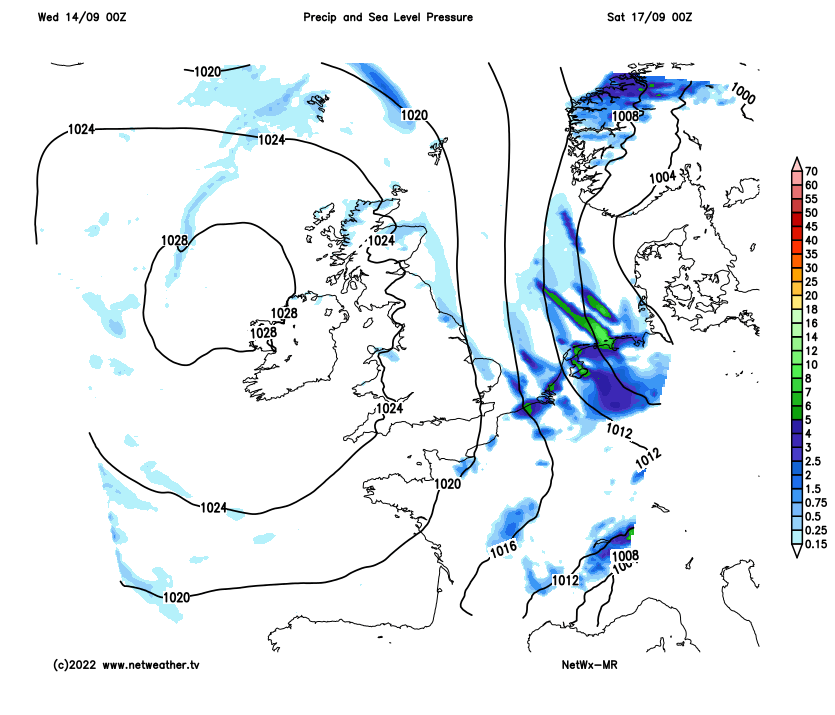 Cold again Saturday night in the south, wiith a risk of rural ground frost, more in the way of cloud in the north will prevent temperatures getting as low, but still dipping into single figures. A bright start in the south, but cloudier skies in the north with a few showers will spread south across all parts, followed by brighter and drier conditions from the north in the afternoon, cloud perhaps lingering across the south into the evening. Temperatures reaching 14-18C at best.
The Bank Holiday Monday for the State Funeral of Queen Elizabeth II is looking mostly dry and bright or sunny. More importantly for London it's looking dry for the Queen's State Funeral, as the procession carries the Queen's coffin from the Palace of Westminster to Westminster Abbey for the funeral, before travelling in procession after the funeral to Wellington Arch, then from there to Windsor. There will be a few isolated showers developing across the UK, but with high pressure building in across the UK from the west, for most it will remain dry.
Mostly dry for Bank Holiday Monday, perhaps cloudier with a few showers in the north, but the southeast and London looking dry and sunny for the Queen's Funeral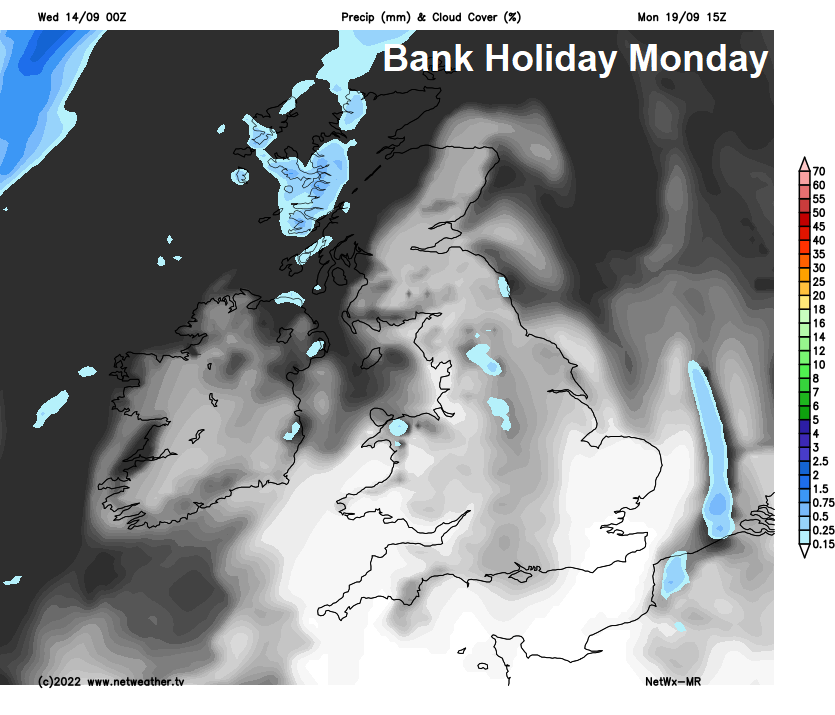 There is some uncertainty how long high pressure will hang around over the UK next week. Most recent runs tend to suggest high pressure will eventually either sink south or drift east by the end of the week, with an upper trough emerging over the NW Atlantic this weekend moving east and arriving to the northwest or west at the end of next week. So, we are looking at a mostly dry week next week, with sunny days and temperatures close to average, but some cool nights. Possibility of rain moving in from the Atlantic later in the week, but low confidence on this for now.