Temperatures are down now with a fresher feel to the air but still strong sunshine today. The westerly wind will continue to bring showers in off the Atlantic and there is a fading weather front over SE Britain with more cloud here. Thinking back just a week, southern Britain was under a second Extreme Heat warning with very warm nights and daytime temperatures into the low to mid 30sC This weekend, the top temperatures will be 18 to 26C
The longer-range weekly anomaly charts from the ECM model show warmer than average for the rest of August across most of the UK. Just the far north of Scotland and Scottish Islands seeing average temperatures. Next week (overall) looks very warm for SE/southern England but not heatwave hot.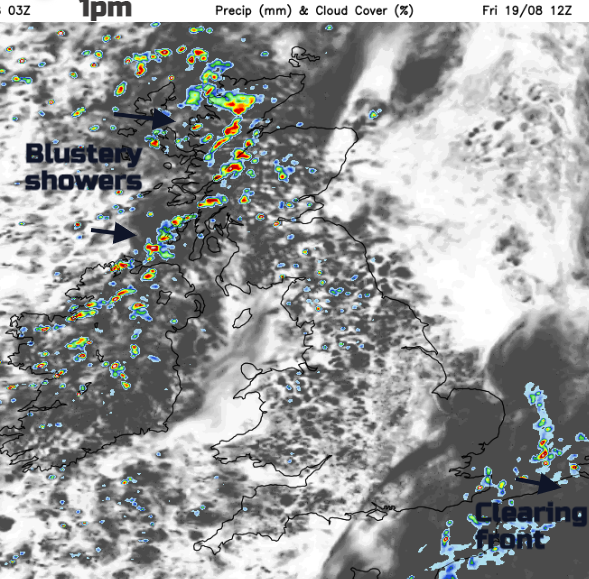 Today the heaviest showers will move over Northern Ireland and Scotland this morning, a scattering of blustery showers affecting NW England too by lunchtime and crossing the Pennines, a few for north Wales into the afternoon. Many places will have a fine, dry and bright Friday.
The evening becomes more settled, dry with light winds, a lull before a spell of heavy showery rain reaches western Scotland and Northern Ireland before dawn. The southerly winds will strengthen and the sound of the rain may wake people as the lively convection moves through. A spell of gusty weather with sudden heavy downpours will move across Scotland and Northern Ireland during Saturday morning.