Meanwhile for England, although the extreme heat has diminished, Monday saw a top temperature of and today central, southern and eastern England could see up to 27C in any sunny spells but there will be infill from these storms. It will still feel rather muggy but be nearer 21C for most with grey skies.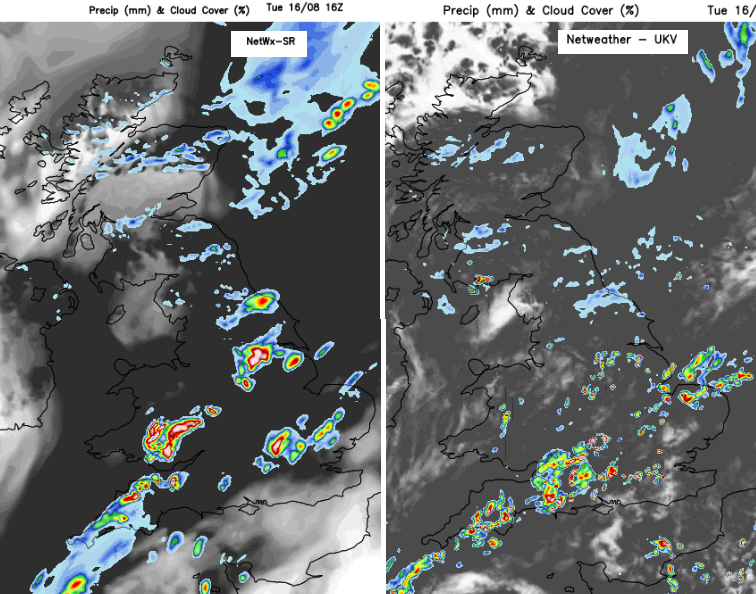 Looking at the two model outputs for this afternoon you can see the differences in areas with heavy showers. Also, the gaps, the drier areas missing the rain and seeing brighter skies. The UKV model tends to do better in these convective situations although there can still be frustrating differences in location. And that is the problem with forecasting showers and thunderstorms. There is a widespread yellow warning but within that some areas will stay dry, others get soaked, see flash flooding, disruption on the roads or railways, and even lose power from lightning strikes. The impacts can be very localised, yet powerful.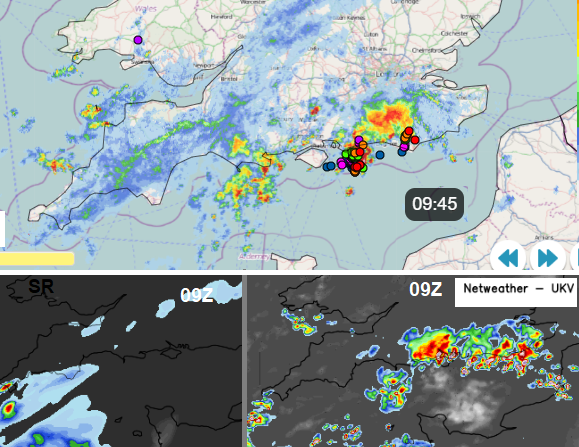 UKV has a fair handle on the thunderstorms already showing at 10am on Netweather Radar
Keep an eye on the Netweather Radar, make sure lightning is ON, use the animation to see how the storms are moving. The storms and downpours continue for England and SE Wales overnight as other parts of the UK become dry and cool.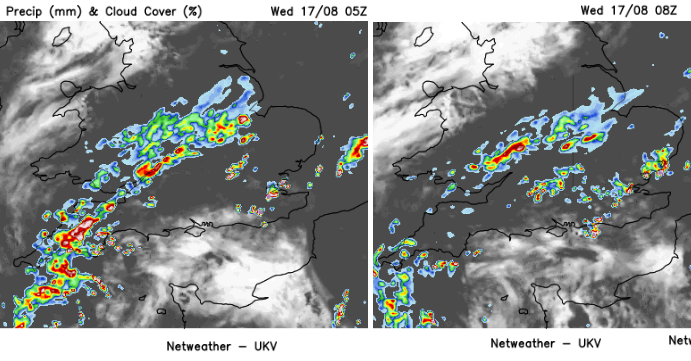 And the Met Office have a yellow warning for "thunderstorms with torrential rain during Wednesday, bringing possible disruption." Over southern England into East Anglia. This rain, although welcome, will not help the drought situation. An extended period of rain, a lot of rain not just intense downpours, is needed.
Check out your Thunderstorm risk for the next few days. And more chat and discussion in the Netweather community forum.
Tags:
UK Weather
&nbsp
Thunderstorms