Peak temperatres likely on Saturday, with highs in the mid-30s across southern England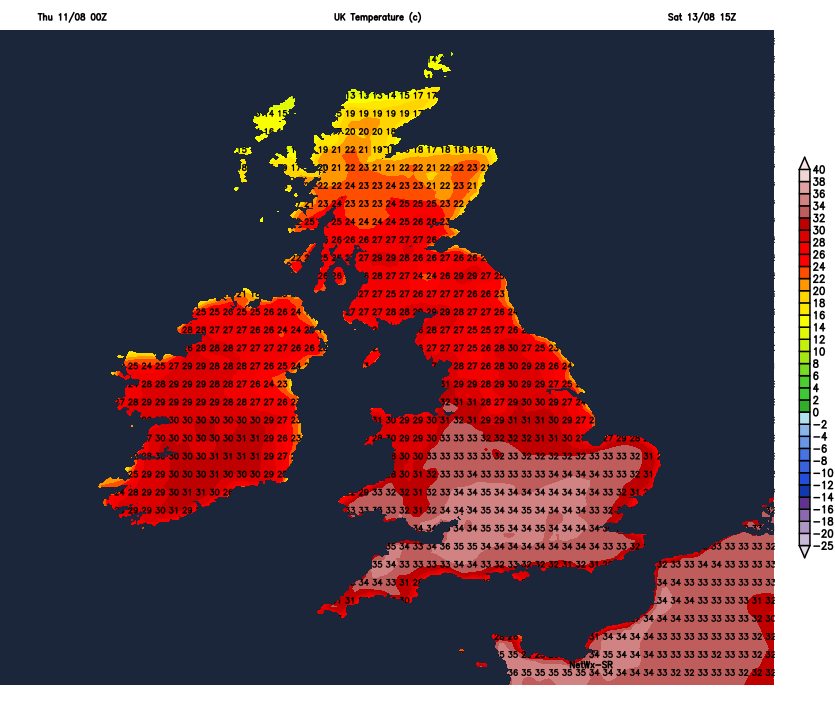 A similar picture on Friday and Saturday too with widespread sunshine across the UK, Friday a degree or two higher across southern England with highs of 34-35C, Saturday the peak of the heatwave – with some spots in southern England likely reaching 36C. The exception to the sunny and very warm or hot conditions will be northern Scotland – where it will be cloudier and cooler – with some patchy drizzle. While Haar may affect coasts in the northeast too.
It looks to remain very warm and sunny on Sunday, very hot in the south. We will likely see an increase in mid-level cloud from the south, as a shallow area of low pressure drifts up from the southwest, with some thundery showers breaking out across northern Scotland and the far west further south. While some thunderstorms could spread into the far south later in the evening. Highs reaching 34C across central and southern England.
Turning more unsettled next week - as low pressure takes over, with a risk of thunderstorms and localised flooding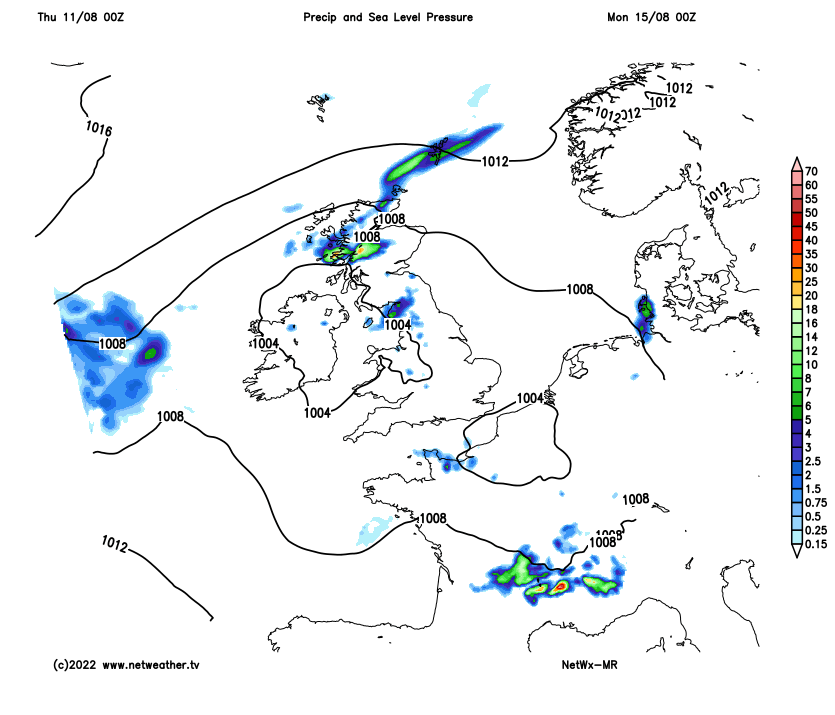 With low pressure across the UK on Monday, it will be a cloudier but still very warm and humid day, with some heavy and thundery downpours breaking out in places – which may lead to some localised flooding given the hard and dry ground. There will be some sunshine too and across eastern England – where the sun does come out it will be locally hot – with temperatures reaching the high 20s, perhaps 30C.
More unsettled and increasingly cooler conditions for the rest of next week look likely. On Tuesday and Wednesday England and Wales likely to remain warm with some sunshine but also some heavy showers or thunderstorms developing quite widely, with a risk of localised flooding. Scotland and N. Ireland turning cooler and showery as a northerly or northeasterly wind develops. Thursday onwards may start to see more of westerly flow develop, so cooler for all, though temperature closer to average for most. The Atlantic flow bringing a mixture of sunny spells and scattered showers, occasionally some longer spells of rain in places too.
Tags:
UK Weather
&nbsp
Outdoors