Today will be dry with plenty of sunshine across the southern half of Britain, temperatures reaching the low to mid-twenties Celsius. Northern half of Britain will see sunny spells and scattered showers, mostly across NW England, N. Ireland and western Scotland this morning, before becoming increasingly widespread across the north through the day. Temperatures in the north generally reaching the high teens at best, perhaps 20C east of the Pennines. A keen northwesterly breeze across most areas today, making it feel comfortable, even in the warm south. Showers fading in the north, then for most a dry and comfortably cool night, temperatures falling into single figures across the north.
Little change for much of England and Wales over the weekend, a dry story with high pressure building in from the west, plenty of sunshine for many – though it may be cloudier at times across the north of England, perhaps thick enough for some drizzle across Cumbria. The northwesterly breeze will ease, so temperatures willy creep up, highs of 26C in the southeast on Saturday, 27C here on Sunday. Low to mid-twenties elsewhere with sunshine.
Most of any rain in the far northwest this weekend, mostly dry away from Scotland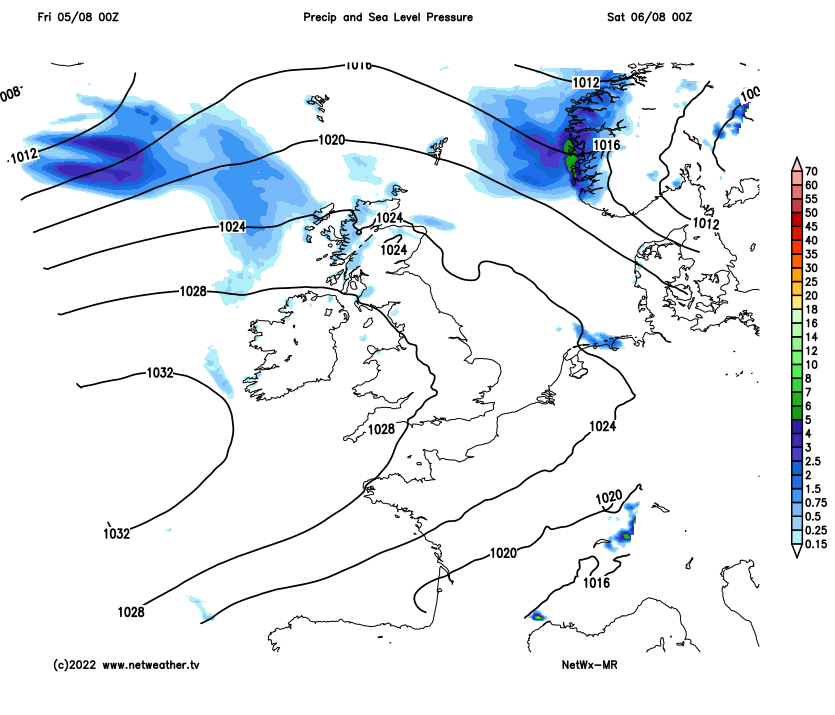 Scotland and N. Ireland will be cooler, more changeable, breezy and often cloudy – with occasional outbreaks of rain spreading east at times, rain more persistent across northern and western Scotland on Saturday. Highs in the mid to high teens at best.
High pressure will remain in control across the south through next week, while an upper-level ridge will strengthen from the southwest – this will mean plenty of sunshine by day and with light winds, the dry ground and dry air temperatures effortlessly rising into the low 30s Celsius across southern, central and eastern England by Tuesday, the rest of the week may see temperatures reach 32-34C across southern areas each day too. South Wales could see high 20s, north Wales and northern England low to mid-20s. Such temperatures easily meet heatwave criteria across central, southern and eastern parts of England and perhaps south Wales too. Airmass will be dry initially next week, but through the week humidity levels look set to rise off the Atlantic – so nights may become increasingly uncomfortable to sleep too.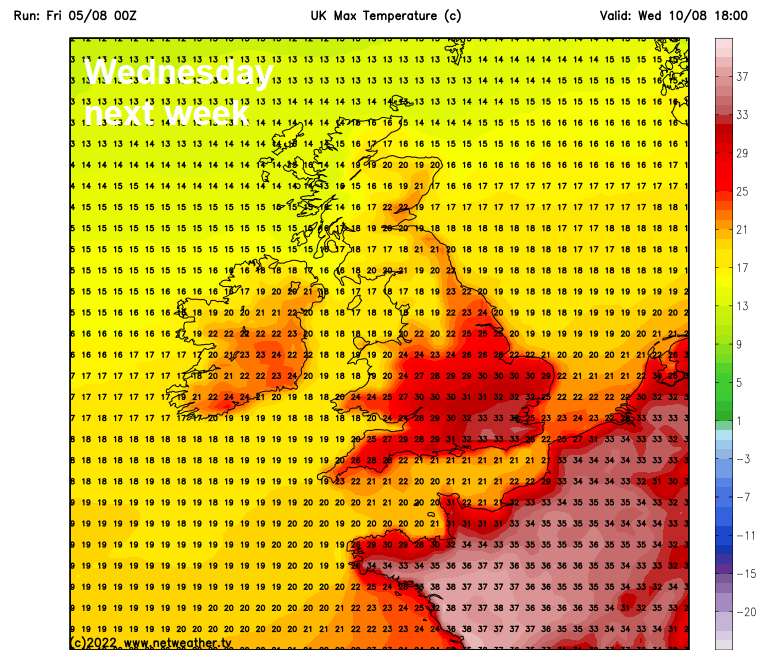 Scotland and Northern Ireland will not be as warm, with more of a breeze off the Atlantic. There will be more in the way of cloud at times towards northern and western Scotland, bringing some occasional rain during the week, the rain perhaps spreading further southeast across Scotland and N. Ireland mid-week followed by showers in the west, but generally dry much of the time across N. Ireland, southern and eastern Scotland and here will see the highest temperatures – reaching the low 20s Celsius. Elsewhere the high teens.