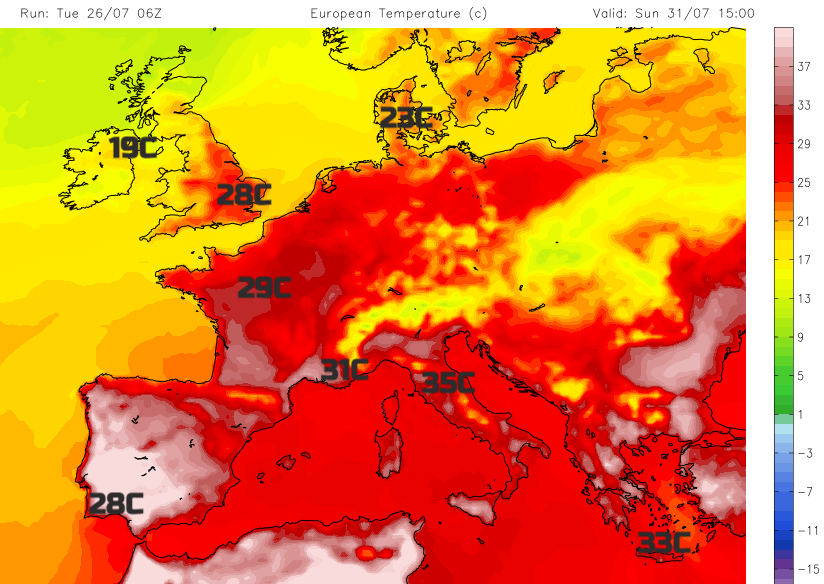 If you are heading abroad and hoping to get further than Kent, we'll have a look at the forecast across Europe as we move into August.
This divide through the UK also shows for early August over Europe. Scandinavia looks cooler than average across the week but central and western mainland Europe look warmer than average, even hot. A theme for Spain, Portugal and France in recent months. Central Europe looks drier than average which is not ideal for the drought hit areas like northern Italy. But we have our own water scarcity issues back home.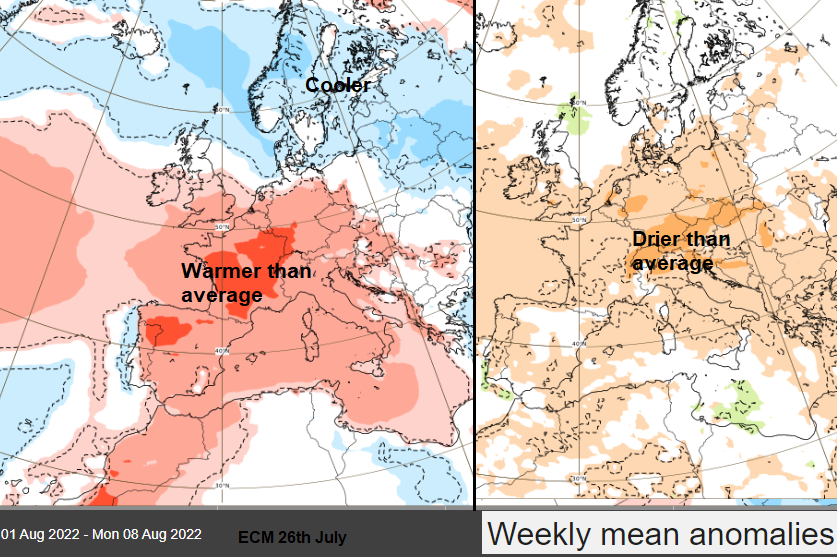 Temperature and precipitation forecast trend for the first week of August from ECM model
Canary Islands
Tenerife will see temperatures of 28 to 31C as the new month begins, and a minimum of 21C (70F). Lanzarote sees a slight dip in the daytime temperatures this week but back to 27 to 30C by Sunday 31st with quite a breeze from the north.
Spain and France
AEMET is the Spanish Meteorological service and the Canaries are listed under Provinces Las Palmas and Santa Cruz de Tenerife. For mainland Spain, there are still heat warnings from AEMET with temperatures of 38 to 40C midweek in the south. Also, by Friday warnings for heavy rain and thunderstorms for the Spanish Pyrenees area and also southwest France. These are from Meteo France as heatwave warnings continue to southeastern France midweek.
There looks to be glorious sunshine for much of France at the weekend as the showers fade. It is looking fine and sunny at Disneyland Paris with weekend temperatures of 30C, maybe a bit more cloud about on Saturday. Temperatures in the mid to high twenties C, just the low 30sC for the south of France although inland seeing 34C. And this lasts into the new week. Vigilance MeteoFrance is the site for any local weather warnings.
Greece
For mainland Greece, there is a light north wind with temperatures rising in Athens, up to 39C by the weekend, which is hot. In the Ionian Sea, more sunshine with Zakynthos up to 34C this weekend and staying in the high 20sC overnight. Although the national meteorological service for Greece has English pages on its website, the warnings are in Greek.
Hopefully, your European holiday will pass with just warm sunshine but MeteoAlarm does bring together the weather warnings from across Europe, to one site and it will be a reliable source of information for heat and thunderstorm warnings and for some countries, wildfire information.
Serbia has a red warning for heat on Tuesday as temperatures climb into the high 30sC. There are more heat warnings through the Balkans into Romania. Sicily also has a heat warning from the Italian air force Met. Service.
Latvia and Lithuania have warnings for rain and wind as a large low pressure is moving over Scandinavia on Tuesday towards the Baltic Sea. And the same for northern Germany in the strong flow behind the low pressure which is bringing the cooler air. High pressure then settles over northern Europe ready for the weekend.
Where ever you are off to, closer to home or far-flung climes, may your journey be straightforward and the weather, ideal.