It's the first of July, the second month of meteorological summer. We have one low pressure waiting to swing in from the Atlantic during Friday night as another gets comfortable away to the north of Scotland for the weekend. Both of these will bring showers, even some blustery winds but then eyes move to the Azores high. For next week, pressure will be rising, slowly, from the southwest. It draws down a cool NW breeze for a time, so by night temperatures will fall into single figures but gradually the shower threat fades. Then more of the UK becomes drier and bright with southeast Britain seeing the temperatures creep up into the mid 20s Celsius. NW Britain will continue to see showery rain into the middle of next week. Overall July 2022 looks to be warmer than average, as people begin to think about summer plans and school holidays start in some parts of the UK.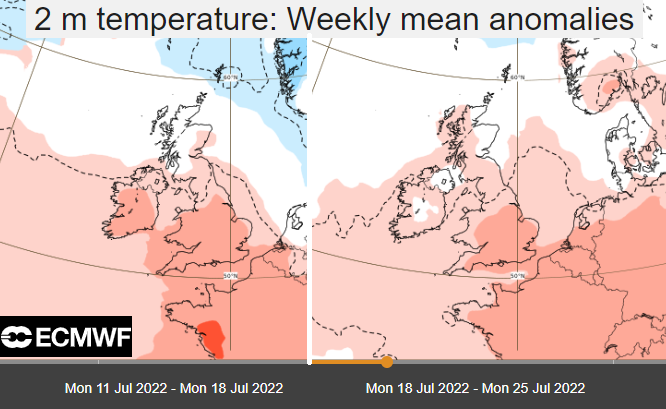 The ECMWF weekly anomaly charts at 2m show the air over western Europe being warmer than average next week (Spain, Portugal and France) and then extending through central Europe later in July (to Italy and Croatia). A theme for the coming weeks, not that every day will be hot here in the UK or even dry. The GFS model is less keen but still tips to slightly warmer than average for England and inland Wales for the first half of July.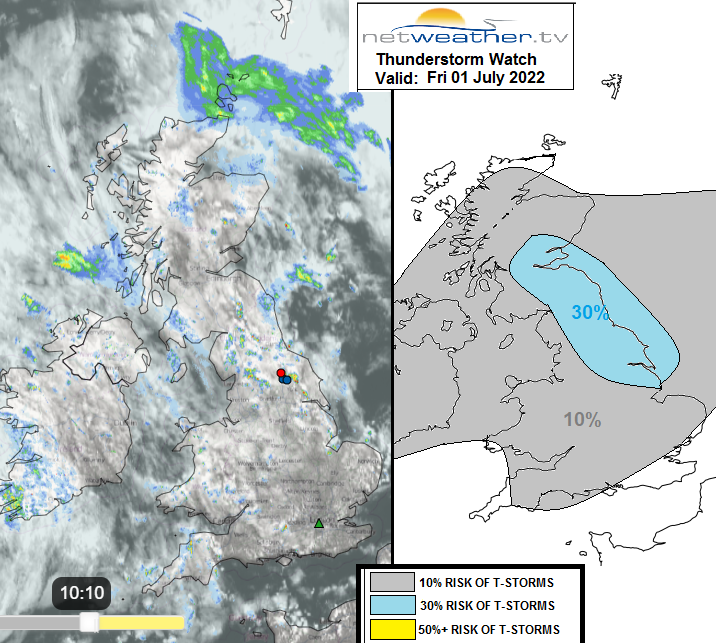 It is a mixed picture across the UK for Friday. Sunshine for SE England but rain over Aberdeenshire and Orkney. This line of rain pulls northwards to Shetland today. Isolated, thundery showers continue over northern England with intense sharp downpours. Just beware of these today as for many parts the weather will be fair sometimes bright or with more cloud cover. Then a torrential downpour with surface water and spray, even a crack of lightning.