After some unusual, though not quite record-breaking, heat in parts of the UK yesterday, temperatures over the coming week are set to be much closer to the seasonal average. With a ridge of high pressure often covering the British Isles, there will be a fair amount of dry sunny weather during this coming week for much of the country.
It is a very different story for France and Spain. In France in particular, the heatwave will peak today in many places with temperatures widely exceeding 40C, and it will remain unusually hot for another few days.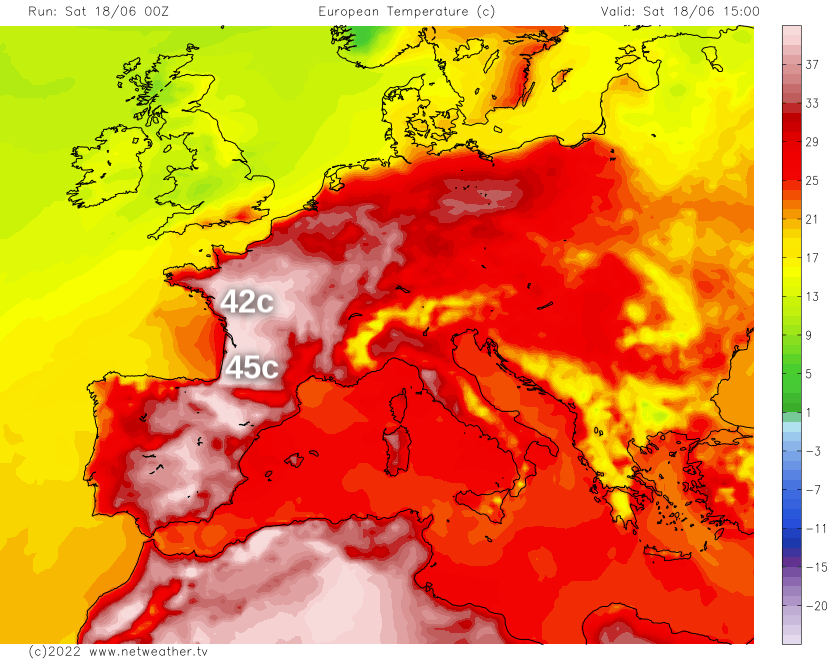 Today
Today's weather in the UK will see considerable regional variation. The far south-east of England will be hot (though not as hot as yesterday), reaching 27 or 28C in places, and sunny to begin with, although it will tend to cloud cover with showers developing. For much of Wales, Cornwall and the Midlands, it will be cloudy with some outbreaks of rain, and during the evening this rain will spread eastwards through most of East Anglia and the south of England. An area of mostly dry sunny weather will spread slowly southwards through southern Scotland and into northern England. Following behind, cloudier weather with some showers will spread southwards through Scotland and Northern Ireland.
Away from the far south-east it will be a much cooler day. Particularly in the Midlands, where some places reached 31C yesterday, the temperature contrast will be dramatic, with some places not getting above 13 or 14C. The coolest temperatures will be in north-west Scotland and parts of Wales, where it may get no warmer than around 12C. In the slot of dry sunny weather, north-east England will see highs of 18 to 20C.