The weather has been quite ordinary for a while across the UK, and it looks set to continue that way for another few days. However, we're keeping an eye on the potential for the weather to briefly turn very hot towards the end of next week and into the beginning of next weekend.
Spain has already had some record-breaking heat this year, with an early heatwave around 20 May seeing temperatures rise as high as 40.3C at Jaen in Andalucia, southern Spain. More exceptional heat will set in over Spain during this coming week, with temperatures widely reaching the low 40s Celsius. From Wednesday until Friday this heat will establish over France as well, with the potential for temperatures to hit the low 40s Celsius, especially in the west and south of France.
It is this hot weather which looks set to push northwards into Britain, but as it is still a week away, it is uncertain how intense the heat will be. Operational forecast runs from the ECMWF and GFS are suggesting the potential for record-breaking temperatures of around 35-36C in the south-east.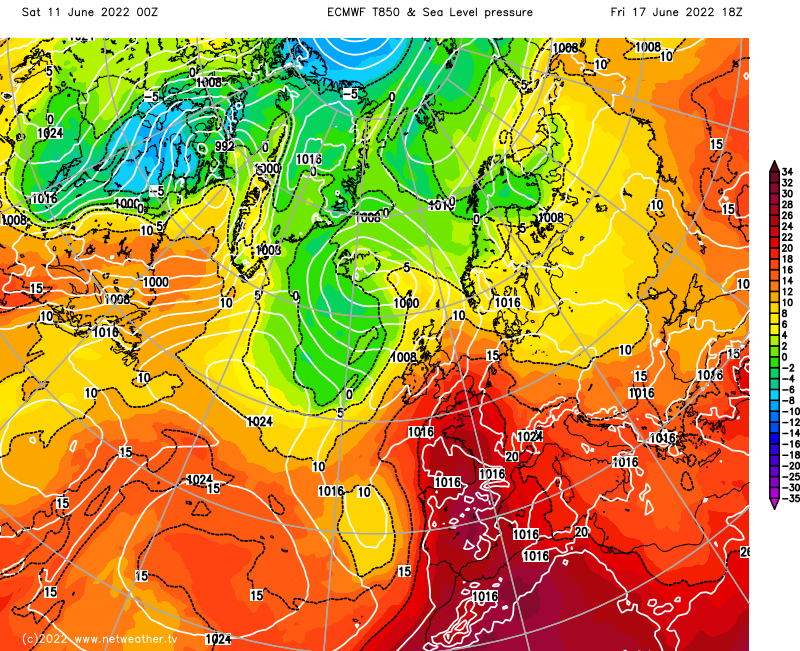 For comparison, the UK record temperature for June is 35.6C, set in Southampton on 28 June 1976 during a famous hot spell. However, some forecast runs have the hottest weather not quite making the British Isles, with the south-east just nudging the low 30s Celsius - which would still be hot by most standards, but not record-breaking.
Today
Looking briefly at the weather in the nearer term, today is set to have a northwest-southeast split. In south Wales, the Midlands and southern and eastern England, it will be a generally dry and sunny day with just isolated showers, and the temperature will reach around 23C in inland parts of the south-east. It will be cloudier elsewhere, with more frequent showers over Northern Ireland and southern and eastern Scotland, and persistent rain over western Scotland. Under the persistent rain in western Scotland, temperatures will climb no higher than around 12 or 13C. It will be a breezy day for much of the UK, and especially so in western and northern Scotland.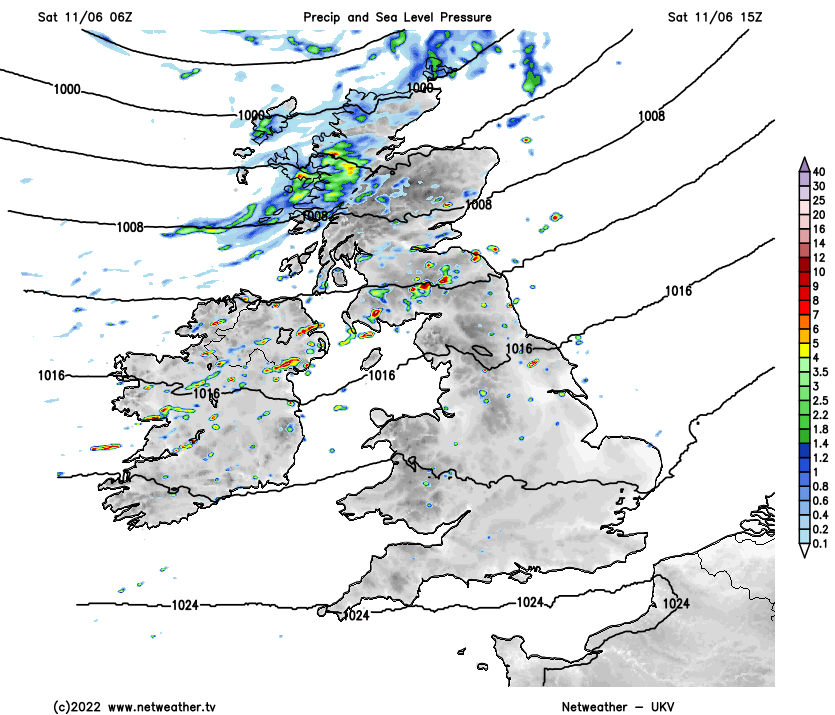 Tonight will be generally dry in eastern parts of the country but with some scattered showers affecting the west. Minimum temperatures will mostly be between 9 and 12C, but possibly no lower than 13C in the London area.
Tomorrow and Monday
Tomorrow will be a day of sunshine and scattered showers for most, but staying dry and sunny over much of southern England, especially in the West Country. Into Monday, a ridge of high pressure will bring dry and mostly sunny weather for much of southern Britain, but it will turn cloudy in Scotland and Northern Ireland, with some rain mainly for the west of Scotland. Temperatures will remain similar to today's with an enhanced northwest-southeast gradient, struggling to exceed 13C in western Scotland but reaching 21-23C in south-east England.
Beyond Monday
High pressure will build over the British Isles starting on Tuesday, promising a settled spell of weather. It looks probable that it will be dry and sunny in the south for the rest of next week, but there will often be plenty of cloud further north, especially over Scotland and Northern Ireland. (Map below from the Met Office Global model)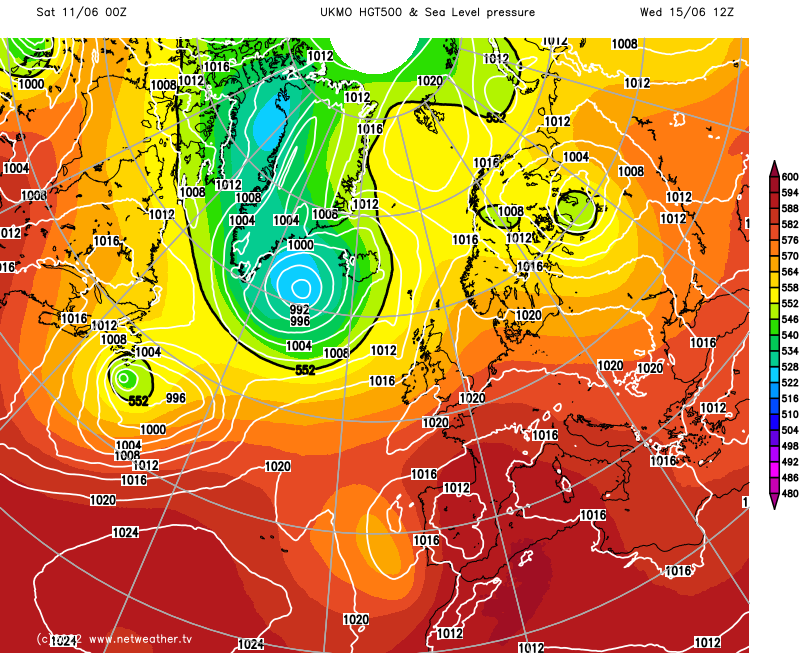 Confidence is high that by Wednesday and Thursday of next week, temperatures will be reaching the mid to high 20s Celsius over most parts of England and also the east of Wales.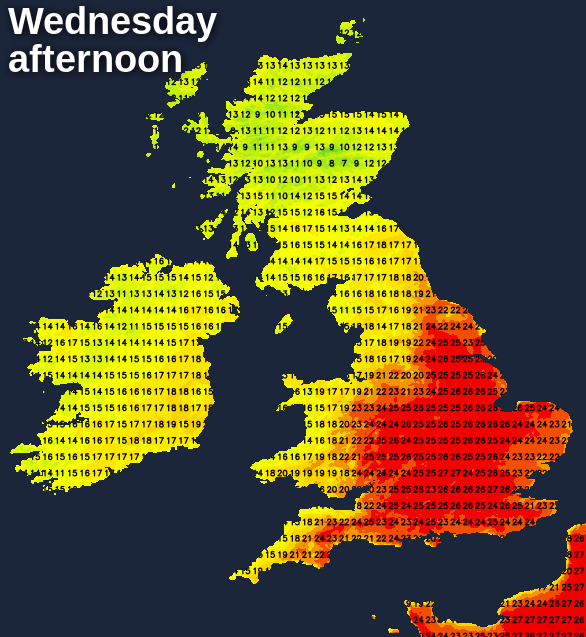 Through Thursday and Friday, the sunny weather is expected to extend to most of the country. What happens beyond that depends on the extent to which the high pressure moves to the east of Britain. If the high does get to the east, then potentially record-breaking temperatures will head northwards from France. If it does not, the heat will end up being more moderate.