Fog
There has been some radiation fog this morning for southern and eastern England, that will soon dissolve away, there are also murky conditions nearer the frontal band in the far NW.
Fog will reform tonight, so worth bearing in mind if you are heading out early on Saturday morning. Those autumnal hints are taking hold now.
Wind
The warm southerly flow will reach right up through Britain today with temperatures of 17 to perhaps 22 or 23C. Inland SE England will do well and north of the Grampian mountains. For Northern Ireland, behind the front, the wind veers to a light westerly. This will feel a bit fresher.
The winds will be very light overnight, assisting the fog. Northern Ireland and inland western Scotland will see temperatures down into single figures, so a slight nip in the air for Saturday morning. Some warm sunshine about again but it will be the SE half of Britain that sees temperatures of 20+. London could reach 24C and with hardly any breeze it will feel pleasantly warm.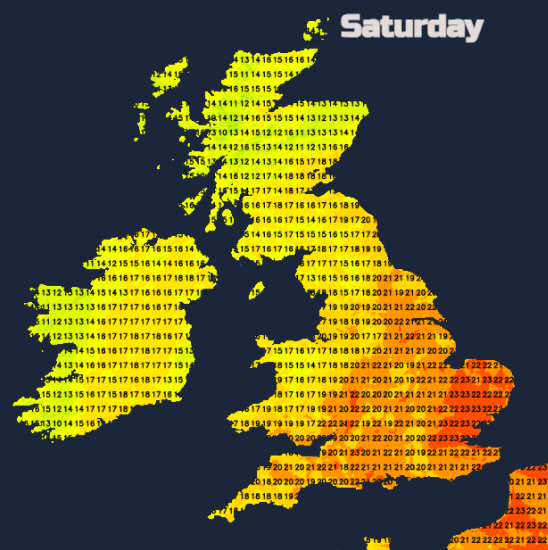 A slight shift overnight and there will be a light SE wind along North Sea coasts for Sunday morning, so that will feel fresher. A NW or W wind will follow the showery rain band over SW Britain but again SE England and East Anglia could see into the low twenties to end the weekend.
Tags:
UK Weather
&nbsp