Today will see a messy wintry mix of rain, sleet and snow across northern, central and eastern areas along a stalling front with cold air to east of the front and milder air to the west. For many it will be a wet day in these areas, but across inland areas of Scotland and northern England snow will fall, with an Amber Warning in force for up 10-20cm of snow. Snow will fall to lower levels in the north giving a covering in places, but greatest accumulations will be over higher ground, some travel disruption likely as a result. Rain and snow will fizzle out this evening, then Friday is looking mostly dry and fine but cold as high pressure builds in. Saturday will see another frontal system move in bringing rain proceeded by snow. Sunday drier in the south, as brief ridge of high pressure returns, rain for the north. Then turning increasingly unsettled and milder early next week, as Atlantic lows move in.
Today
Some in Scotland and northern England are waking up to a wintry scene of a blanket of snow, but for most it's a wet rather than snowy start to Thursday. There is an Amber Warning in force until 10am this morning for heavy snow in an area of inland Scotland stretching from the Highlands southeast towards the southern Uplands and Cheviots. Up to 10-20cm of snow accumulation is expected above 200m and 5-10cm at lower levels in the Amber warning. While a more widespread yellow warning for snow covers Scotland and parts of northern England until 9pm. So expect some travel disruption from snow and ice in these areas covered by warning, particularly under the Amber Warning.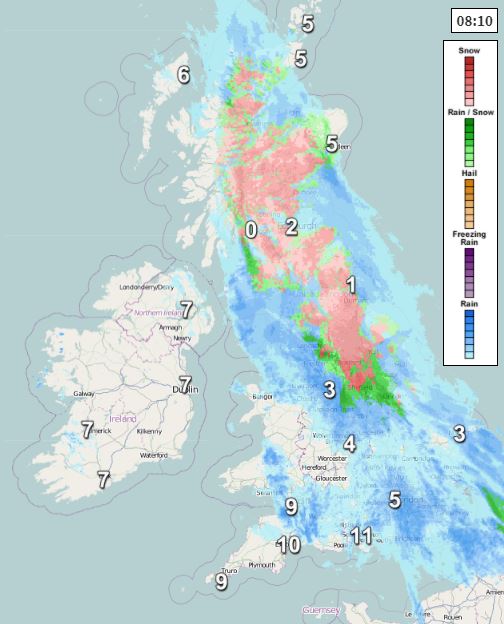 Outbreaks of rain will continue across many areas this morning, sleet and snow across inland central and eastern Scotland, higher parts of northern England and perhaps to lower levels east of the Pennines too. It will be drier at times though across N. Ireland, west Wales and SW England – but with some showers too.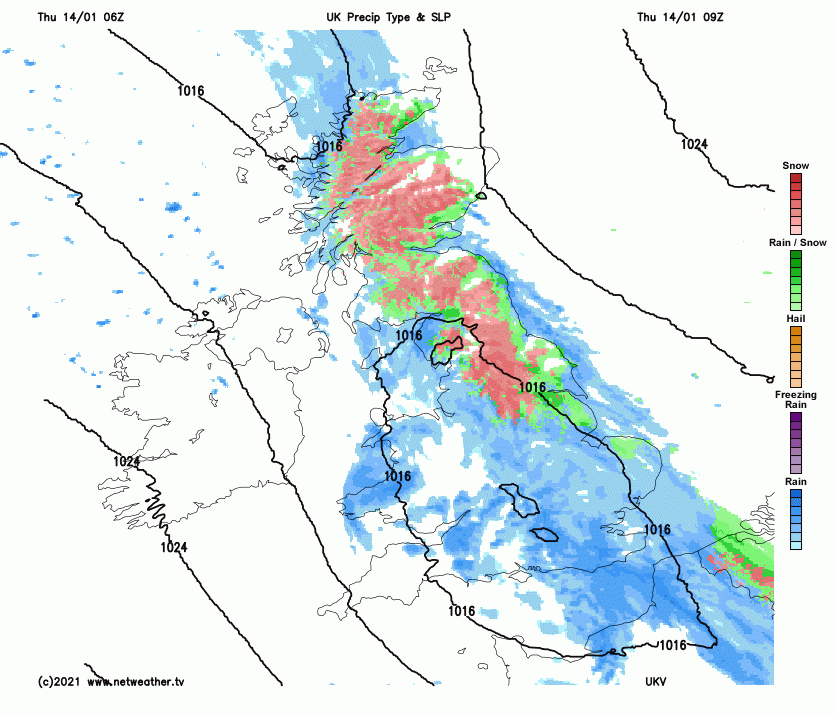 A cold afternoon in the north and east, rain, sleet and snow will persist into the afternoon across Scotland, northern, central and eastern England, snow levels falling and extending further south into the Midlands and parts of eastern England too, though settling will be mostly confined to higher ground further south. With rain for much of the day across eastern areas, there could be some issues with localised flooding, following a wet day yesterday, with a number of flood watches in force. The rain, sleet and snow affecting northern and eastern areas will slowly ease later in the afternoon, before fizzling out this evening. Drier and milder with some brightness in the far west and southwest this afternoon, but also a few showers possible.