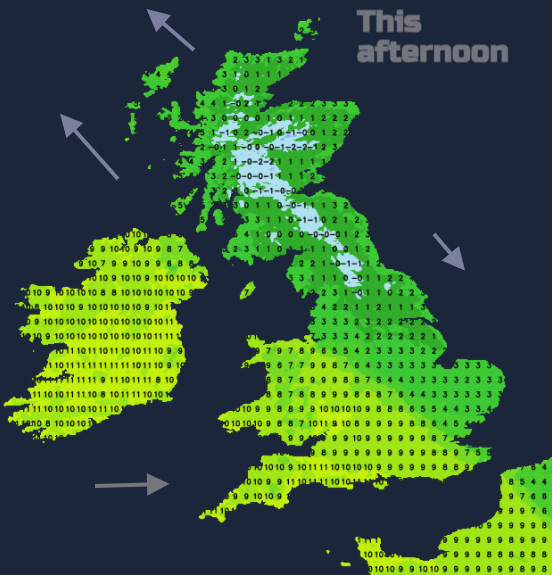 Northern Ireland has had a cold wet start. The rain will clear to into the North Channel at lunchtime leaving cloudy but much milder air, up to 10C as the SE wind veers to a westerly. More showery rain then moves in from the west, across all counties and the winds swing to the NW.
For northern England and Scotland, there is the band of rain from the west with the colder air ahead of it. A frosty start with ice in places. There will be snow today for the higher ground inland of Scotland, including the Central Belt, the higher parts of the M8. By this afternoon more from the Trossachs down into the Scottish Borders and north Pennines and more continuing to fall in the evening and overnight.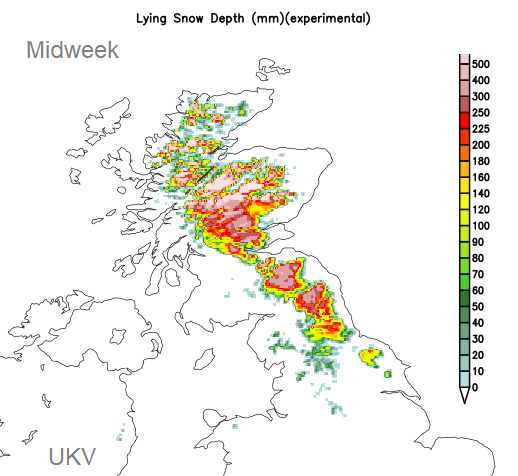 The image shows lying snow so the depths over northern Scotland include snow from earlier this week.
The colder air remains to the northeast with milder conditions to the SW and this band of rain, sleet and snow (mostly on the hills) continue overnight reaching down to the North York Moors.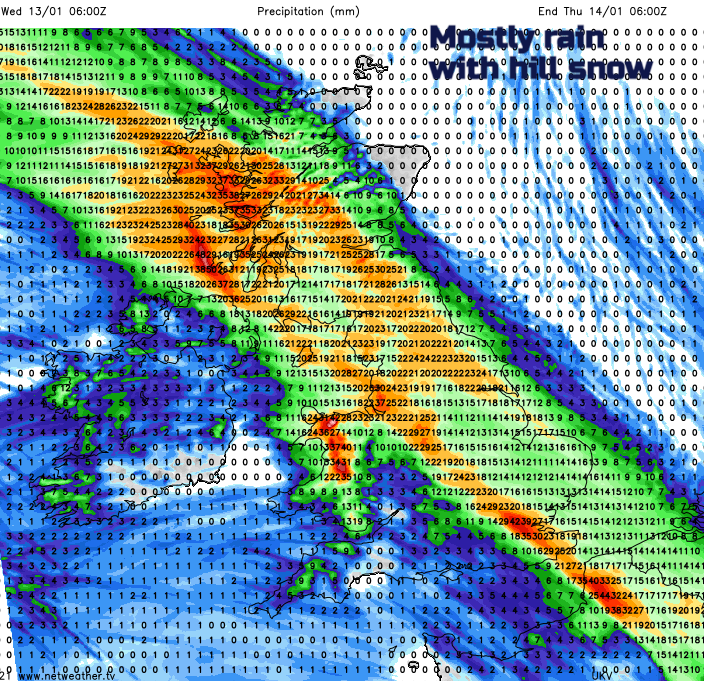 By Thursday, there could be a bit of snow over the Peak District and Cumbrian Fells and Yorkshire Dales but the main areas for lying snow look to be the hills and mountains of NE Britain inland. For most, it will be a slushy mix of rain, sleet and wet snow with ice as well. However, uncertainty remains so there could be snow to low levels.
SW Britain will have a mild start on Thursday with a fair amount of cloud. Drier and brighter for Northern Ireland but in a cooler NW wind. Colder damp weather over much of Britain with a wintry mix of icy rain, snow for the mountains and a general wet, chilly grey spell until it all fades for Thursday evening.
Another frontal band moving in on Friday night could bring weekend sleet and snow to more parts of Britain on Saturday.