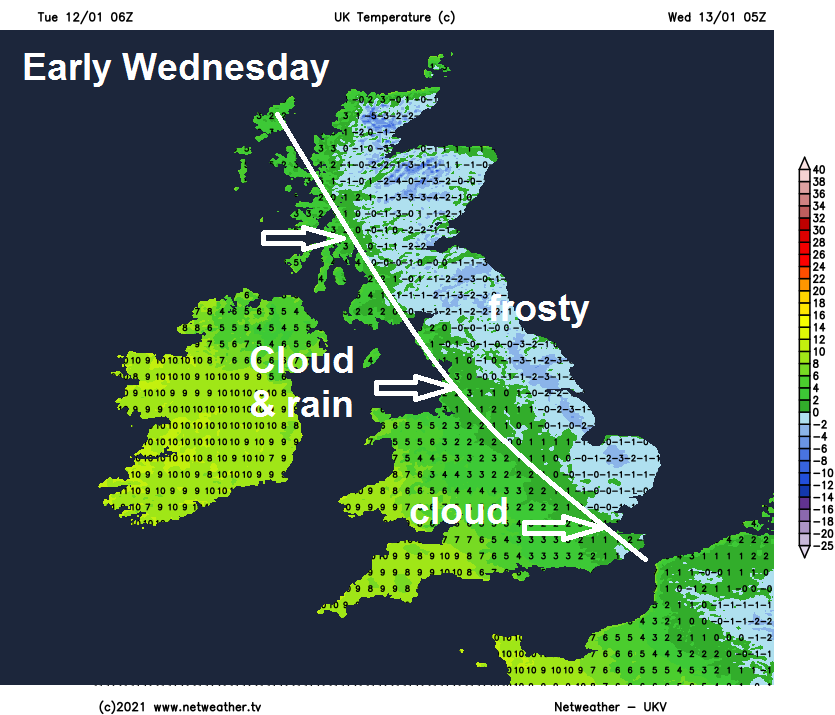 Wednesday
Battle of the airmasses playing out on Wednesday. A warm front will push a band of rain east and northeast across many areas through the day, after a cold and frosty start in the north and east, with a wedge of milder air moving in behind across western areas. But as the rain bumps into the cold air across Scotland and northern England, it will turn to snow, mostly over higher ground, where it will settle, but perhaps to lower levels for a time before turning to rain. Cloud with rain and hill snow lingering across the north and east for much of the day, but turning drier and perhaps brighter across the southwest. The northeast of Scotland could stay dry and bright for much of the day though. Temperatures reaching 3-5C at best across Scotland, northern and eastern England as far south as Norfolk, milder further south and west, reaching 8-10C.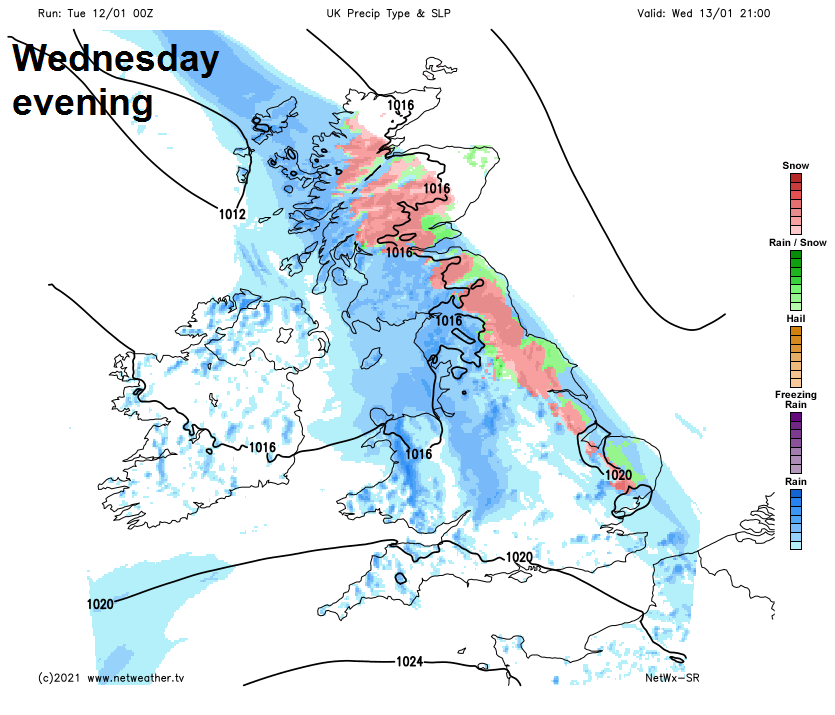 Thursday
Wednesday night could see some disruptive snow fall develop across northern and eastern Scotland along with NE England, at lower levels too, as an occluding frontal boundary separating cold to the east and mild to the west grinds to a halt across the spine of Britain. Outbreaks of rain elsewhere and the rain across many areas along with snow in the northeast will continue into Thursday, as low pressure moves in from the west, snow continuing to fall across eastern Scotland and NE England – bringing a risk of disruption. The Met Office have yellow warnings in force for snow for these areas.
Friday
The rain and snow finally clearing eastern areas Thursday evening and night. Then it looks a drier day on Friday across England and Wales, as a ridge of high pressure builds in, but it will be rather cloudy, best chance of sunshine in the far south. Scotland and N. Ireland will see rain and hill snow move in from the west after a dry morning. A cold day, temperatures reaching 4-7C.
Unsettled to start the weekend, cold on Saturday, with outbreaks of rain spreading east across all parts, turning to snow across higher ground in the north. Perhaps drier on Sunday, as a ridge of high pressure builds in.
A great deal of uncertainty as we head through next week, it looks to turn increasingly unsettled but also perhaps much colder from the north mid-week, with an increasing risk of snow almost anywhere.