Meteorological Winter arrives tomorrow, and right on cue, the weather is going to be taking a colder turn this week. Don't expect the massive freeze you may have read about in some parts of the media, but temperatures will be heading below average, and there will be some snow - for the most part though, any lying snow will be reserved for higher ground.
For now, it's a mostly mild, murky start to the week with outbreaks of rain moving south across the country today. Behind all of that, there is colder, clearer air arriving from the north, which is going to mean a chilly night tonight with a widespread ground frost.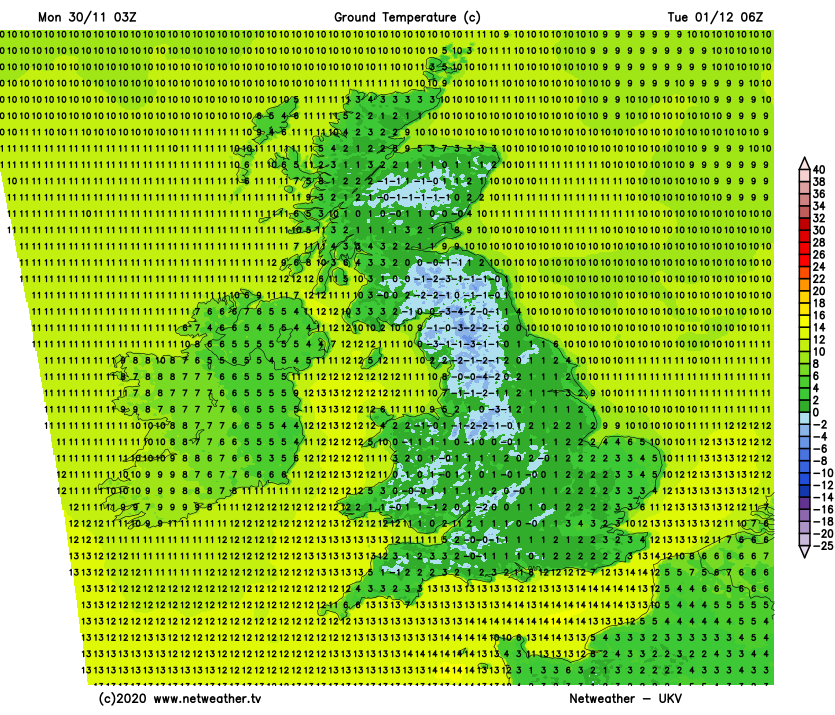 This first visit of colder air during this week will be a pretty brief one, with milder air pushing back in from the west later in the night and into Tuesday. With it, there'll be some mostly light, patchy outbreaks of rain affecting western parts of the UK, along with Ireland. Further east it'll stay drier, and particularly in the southeast and East Anglia, it'll be sunnier too but still feeling quite fresh. There is also just a risk of one or two showers clipping eastern coastal counties of England, especially in East Anglia during the day.
Temperatures on Tuesday will be mildest in western parts where 9-11c will be likely, elsewhere 6-9c will be about the max.