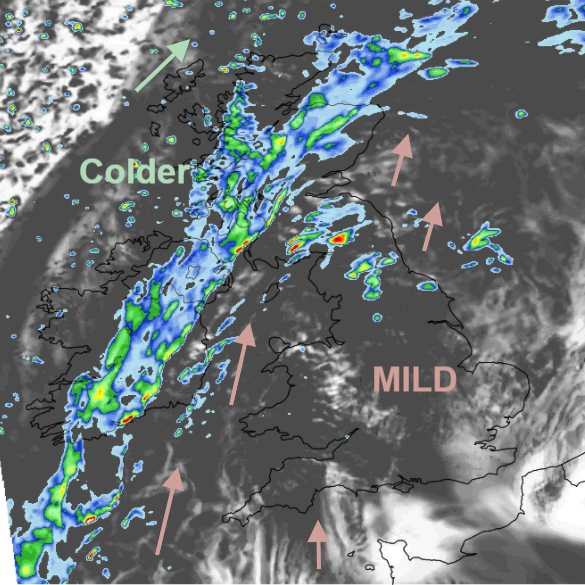 As a low pressure moves closer to northern Scotland tonight, the frontal boundary will stretching from Lothian to Anglesey to the Isle of Scilly so Northern Ireland and Scotland will be in the colder air with light westerly winds. Windier for the Scottish Islands closer to the low. England and Wales will still be in the mild air before midnight with a southerly wind but this will veer dramatically as the front goes through.
By Wednesday morning there will be some heavier rain for SW Britain, the cold air over Wales and NW England and the far NE with a sunny start for Northern Ireland, bright too for much of Scotland with sharp showers in the NW.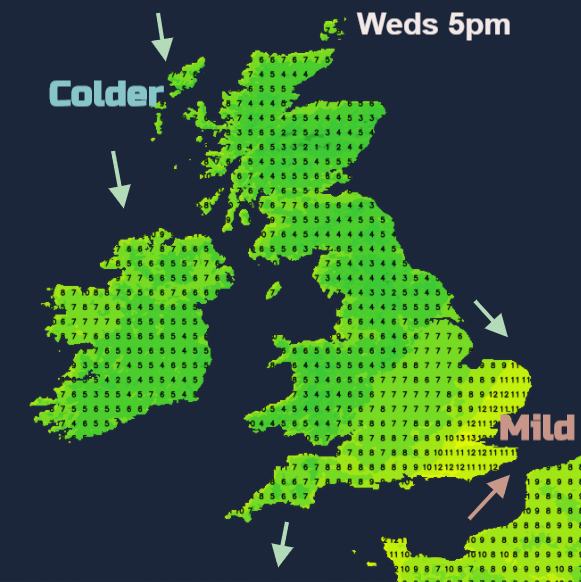 So a change on Wednesday for central and southern England with outbreaks of spilling through the Midlands, up to Lincolnshire and towards the Isle of Wight. More sunshine follows with the cold air but the far SE holds onto the slightly milder air as the rain and cloud band reaches East Anglia, London and SE England later in the day. There is some uncertainty about southern counties not getting into the colder air
By early Thursday there will be dense fog in places which could persist for hours and the same on Friday with more fog forecast. There will be a frost too and then cold settled days into the weekend.