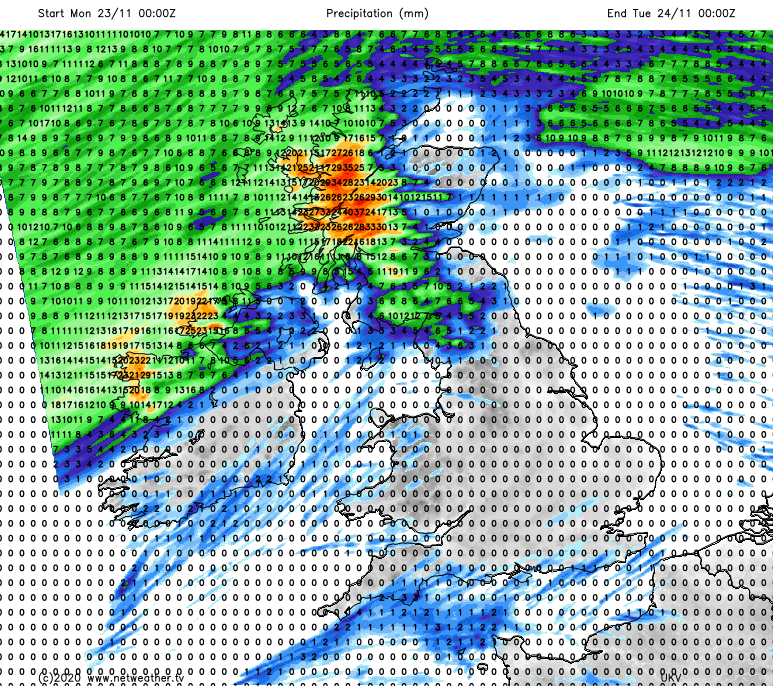 Into the start of Tuesday, nothing much will have changed - that band of rain will hang around without moving much at all, continuing to drench the same areas. The rain along it will ease at times but then pulse back to life, with occasional waves along the front moving it slightly north or south from time to time. Into Tuesday afternoon it does look like things will start to move as the rain slowly nudges further southeast.
Colder air will start to tuck in behind the front bringing the wet weather as it starts to make its move, which means some snow is possible up over the high ground of Scotland before it clears. It'll then be a slow trundle further southeast overnight Tuesday and during Wednesday, and by the time it reaches southeast England later on Wednesday it's likely to virtually grind to a halt - thanks to high pressure over the continent blocking its progress. The rain along it will become more patchy as it moves out of Scotland and across England and Wales, but even so, some heavier bursts are still possible at times.
Behind it, temperatures will fall again, with sunny spells but also some showers which will mostly be in the north and west. With clearer skies and a colder airmass overhead, there'll also the threat of some overnight frost and fog into Thursday morning - away from the still milder, and cloudier southeast corner that is.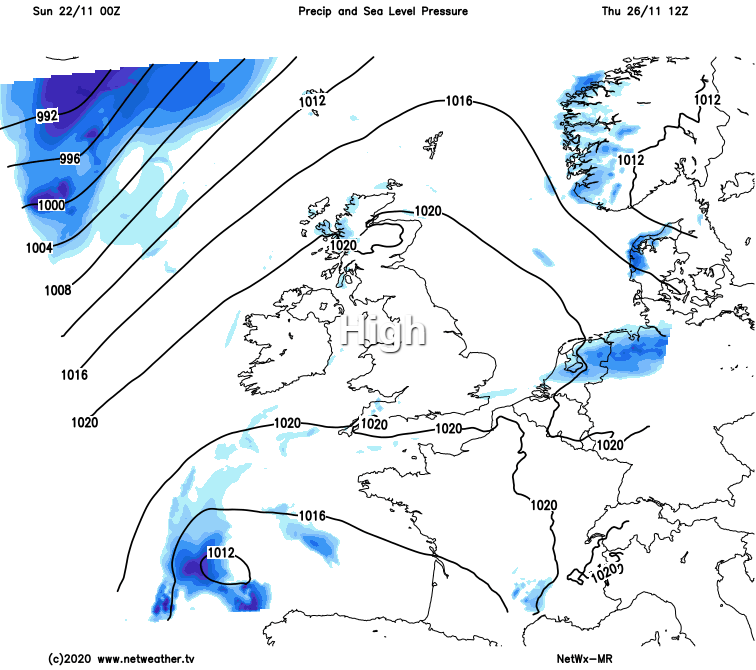 Thanks to a ridge of high pressure easing up across much of the country, Thursday is likely to keep the fine, settled but cool theme going after a distinctly nippy start. Although we'll have to keep an eye on that (by now weak) front in the south and southeast as it's not likely to be far away and may even start to head back north again, spreading cloud, maybe some patchy, drizzly rain and milder temperatures with it.
Into the latter part of the week and next weekend, the process is set to repeat. So, the high pressure which temporarily moved up over the British Isles is set to get squeezed away to the southeast again, as low pressure moves nearby to the northwest. That'll mean the north and west of the UK see a return to less settled, wetter and windier weather soonest, with those further southeast staying drier and more settled for longest. Eventually though, the unsettled weather is likely to make its move southeast again. It'll be like being on a weather merry-go-round!
Main photo today - the Kylescu bridge in Northwest Scotland.