Heavy showers move from the SW across England and then the frontal rain sweeping in from the west. Ahead of this, mild air remains around 13 or 14C. The rain won't be as heavy by the time it reaches SE Britain in the afternoon. Much brighter, cooler air follows with sharp showers for Northern Ireland and western Scotland, adding to the already very wet ground.
As the true colder air moves down from the Arctic there will be a vicious northerly wind during Wednesday night over northern and western Scotland, down into Northern Ireland and gales through the Irish Sea. There will be heavy, thundery showers with hail and then sleet and hill snow. The strong north winds then extend down eastern Scotland as overnight temperatures plummet inland.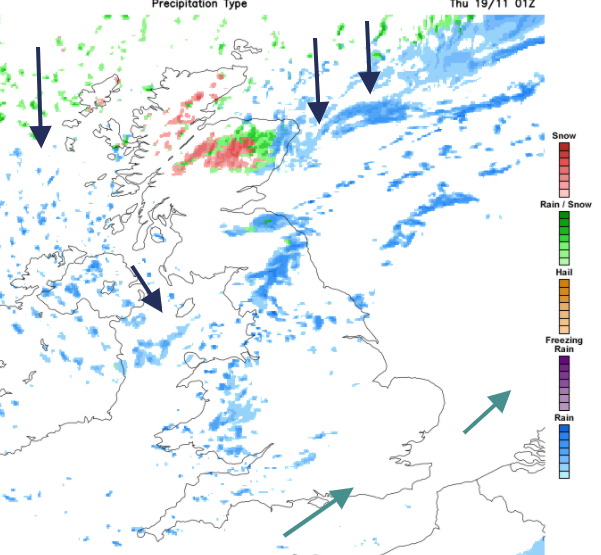 By Thursday morning it will feel colder everywhere. There will have been snow overnight for the Scottish mountains in the north and snow showers continue to feed in as the north winds ease down during Thursday. Showers will clip Wales and eastern England, some with an iciness to them. The day will be bright and sunny but cold.
Temperatures fall away over central and eastern Britain during Thursday night with light winds and the risk of frost and ice, but the next incoming Atlantic front will bring more cloud, rain from the west and a return to milder conditions.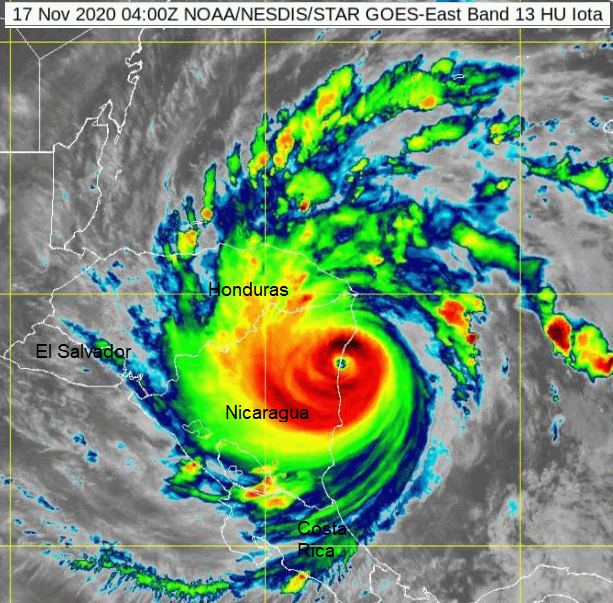 Central America
Hurricane Iota (which reached Cat. 5 status) has made landfall over Nicaragua. This is a catastrophic situation. "Extreme storm surge of 15-20 ft forecast, destructive winds, potentially 30" of rainfall." NHC Iota is making landfall in almost the exact same location that Cat. 4 Hurricane Eta did a little less than two weeks ago. The landfall distance is around 25km, comparable to the City of London out to the M25. Two major destructive hurricanes in that distance this month.