All parts have seen a transition to a more unsettled weather pattern through the middle part of this week, kicking off with an active frontal system moving east yesterday bringing a spell of heavy rain and strong winds across all parts by midnight last night. Further weather systems are on the way over the next few days, as a strong jet stream takes aim at the UK, bringing spells of rain and windy at times, but there'll be some drier weather in between too. Thursday is set to be mostly dry and bright, as a brief ridge of high pressure builds between systems, before rain moves into the west tonight before clearing the east late tomorrow morning, then another dry spell Friday away from the northwest, before a rather wet and windy weekend is in store for many, with gales around coasts.
Unsettled at times over the coming days, particularly over the weekend, as the jet stream cranks up and aims at the UK
Today
For now, after a wet and windy night and a few early showers that will soon clear, a ridge of high pressure building in will ensure a mostly fine and dry day. After a sunny morning for many, once early cloud clears, best of the sunshine becoming confined to the east in the afternoon, while cloud builds in the west and the wind picks up, cloud thick enough to bring a few showers in the west and perhaps more persistent rain across the far west of Scotland. Temperatures ranging between 10-13C.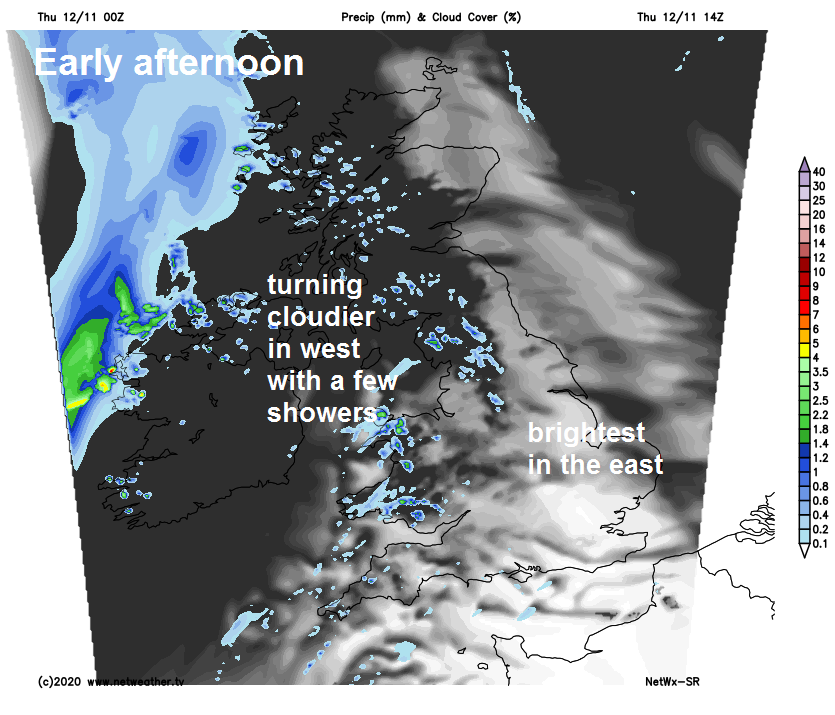 Tonight
Cloudy skies and windy conditions spreading east across most parts overnight, a band of heavy rain arriving across Ireland and N. Ireland from the west this evening will spread east across most parts during the night, though rain band tending to break up and turn showery. SE England and East Anglia staying mostly dry.