It turns cold quickly for Scotland and the far north of England tonight with very light winds before midnight. Gradually the southerly winds pick up, strong through the Irish Sea, fresh SE winds for Northern Ireland as heavier warm front rain pushes north. This brings another spell of heavy rain to Wales then up through the Midlands and NW England once more. Milder air follows from the south with a lot of cloud and murk. It turns wet over Northern Ireland and more of Scotland ready for Saturday dawn.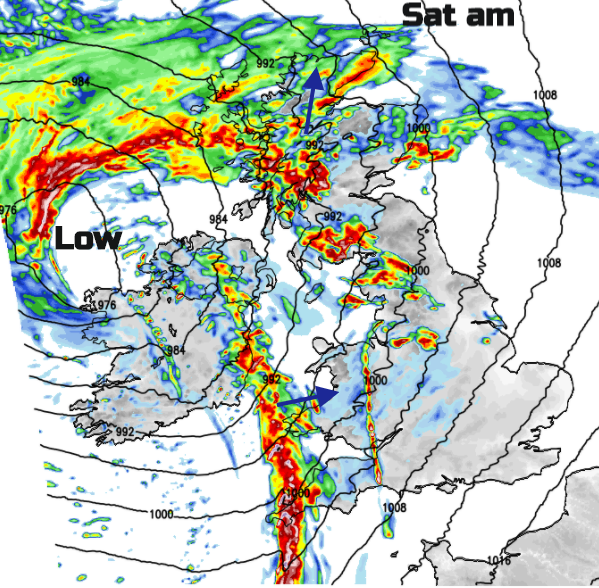 Saturday starts mild for most and windy. Scotland will be cooler as the warm front rain continues northwards. Swirling around the low pressure to the west will be further bands of heavy rain, strong winds and the strangely warm air. Later in on Saturday morning, the active cold front moves away from Northern Ireland and brings a spell of heavy rain over Wales and SW England into central England. There will be pulses of heavy rain further north too, with line convection possible. The frontal band works its way right across Britain during Saturday, over East Anglia and London mid-afternoon. Sunny spells and showers follow on the blustery winds.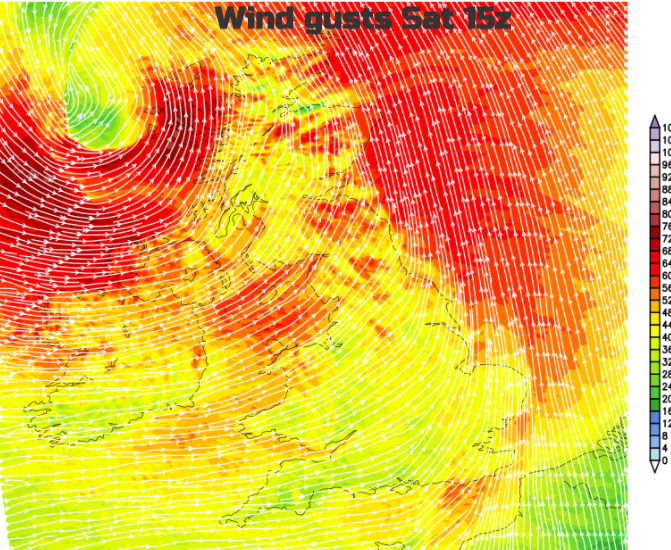 For Northern Ireland, Scotland and around the Irish Sea there will be strong winds and gales, with the risk of severe gales around the front and after it as the low centre squeezes nearer to NW UK. The winds need watching later on Saturday, mostly for western Scotland but also Northern Ireland and the Isle of Man.
This low has barely moved away when the next one is nipping our way. This has links to what was once Hurricane Zeta, so some tropical energy mixed in. There is some uncertainty in the detail of Sunday's forecast but there will be another bout of very wet weather from the west and more strong winds. Again, with gales for Scotland, possibly Northern Ireland and rain moving across the UK, possibly trailing back over southern England for the end of the weekend.
Then another low pressure with wind and rain for Monday but signs of more settled conditions by the middle of next week. Finally.