A mild start with the frontal band easing and it settles over southern Britain. This leaves some fine autumn conditions for all of the soaked areas, a respite after Thursday's rain and a lull before the weekend onslaught.
Western areas will bear the brunt on the incoming rain but also with high ground such as Welsh mountains and Cumbrian Fells orographic uplift occurs, the air cools and even more rain falls. The ground is already wet and muddy and fallen leaves are blocking drains causing extra problems.
By Friday evening the frontal band will be starting to wave up over Cornwall and Devon with heavier rain and this then surges northwards through Wales with strengthening winds.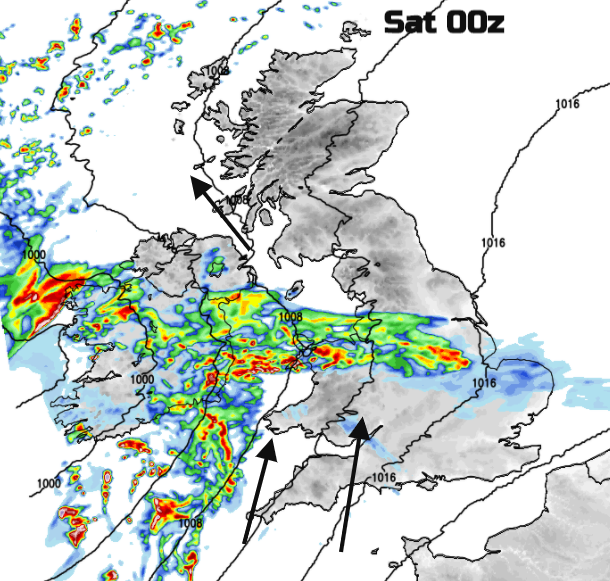 Northern Ireland will then see wet and windy weather for Friday night. Phone number to report flooding in Northern Ireland, 0300 2000 100.
The warm front works its way northwards over Britain, again for NW England and western Scotland with the cold front bringing further heavy rain into Wales. And the winds begin to strengthen.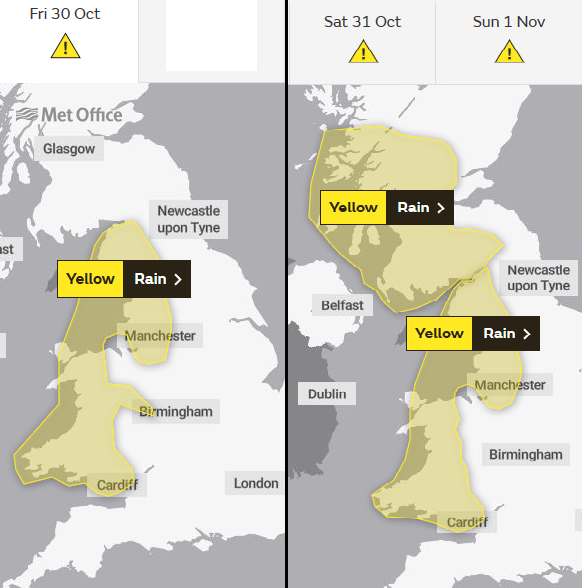 The weekend
Similar areas have yellow rain warnings for Saturday and Sunday; Wales, NW England and more of western Scotland. With strong winds and coastal gales, even more leaves will fall from the trees and other areas could see localised flooding from surface water. The forecast low for Saturday isn't quite straight forward but currently, it looks like the cold front will march right across Britain during Saturday and bring a spell of very heavy rain with strong winds. With a significant wind veer, there could be line convection on the front with torrential downpours, squally winds and even lightning. It will be worth watching the radar for the progress of this band if you are heading out.
"Across some hills and mountains, 80-100 mm may accumulate, particularly NW Wales Saturday. The heaviest rainfall is expected across the hills and mountains of NW Wales and Cumbria Sunday." Met Office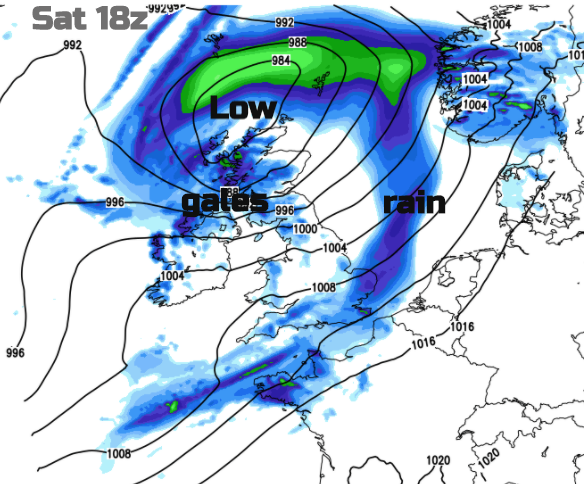 There are uncertainties for the forecast, how developments in the northern Atlantic progress. Once the vicious band clears off into the North Sea there will be a brief lull overnight for England and Wales. As Trick or Treating is restricted this year it doesn't really matter too much for Halloween. The winds will strengthen around the low centre moving over Scotland and this could bring gales to Northern Ireland and the Irish Sea and parts of Scotland. Even the weather is saying stay indoors.
Southern, central and western Scotland have a rain warning throughout the weekend with higher flooding concerns. The ground will be saturated, and the rain just keeps on coming, there will be problems.
Sunday's low has tropical energy mixed in it, the remnants of what was Hurricane Zeta which made landfall over Louisiana on Wednesday. Another bout of very wet and very windy weather is forecast for Saturday night and Sunday morning, heading north.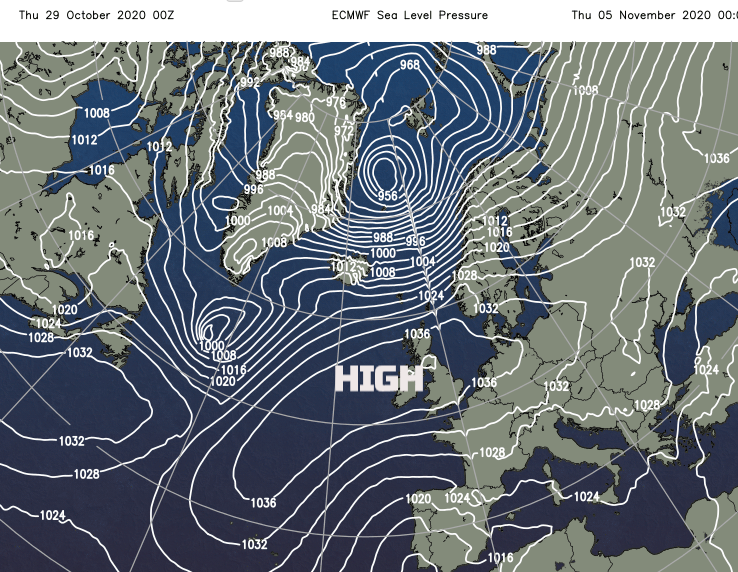 The actual extra-tropical low centre could head towards the UK on Monday bringing stormy conditions. It may seem like it will never end for western areas. However, as a glimmer is a chart for midweek (above) with a lovely high pressure right over the UK. A long way off but we have to take it just in case we can finally dry out. Or maybe just our coat and socks if not the ground.