The unsettled run of weather will continue as we end the week and move through this weekend, as Atlantic low pressure makes its presence felt. Today, we have a showery band of rain moving west to east, tomorrow brings a more lively band though, which is looking likely to bring some squally winds and torrential rain as it passes through.
Then, by Sunday with low pressure nearing the northwest of Scotland, it'll be windy - especially in the northwest, with a mix of sunshine and blustery showers being blown through from the west. Quickly looking ahead into next week, the remnants of hurricane Epsilon are forecast to move towards the British Isles bringing another spell of potentially very wet and very windy weather with them into Tuesday and Wednesday. That's a long way off though, with bags of uncertainty over the details and timing, so stay tuned for updates.
Today, after a wet start in the west, the rain will trundle its way east during the day. As it does so, it'll become more showery and generally lighter but there is the risk of some sharp, thundery showers in the south and particularly southeast this afternoon and into the evening. Behind it, there'll be a scattering of showers but plenty of bright or sunny spells with the majority of showers affecting the northwest of the country. Temperatures this afternoon will peak at 13-15c in the southeast, 9-13c typically elsewhere.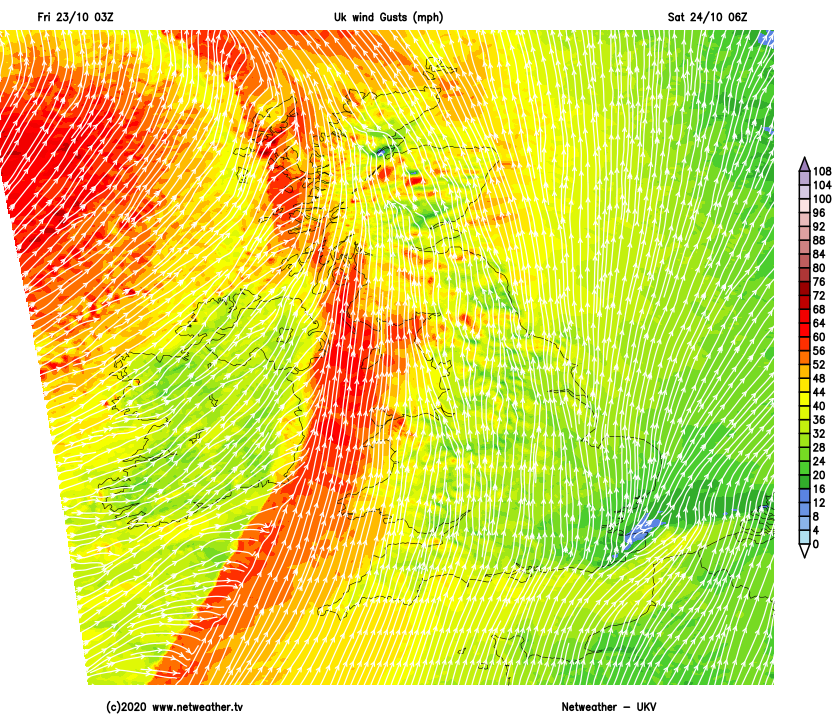 Overnight, the next band of wet weather arrives into the west - this time along a cold front. It's going to pack quite a punch as it moves through, with gales or severe gales most prevalent in western parts but also some locally very squally winds during the more intense periods of rain as it all moves east.