This time 33 years ago people in SE Britain were venturing outside after The 1987 Great Storm which raged through the night bringing damaging wind gusts of up to 115mph which downed millions of trees in southern England. Central London recorded a gust of 94mph as a Sting Jet (core of upper strong winds) reached the ground, hitting the UK. Michael Fish will be back next Friday for his regular Netweather forecast.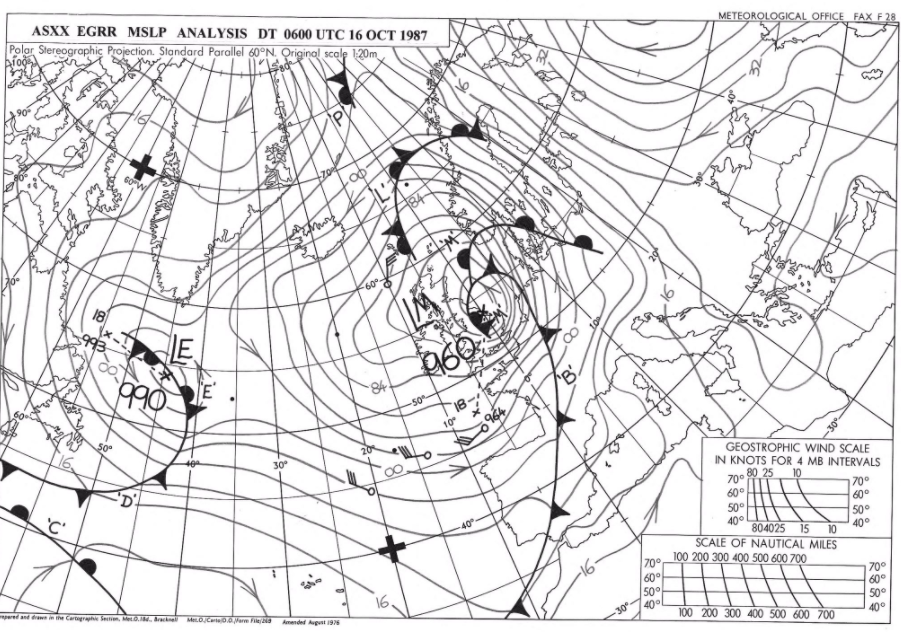 Today is a much quieter picture with high pressure to the north, light winds, a cool feel by day, nippy by night and dry for most with more cloud in the east yet brighter further west. This pattern continues for much of the weekend.
Another cool day with a good deal of cloud in the east. This low cloud is drawn in off the North Sea and continues to bring dampness to eastern Scotland, even though the Central Belt. Winds are light for Scotland being nearer to the centre of the High. Further west it will be sunny. For Wales, it will be a fair, bright day, dry for most with sunny spells. The odd shower could reach Powys this afternoon. Northern Ireland will also see the odd showers for eastern coasts, but it will be a fine, bright day just feeling cool. Across England, most places remain dry and fair with just a few showers moving east to west, more cloud for eastern counties but more brightness and sunny spells further west. Temperatures remain around 10 to 14C across the UK and it has been a chilly start this morning in places with grass frost.