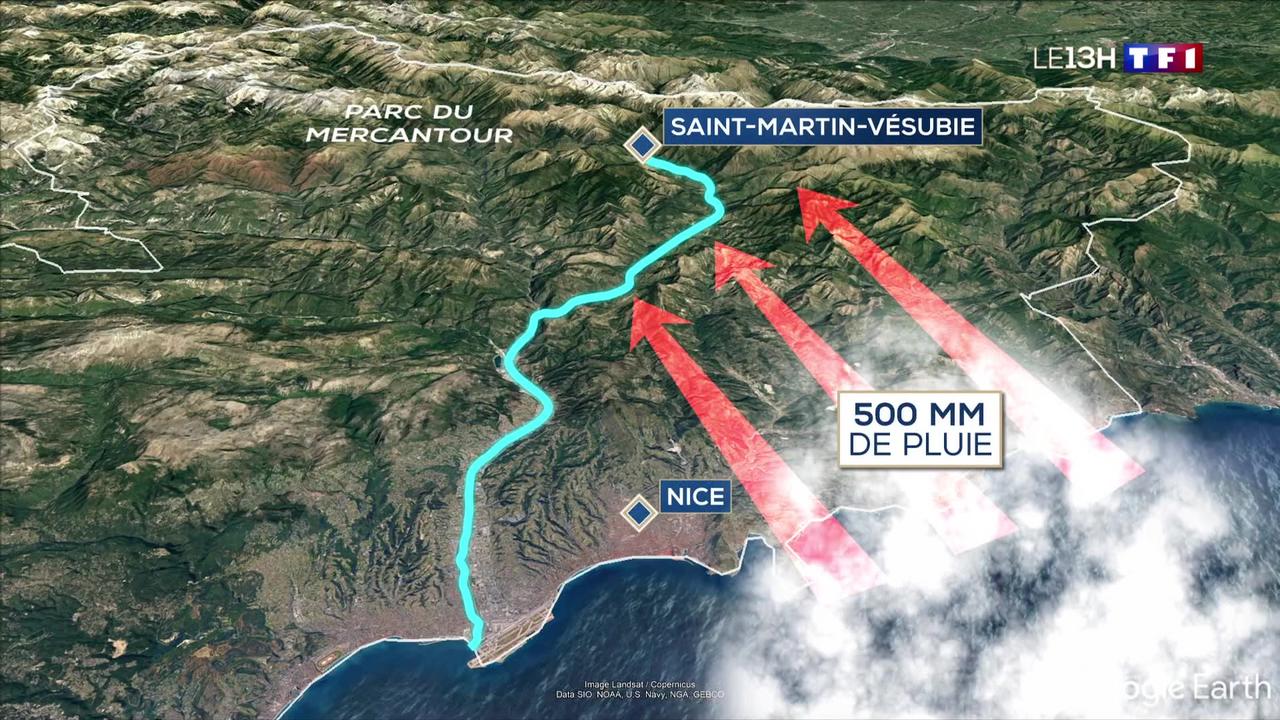 A southerly flow along and ahead of the north-south stalling cold front straddling SE France and down into the Mediterranean carried hot and humid air from the Mediterranean which was forced to rise over the higher relief of the Alps. This rapidly rising warm and moist air, while the upper atmosphere became increasingly cold from the west, triggered intense thunderstorms, which were continuously renewed for several hours along the stalled front. The storm system hovered over the Alpes-Maritimes and eastern Var for more than ten hours, regenerating itself thanks to the hot and humid wind that persisted. Up to 500 mm of rain, or the equivalent of 3 months, fell in the worst affected parts of the Alpes-Maritimes department, according to Météo-France. The large volume of water entering rivers from this extreme rainfall over a short period swept away houses and infrastructure, cutting off entire communities and causing a number of casualties. The northern Italian province of Piedmont was also badly hit.
Climate change likely increasing and exacerbating these Mediterranean Episodes.
The Mediterranean episodes occur most of the time in autumn when the upper atmosphere begins to cool down while the sea is still warm. These extreme rain events in the Mediterranean regions appear to have increased in frequency in recent decades This likely an impact of changing climate, with prolonged higher temperatures than the long-term average in the region leading to higher sea surface temperatures (SSTs). This combined with the fact that higher temperatures can hold more moisture too, means there is more fuel for these extreme rainfall events in the region. With climate change making Mediterranean SSTs warmer this time of year while higher altitudes cool with the seasonal change, these rain events may only get worse/extreme given the right set up
Only last November, there was a similar Episode. Between 21-24th, as much as 395 mm (15.6 inches) fell in Loubaresse, Ardèche Department in the Cevennes region of France, while parts of the Alpes-Maritimes department saw in excess of 380mm. Rainfall totals in other areas of the Var were the highest since a similar episode in 2011.
Mediterranean Episode in France, November 2019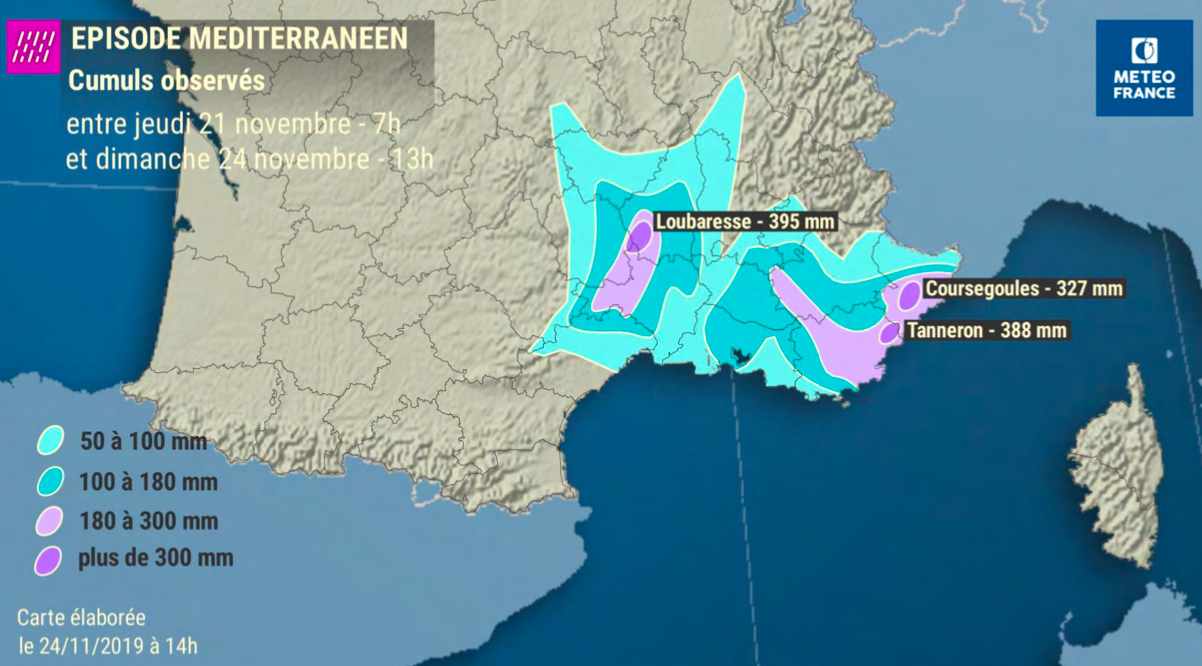 Extreme rainfall events are often produced by a blocking pattern at the jet stream level. And these events that lead to catastrophic flooding are not just confined to these Mediterranean Episodes.
Major Flooding events elsewhere across Europe in recent years
In late May and early June 2016, an historic rainfall event over parts of France and Germany was associated with a large cut-off low made stationary over central Europe by a blocking high pressure system over northern Europe, which spurred the development of several slow-moving low pressure disturbances. Fuelled by warm and humid air from the south, this caused clusters of heavy thunderstorms in Germany and very heavy large-scale rainfall combined with heavy downpours on an almost-stationary convergence zone over France.
Closer to home and in June last year, parts of the Midlands and Lincolnshire saw flooding, the town Wainfleet, Lincs went underwater after two months rain in two days led to the River Steeping bursting its banks, with 580 homes evacuated. Again, this was caused by an area of low pressure hemmed in by blocking high pressure to the east over Eastern Europe and also over the Atlantic to the west and north. This system sucked up a lot of warm moist air on its eastern flank into the slow-moving low pressure system that was rotating in situ over the British Isles.
Global warming is increasing moisture in the atmosphere because a warmer atmosphere can hold more water than a colder atmosphere. This is making storms produce higher rainfall totals. Combine this with climate change bringing changes in global weather patterns, which could be leading to more prolonged 'blocking' episodes, which stall storm systems, leading to prolonged rainfall, then these events may increase. Perhaps what used to be one in 100 year events now becoming one in 10 year events. Some places, such as parts of southern Europe and increasingly NW Europe, even less than that. Extreme rainfall events have generally been a problem in Mediterranean areas of southern Europe, particularly in autumn. But parts of northwest Europe, including Britain, are starting to see an increase in extreme rainfall and catastrophic flooding events in recent years, particularly when low pressure systems become slow-moving to the northwest with a conveyor of warm moist Atlantic air feeding in along stalling frontal systems.