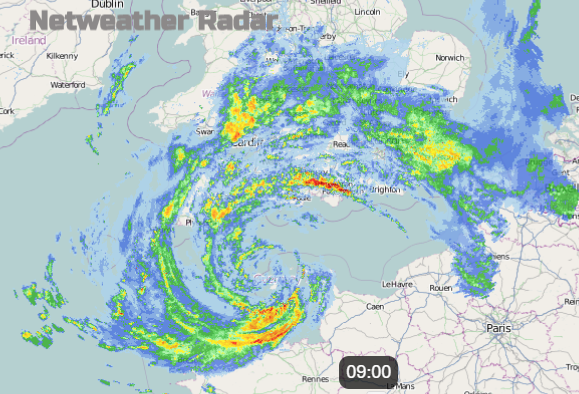 Later today the winds do ease down but clusters of showers are pulled in off the North Sea for eastern Britain, particularly SE England, turning wet for East Anglia and Home Counties by Friday evening. As the main low centre moves south the winds over England back to a northerly.
The severe weather is going to continue. Strictly, Storm Alex, the true centre will be away heading towards Bordeaux with a secondary low swinging round over northern France west through the English Channel tonight bringing more gusty winds. Not as bad though as last night. As this low dances about over northern France, it will bring heavy rain to Britain on Saturday. For the public, this weekend's very wet weather is still related to Alex. It's all the same weather event.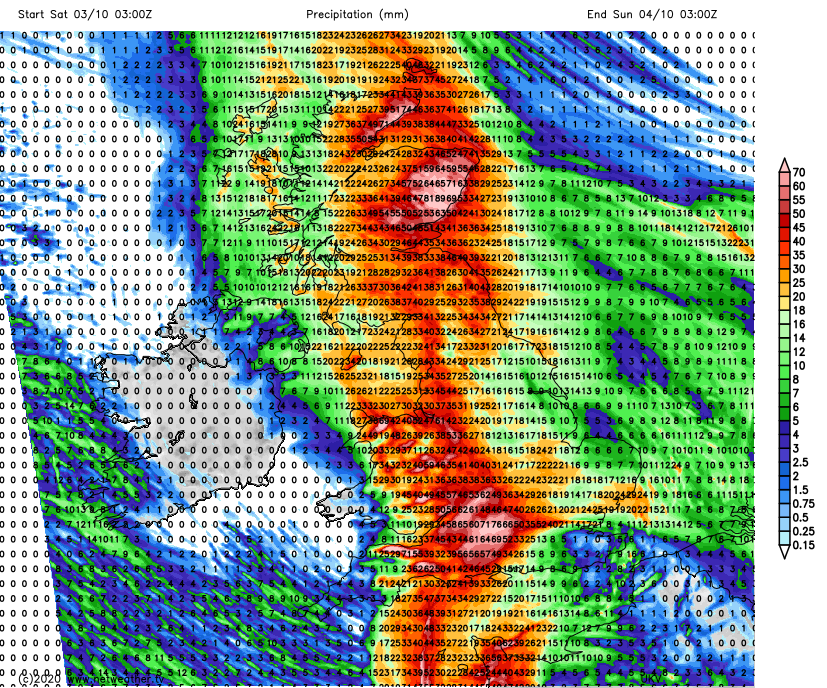 There will be strong gusty winds overnight and for Saturday morning for the Channel Islands and SW Britain from the north or NW with bands of heavy rain over Britain. This has been the most uncertain part of the forecast in terms of people planning for the weekend. There will be spells of heavy and persistent rain but also breaks, brightness and lighter winds. SE Britain looks to improve after early rain. The bands of rain swing westwards with concerns from the Environment Agencies and there is a widespread Yellow warning for rain over Britain for the weekend mentioning totals of 100-125 mm expected over high ground.
"Heavy rain is expected to bring some flooding and transport disruption." Met Office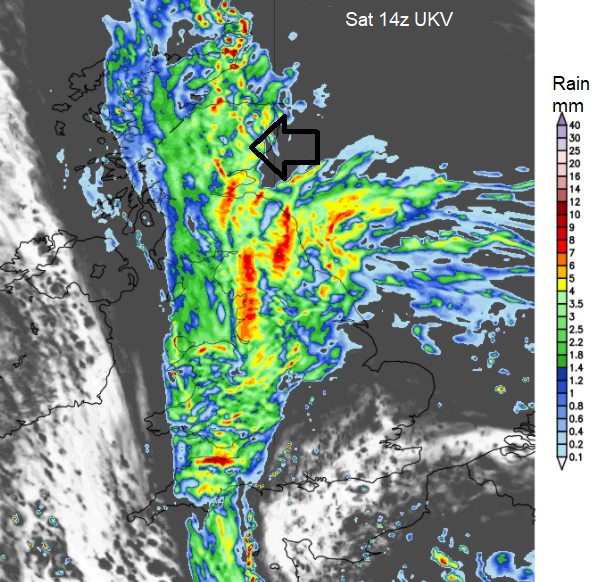 With the low centre over northern France the upside-down fronts move in off the North Sea, warm front rain over eastern Scotland in the morning, cold front rain pushing NW from eastern England, the wrap-round occlusion over Wales and SW England with more heavy rain. Eastern Scotland sees more and more rain. Wales and SW England keep a brisk northerly wind to add to the wet weather.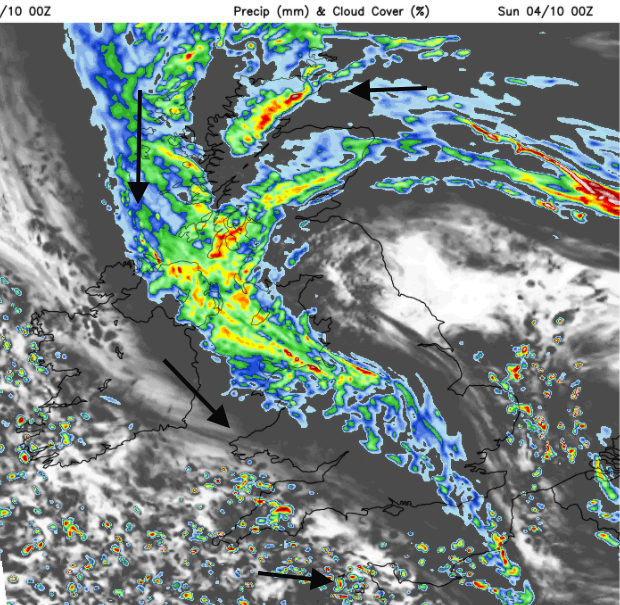 Northern Ireland seems to escape it all on Saturday with a fair day, rain just reaching Antrim and Down on Saturday evening. The rain begins to rotate eastwards for southern England, improving for NE England and SE Scotland but turning wet for more of Northern Ireland.
By Sunday morning with the low centre nearer The Wash, much of Britain will have light winds and see some bright spells in-between showers. Around the edges (so to speak) the winds will be fresh and cyclonic, strong still for SW England and Chanel Islands with bands of rain and more showers whirling around the low. An unsettled day with more heavy rain for the SW of England and wet for Northern Ireland after a fine Saturday.
Worth signing up for the Floodline or Flood alerts in your area, ready for this event and the autumn/winter season.
Further chat and discussion about Storm Alex in the Netweather Forum storm thread.