Tonight
Showers continuing this evening and overnight across England and Wales, most frequent across coastal counties, but some getting inland too across central and northern England. Clear spells between the showers, making it turn chilly. Windy across the south, with gales for SW England for a time. Scotland and N. Ireland mostly dry inland and turning cold under clear skies, with a touch of frost likely to develop, but coastal showers likely too.
Friday
Winds turning northerly on Friday, as low pressure moves away across the North Sea and Low Countries. The wind strong and gusty, with gales possible near North Sea coasts, making for a chilly day for all. The wind will blow south showers too, particularly across eastern England, Wales, SW England. Showers heaviest and most frequent across eastern England by the afternoon, where they may merge into longer spells of rain. Fewer showers elsewhere, with sunny spells. Temperatures reaching 10-14C at best generally, maybe 15C in the southwest.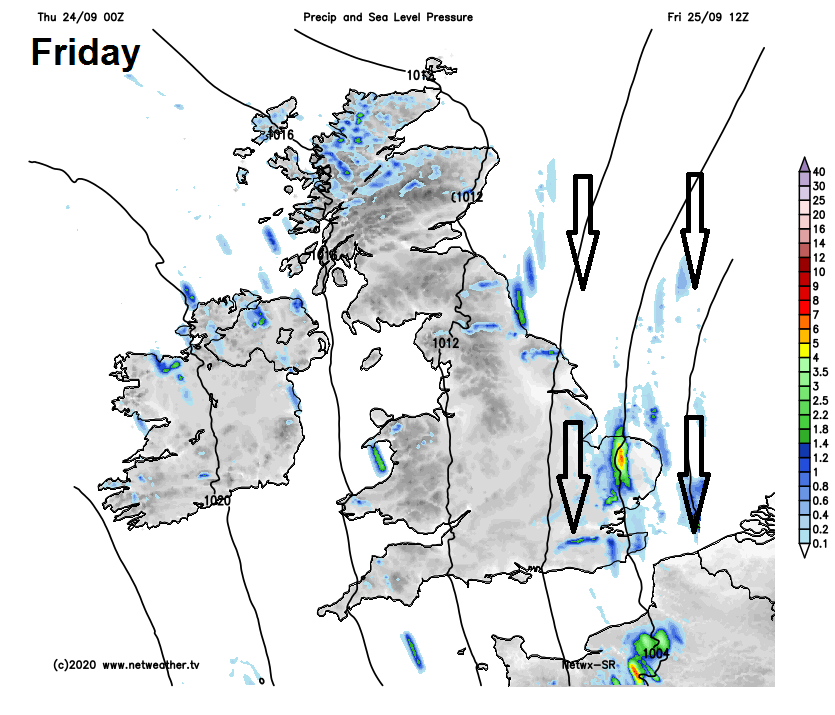 Weekend
Remaining on the cool side over the weekend, with temperatures reaching 11-14C at best generally. But with a ridge of high pressure building in from the west, it's looking to be largely dry with sunshine for many and lighter winds. The exception will be some showers for a time across the far SW of England and also eastern counties of England on Saturday, where a strong northerly wind will continue blowing in further showers, these easing on Sunday, but perhaps remaining windy and cloudy here on Sunday. Cold early Saturday and Sunday mornings, with temperatures in low single figures widely, a frost developing in rural northern and western areas.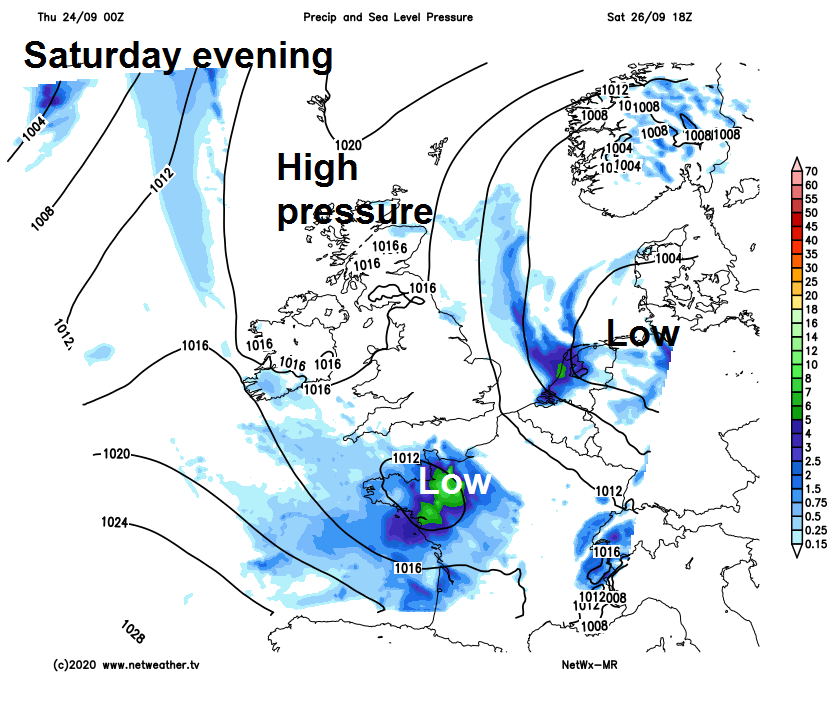 Next week
An occluded frontal system looks to bring cloud and a band of showery rain eastwards across all parts on Monday, perhaps not reaching SE England and East Anglia until late afternoon. Drier and brighter conditions following across northern and western areas in the afternoon, but with showers across the northwest. Another brief ridge of high pressure moving in for Tuesday looks to keep most dry and bright or sunny, though some showers possible for western coasts and hills.
Turning increasingly unsettled from mid-week, as the jet stream cranks up and brings in a succession of Atlantic systems, one frontal system looks to bring rain east for most on Wednesday, followed brighter but showery conditions. Then later in the week on Thursday and perhaps into Friday, a deepening low pressure system could bring wet and windy conditions across all parts, with gales in places.