Temperatures range from 12 or 13c in the north to the high teens for SE England. Quite a contrast either side of the front. Outbreaks of rain continue particularly from the Peak District across NE England. Clusters of heavier showers feed eastwards over southern Britain, funnelling along the Bristol Channel. For a time tonight, there will be clear skies, a spell of drier weather and the temperatures fall away into single figures. Still around 11 or 12C for southern counties of England.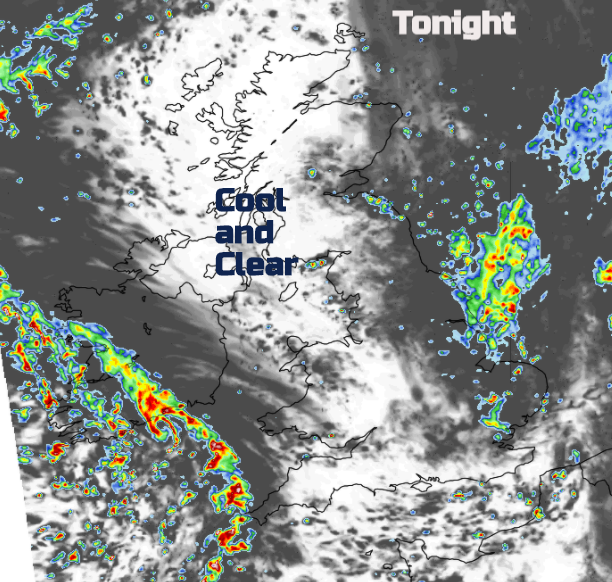 By Wednesday a deepening low will have appeared from the Atlantic, with early rain. Heavy bursts will have already moved over SW Britain with a band of rain over Northern Ireland, Wales and reaching into SE England, even NW England for Wednesday morning. This band pushes north into more of northern England and east into SE England and East Anglia followed by clusters of showers for SW Britain. Ahead of all of this will be a sunny but cool start for Scotland and depending on how the rain band pivots, also Co Tyrone and Derry. As the low centre moves over the far south of Ireland towards Cornwall there will be westerly gales veering to the NW. Southeast England will have a moderate SE wind by lunchtime, the Central Belt of Scotland seeing a brisk easterly and bands of heavy showers continue to swirl about.
By Thursday evening, the low centre will be moving eastwards through the English Channel still with strong winds and heavy showers, but it leaves behind a colder northerly flow. Showers feed down for a time in the usual exposed areas.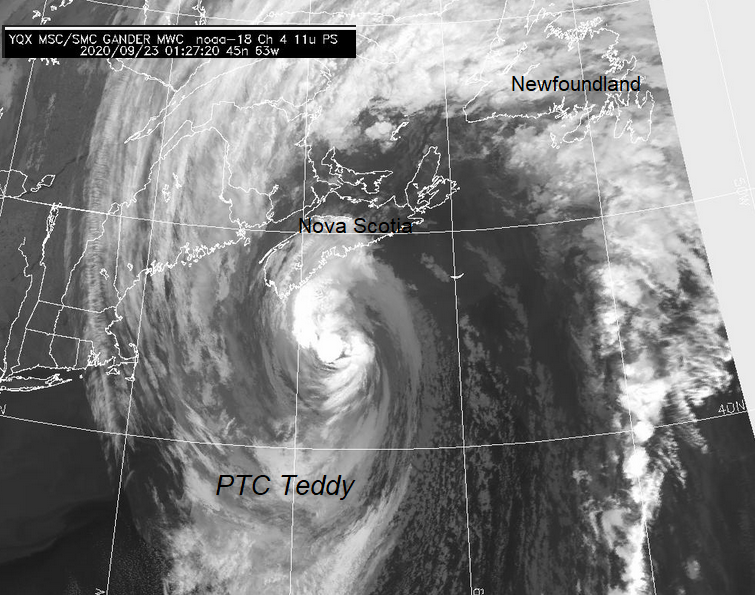 By Friday you will be noticing the wind. A fresh chilly north to NW wind. It does ease off slowly during Friday evening but before 10pm it will feel cold, you'll need a coat and hat. The low pressure pulls away towards Denmark and although there will be some wet weather at times for western areas, overall, there will be a lot of fine weather this coming weekend.
Eastern Canada has been feeling the effects of what was Hurricane Teddy already this week. Landfall is forecast for Post-Tropical Cyclone (PTC) Teddy over Nova Scotia this morning bringing destructive waves, a storm surge, lashing rain and tropical storm force winds.