Today marks the Autumn Equinox, when the sun passes the equator moving from the northern to southern hemisphere, with the start of the astronomical autumn. The weather is also changing from summer to autumn after today. It's been rather dry and warm by day for much of the month so far, particularly across southern areas. But that's all set to change, as the jet stream that's been well to the north of Britain sinks south and introduces unsettled conditions with showers or longer spells of rain along with windier conditions. Over the other side of the pond, after skirting east of Bermuda yesterday, Hurricane Teddy is forecast to barrel into Atlantic Canada mid-week. This storm will pull north a ridge of high pressure across the Atlantic, which will buckle the jet stream, which in turn will pull down a much colder polar maritime airmass across all of Britain from mid-week.
Today
For now, one more fine summer-like day for England and Wales before the weather takes a turn for the worse for the rest of the week. Perhaps some mist, fog and low cloud slow to clear this morning across parts of the Midlands and Wales, otherwise some decent spells of sunshine this morning. Scotland and N. Ireland cloudier and windier this morning, with outbreaks of rain across the far north and northwest of Scotland.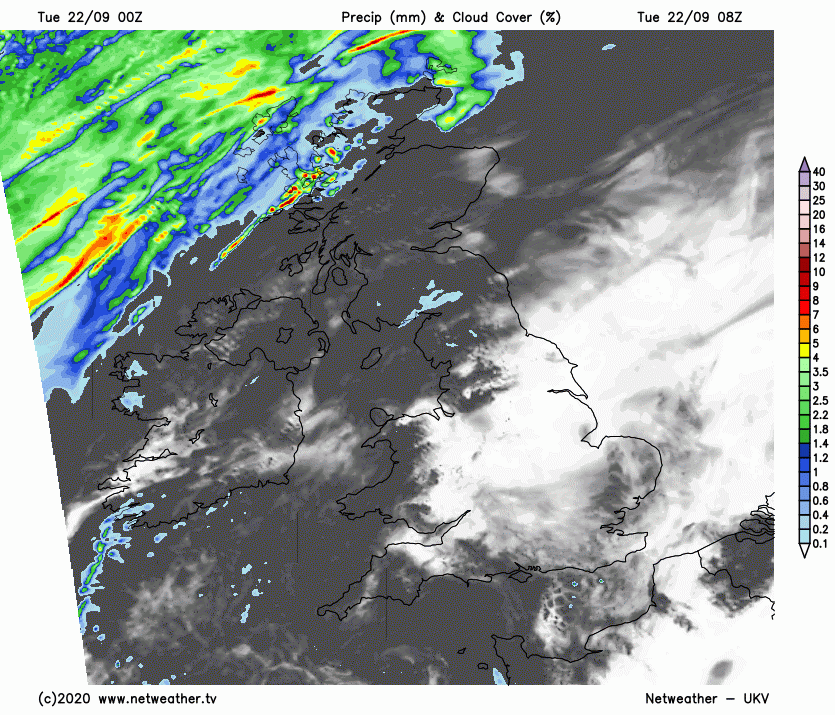 Sunshine will become confined to eastern England through the afternoon, as western and northern areas of England along with Wales join Scotland and N. Ireland to increasingly cloudier skies encroaching from the west, with patchy drizzle developing over western and northern hills. Meanwhile, rain will turn heavier across NW Scotland while spreading east across much of western Scotland and N. Ireland by the evening, then the rest of Scotland through the evening. Becoming quite windy across northern areas too, ahead of the cold front bringing rain in later.