Sunday was sunny for most of the country, bringing temperatures as high as 25.6c in southeast England, with many parts into the low-twenties. Today will see a lot more of the same, but a dramatic change is on the way as the weather becomes much less settled, and colder too.
That change is already underway in Scotland, where there's more in the way of cloud and rain is already lurking not too far to the northwest. It's not going to move incredibly quickly southeast, reaching just the fringes of northwest Scotland during the day today. Elsewhere, from southern Scotland southwards there's plenty more sunshine to be had - once any early mist and fog patches have burned off. In the sunnier areas, highs will again peak into the low, maybe mid-twenties.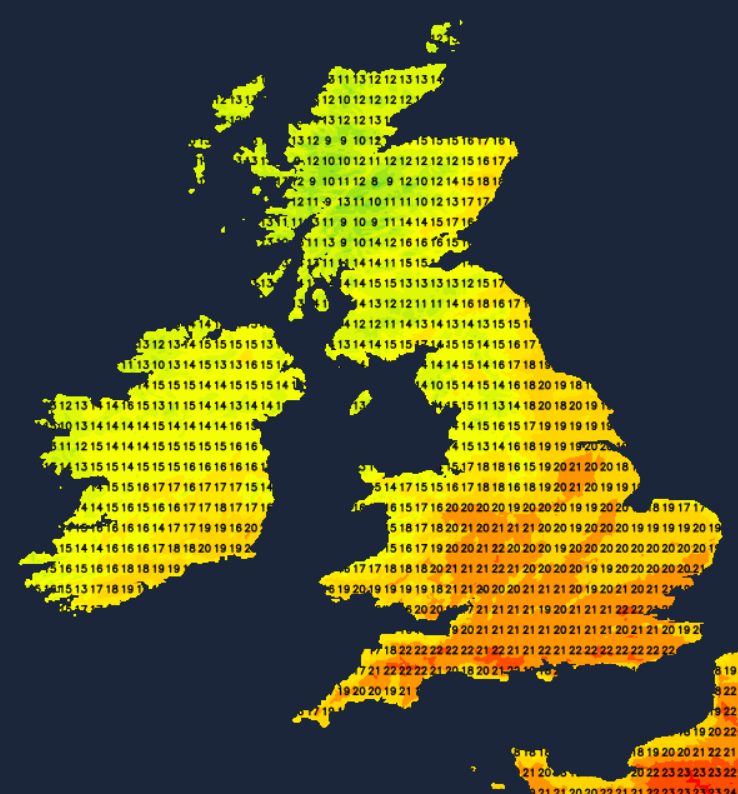 That band of rain in the northwest will struggle to make much, if any progress overnight, so Tuesday will begin in a very similar vein to today. Cloud will thicken from the northwest all the while, perhaps with some showers developing in the northwest of England and western Wales during the middle part of the day. The rain band will start to make a move through the day too, crossing further into Ireland and other western and central parts of Scotland before dark. For a good deal of the country though, Tuesday will bring a final fine and warm day, with highs again into the twenties in eastern and central regions.
The rain, which will tend to fragment, will carry on further southwest into England and Wales overnight. Behind it, clearer skies with some showers in the west. It'll be noticeably colder behind the front as well, with a touch of frost likely in parts of Northern Scotland. Frost overnight will become more widespread across the northern half of the UK during the second half of the week too, with some air-frosts likely.