It's been well documented that major changes are afoot, but for the meantime, it's much of the same. High pressure currently over Scotland will slip South and weaken, so after today we'll lose those gusty North East winds that have been plaguing central and southern parts. By Tuesday though, winds will be freshening this time from the South, bringing rain from the West by mid-week in weather more akin to autumn.
We have areas of cloud at the moment some of it quite low mostly over northern England, East Wales and the Midlands, but this'll break up to eventually leave a fine day with lots of sunshine. Low cloud and mist are also affecting parts of East Scotland, but this too will ultimately lift and clear leaving the bulk of the country with another fine, warm sunny afternoon. Although mostly dry like yesterday, almost anywhere across the Channel Islands, South West and the South coast as far East as the Isle of Wight could catch a locally quite sharp shower.
Once the early patchy fog has cleared, light winds over Scotland and Northern Ireland allow temperatures to reach 20 or 21C in the warmest spots, but 15 to 18C will be a more general figure. Elsewhere a North Easterly wind although somewhat lighter than yesterday will keep the East coast cooler, with top temperatures across England and Wales mostly in the range 19 to 23C, locally 24 or 25C towards the South East.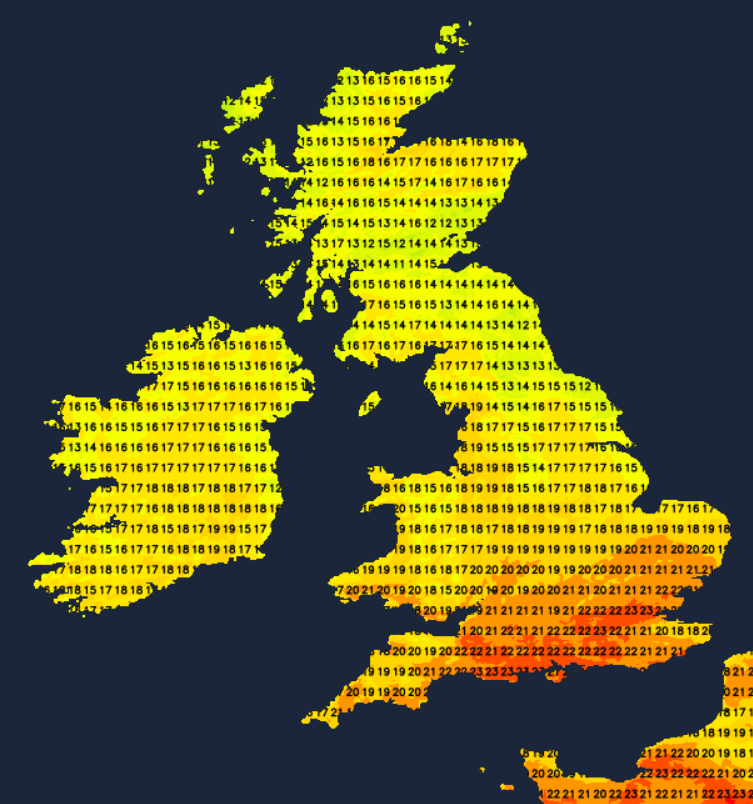 Any showers in the far South West will fade into the evening, leaving most parts dry overnight with clear spells in light winds. Mist and patchy fog will form in rural areas, with low cloud although less extensive returning on a North Easterly breeze to some eastern coastal counties mostly to the South of the Humber. A few rural valleys in the North could turn quite chilly by dawn with temperatures falling as low as 4 or 5C in the coldest spots, but 7 to 12C will be a more general minimum.