It had to happen at some point, and from Tuesday next week Autumn proper is going to arrive. The jet stream will be diving south, bringing low pressure systems right across the UK which means a change to much less settled and also cooler weather. For now though, the jet is still off to the north of us, with high pressure running the show, which means plenty more in the way of fine, dry and pleasantly warm conditions.
We still have the easterly winds blowing across much of the country as we start the weekend, with only the northern half of Scotland escaping them. They're being helped by low pressure to the south of the British Isles, which is also going to feed some showers north into the Channel Islands during Saturday. A few of these are liable to make it up into southwest and perhaps central southern England as well - they'll be few and far between, but could be heavy and thundery as they pass through.
Elsewhere though, it's fine, and where you can get some shelter from that wind, it'll feel plenty warm enough, with highs into the high-teens or low-twenties. Some eastern counties will tend to struggle though, not just because of the wind off the North Sea, but because of some low cloud moving inland at times. Where you catch that, 12-14c will be about the your lot.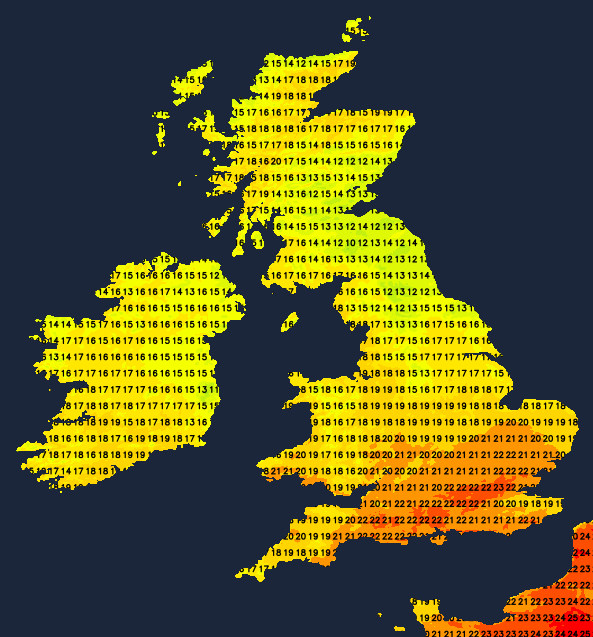 A fresh, if not chilly night follows, then Sunday dawns with plenty of sunshine once any misty patches have burned off. The winds will still be quite strong across the southern half of the country but will be beginning to ease down from the north but the pay-off for that will be some extra cloud across a good part of Scotland. England and Wales and the southwest of Scotland will keep the sunshine coming though, with just the outside risk of a shower or two in the far southwest. Temperatures will be about on a par with Saturday, with southern and central parts enjoying the warmest maxes of 22-24c.