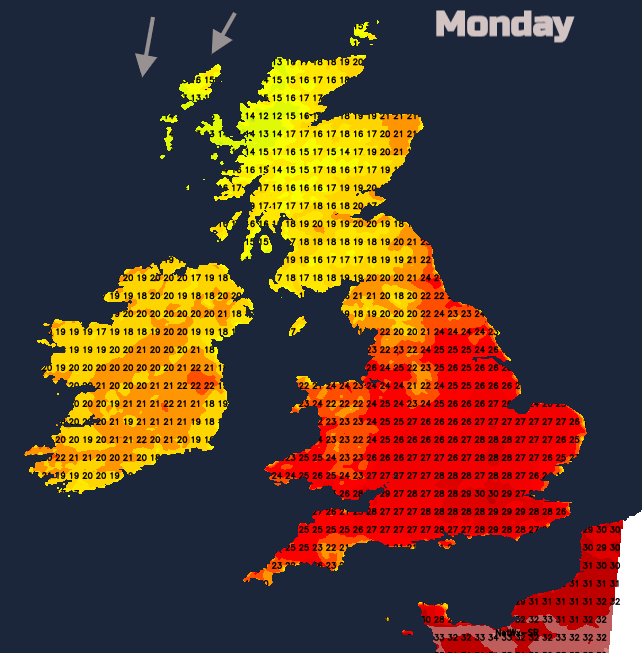 Northern Ireland up to 21C, Scotland high teens, low 20sC with Aberdeen seeing 21C. Manchester and Leeds up to 25C, Birmingham, Cardiff and Ipswich 26C this afternoon. Winchester 28C and Greater London should see 30, possibly 31C today.
By this evening there will be a few showers even one or two sharp ones. Most places stay dry and have a warm, close night. Western Wales and NW England will really feel this not just SE England. Wet weather clips Northern Ireland and passes north over western Scotland. Not lingering as it did this weekend but there could be a thundery burst within the heavier pulses and a few showers could reach SW England even Wales.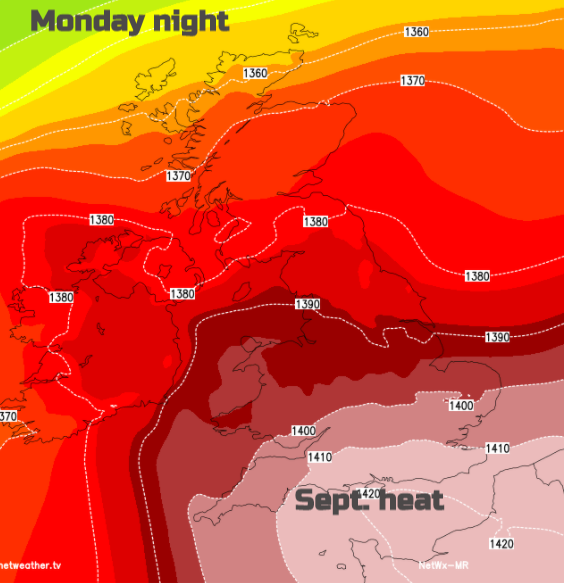 Tuesday
Another very warm and fine day for most of the UK. The rain will be over the far north of Scotland with medium cloud draped over all but eastern England. So not quite the glorious sunshine of today but still, bright with sunny spells and very warm even hot with hardly any breeze. Temperatures could reach 32C, it will depend on the cloud with will become patchy and break. There will be a few showers for northern Britain by Tuesday evening although most places stay dry and more cloud about, especially near the North Sea.
The warmth continues, particularly for the southern half of Britain. Lots of dry weather with high pressure nearby although Wednesday night looks nippy for Scotland.