The extreme heat is fading but still very warm with the risk of thunderstorms for southern Britain today and later in the weekend. 29.8c in Porthmadog, Gwynedd yesterday, 29.6c in Essex ending the week-long spell of 30c+. This very hot run saw six days of 34C or over, and three days of 35c+ which doesn't happen very often.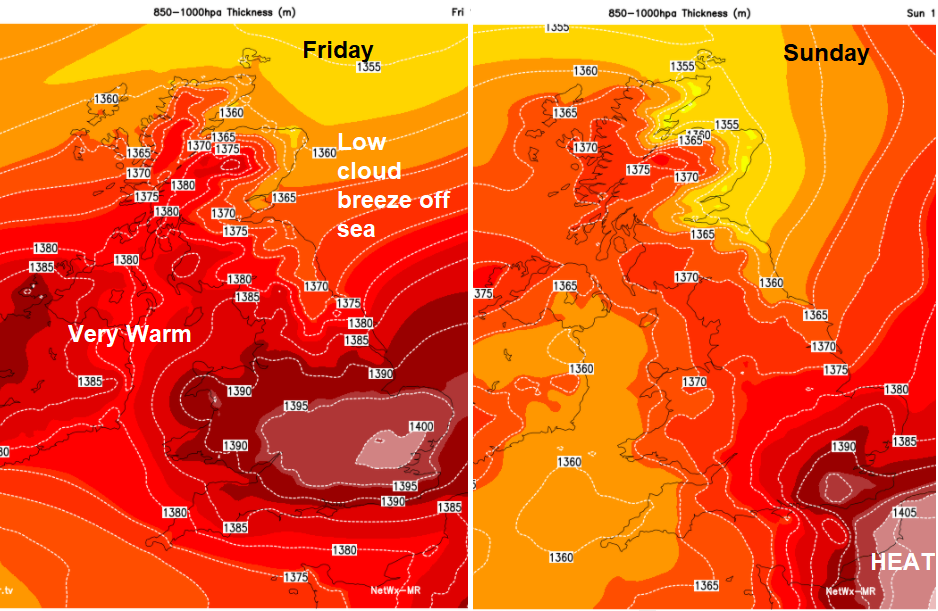 It won't be as hot in the coming days, so if it has all been too much, we've passed the peak of this remarkable event.
"Further heavy showers and thunderstorms are expected today for southern Britain and may lead to flooding again with the risk of travel disruption"
There is a lot of cloud about this morning, with SW Scotland, the Isle of Man and NW England seeing the best of the morning sunshine. Norfolk has already had thunder and lightning from one slow-moving line edging near to Norwich. So, for many, it will be a grey murky start, which improves in the west then inland but with a NE flow off the North Sea, the coasts of NE Britain will keep a cool, grey day. For the rest of the UK, it will be a warm, humid day, feeling very warm for north Midlands, into NW England and western Scotland. Temperatures for much of England and Wales will be in the 20sC. London, East Anglia, the Midlands could see 29C today. So still warm but not the heat of midweek. Most places will have very light winds. Just Yorkshire and Lincolnshire pick up more of a brisk NE breeze off the North Sea.