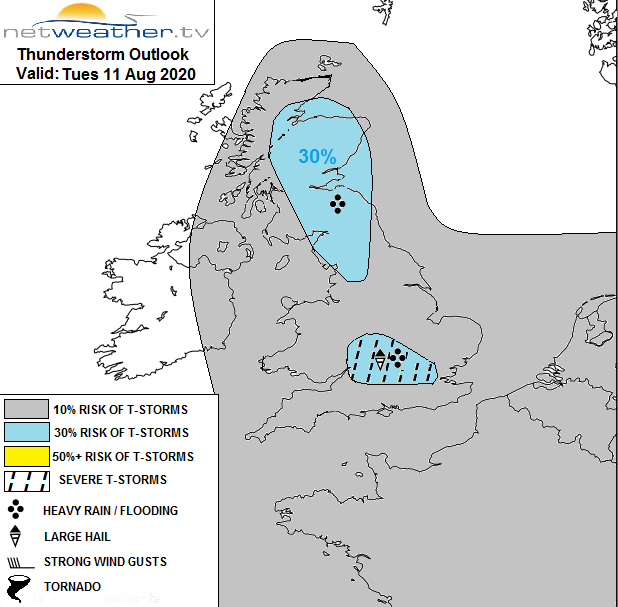 Already there are signs in SE England of increasing mid-level instability. Most parts of England and Wales won't see a storm but where they do appear, they will certainly cause an interruption to your day. Watching their progress on the Radar might aid your popping out for lunch or a break decision. If you are hoping for your garden to get a soaking or a refill for the water butt, these storms remain hit and miss over the next few days.
There will also be cloud associated with these developments which could influence the surge in air temperature values. There is low cloud and murk about to start the day as well as the long trail of cloud and showers extending right down through Britain. In between, there are sunny spells as the heat continues.
There are signs that eastern or NE Scotland into Orkney will keep a cluster of storms tonight. As on each day this week, the details of location and timing for these downpours needs some leeway. You might be seeing the output from a weather app chopping and changing as the models struggle to grasp the fine detail of these individual storms.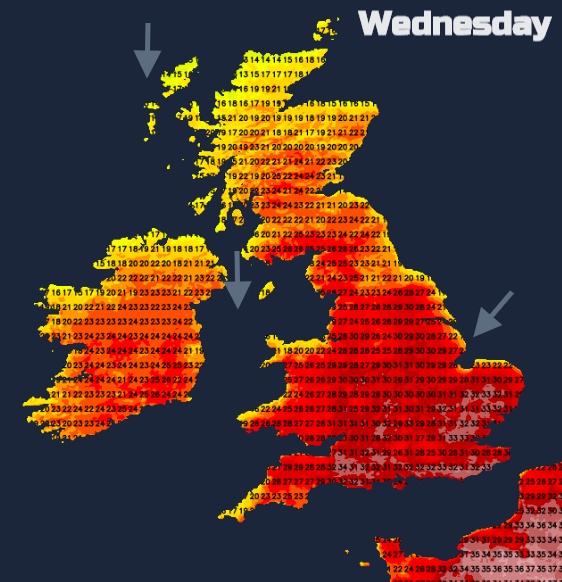 Wednesday will see a NE breeze off the North Sea bringing low cloud, haar and fret. There will be low cloud around Irish Sea coasts, Cardigan Bay, through the North Channel and for more of Scotland but most dissolves away (struggling for NE Britain costs and Grampian). Again storms break out in the sunshine over England, Wales and southern Scotland but later in the day more energetic convective action is forecast over SW Britain and southern England which extends to more of England and Wales on Thursday, perhaps southern Scotland, but Northern Ireland continues with a relatively charmed spell, missing most of the downpours. Southern Ireland joins the severe thunderstorm risk on Thursday too.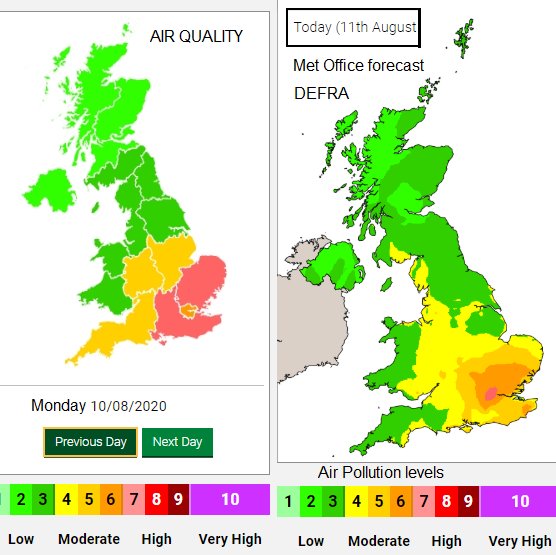 Air pollution levels will be moderate with "Locally High levels possible in the SE of England" DEFRA . High Ozone levels have been recorded recently, forming in bright sunlight. There is hardly any breeze today, with high pressure away to the south we have stagnating air and the pollution is building. The humidity will fade in the north by Thursday and the heat should ease at the weekend further south.