Here we go then, after a week of talking about the heat, it arrives today. 35-37c is likely in the southeast today, with highs peaking well into the mid-thirties each day through the weekend and right into next week.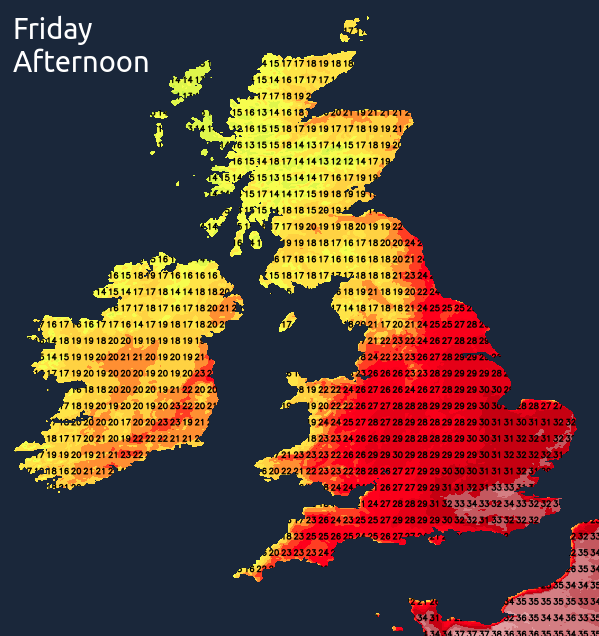 Not everyone will see that level of heat, with the highest temperatures reserved for those in the south and southeast. Still, even so, many other parts will be very warm or hot, but it will cool off with temperatures nearer to average the further northwest you are.
Thunderstorm Risk
The hot weather won't come without complications. High pressure will be a strong influence on our weather throughout, so there'll be plenty of sunshine on offer. But the high won't be directly overhead, with lower pressure not too far away over the continent. That'll allow the atmosphere to de-stabilise at times, with cloud often bubbling during the heat of the day, allowing for some sharp showers and thunderstorms to develop. Initially, as we end this week and move through the weekend they're likely to be isolated and infrequent, but as we move into next week, the risk will increase.
The next few days
Today, we have some rain affecting parts of Ireland and Western Scotland, which will come and go through the day, with some of it moving further east into other parts of Northern Scotland later on. Elsewhere, there'll be plenty of sunshine to start, but the cloud will tend to bubble up, with just the odd shower possible in central and southern regions of England.