A fading warm front is bringing more cloud, even a little light rain to southern England this morning. This dampness and the grey skies fade for most, more reluctant to clear for the south coast of Devon and Cornwall. There will be a light southerly breeze for Britain with more of a breeze through the North Channel and over Northern Ireland. It will feel warm everywhere with temperatures in the 20sC, 30C for London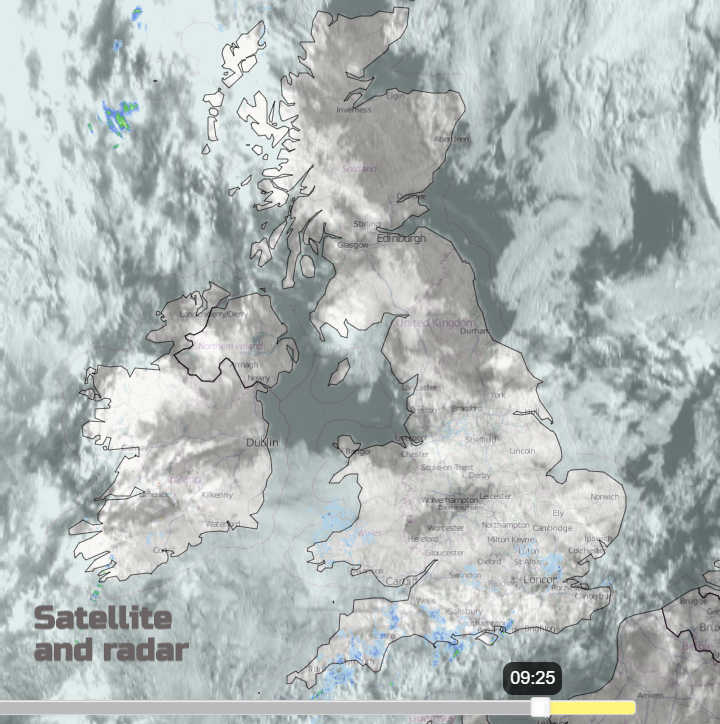 It has finally stopped raining further north. There has been flooding and disruptive landslides in Scotland from the ongoing rain midweek. It looks dry today but there will be an approaching frontal band on Friday which brings pulses of showery rain even thunderstorms to western Scotland, and later Northern Ireland as it comes up against Friday's heat.
It stays warm overnight, particularly in the capital. On Friday for most of the UK, it will be a warm, sunny day, very hot in the SE with hardly any breeze. Friday will see the highest temperatures of this heat episode. There will be more cloud for Northern Ireland and western Scotland with showers for Co. Fermanagh, Co Tyrone and Skye in the morning. Later in the afternoon, the band moves eastwards over Northern Ireland, still affecting the west coast of Scotland and there will be the risk of thunderstorms by the evening for a few other parts of Scotland. There could be an isolated shower breaking out over inland England by Friday evening. Unlikely in any given spot but could give a sprinkle of rain, it would be from medium level cloud with drier air underneath so shouldn't spoil any end of week plans
Another sultry night in the southeast. Real summer heat.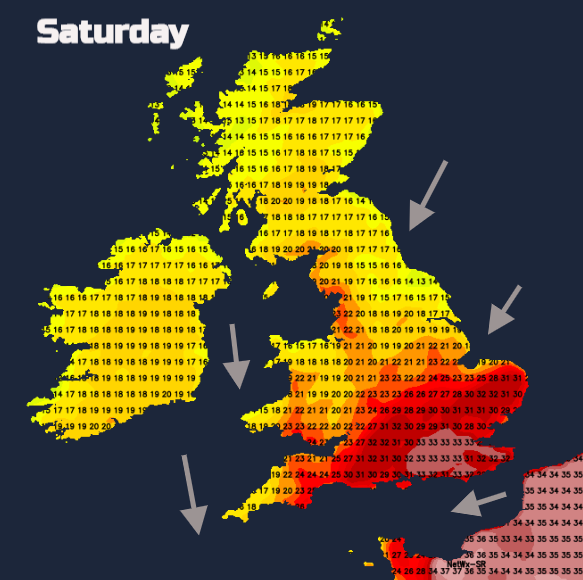 Overall, there will be a lot of fine, often sunny weather this weekend, with heat continuing for SE Britain, but flowing into more of England and Wales at times and lasting for SE England and eastern England into next week. There will be occasional showers, briefly interrupting the fine weather, not many though. Both days look breezy for England and Wales with scattered showers beginning to break out on Sunday night, if you are off camping this week.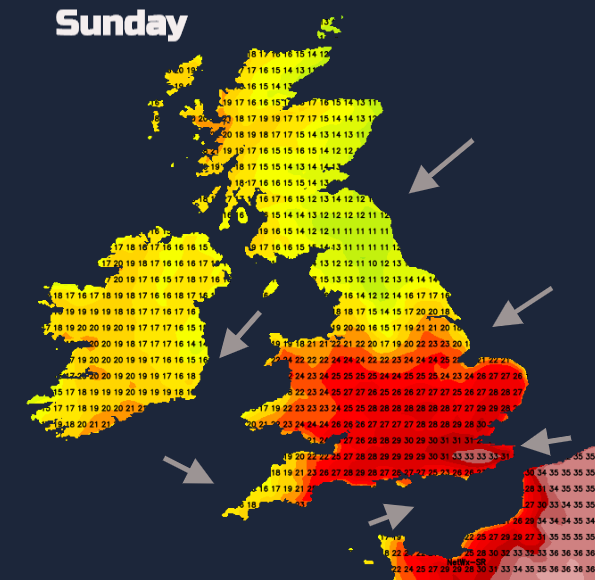 The threat of heavy thundery downpours increases through Monday and Tuesday. As always with showers, some places miss them, others see rain. Your weather app may have several shower or thunderstorm symbols but don't take the amount or timings too literally at the moment. It could be you miss them all. It's just a risk to keep in mind. Enjoy or survive the heat over the next few days, this is summer, it will soon be gone those nights are fair drawing in.