A waving front is giving showery rain today, affecting northern England, North Wales and the North Midlands. It'll then move North into southern and central Scotland later. Further North still it's brighter with some sunshine towards Aberdeen and around the Moray Firth, but Highland and the Northern Isles, in particular, will see a few showers. Showers over the North Midlands will soon clear, before further showery rain some heavy moves into Northern Ireland, Wales, the West and the West Midlands. Across the East and South cloud amounts vary but it'll be mainly dry here with sunny intervals, these mostly over East Anglia, the South East and towards the East coast.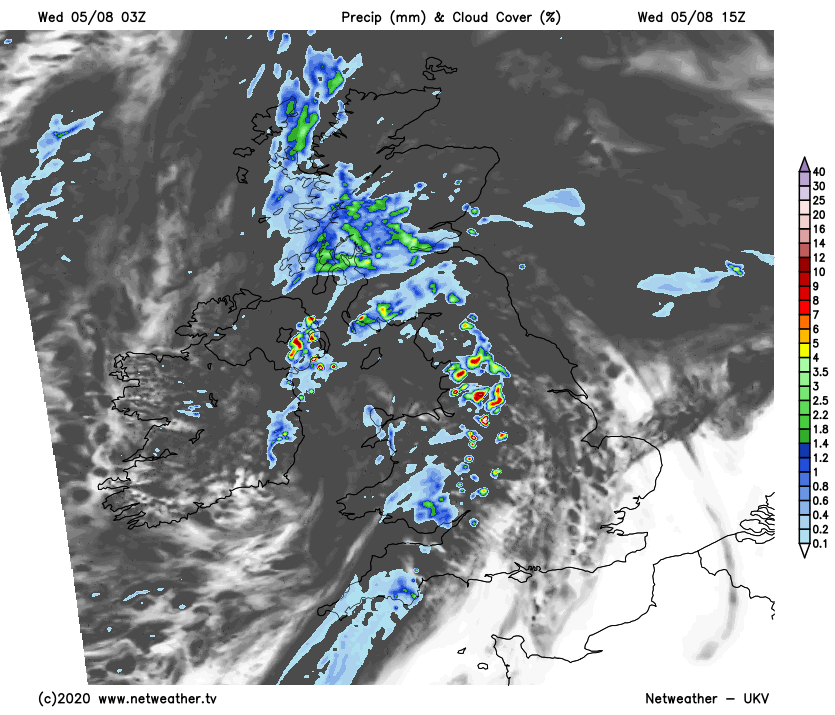 In a humid day, it becomes very warm in the East and South East, with top temperatures between 24 and 26C. Elsewhere it'll be somewhat cooler in a mostly moderate or fresh South to South West wind, with temperatures up to 20 to 22C fairly generally and 15 to 19C in the far North and across Northern Ireland.
The East and South-East have a warm, summery evening, with variable amounts of cloud giving the odd shower, but most parts here stay dry after dark. Elsewhere there'll be a lot of cloud into the evening giving some showers before clearer conditions move into more western areas during the night. The South Westerly wind continues to bring humid air to the East and South where temperatures fall no lower than 15 to 17C, with a slightly fresher 12 to 14C more likely elsewhere.
Thursday sees a fresh southerly wind bringing further patchy rain or showers to the North and West of Scotland and Northern Ireland. Top temperatures here 15 to 18C, but 20 to 22C over Armagh and Down where it'll be brighter. While the odd shower is possible, England, Wales and South East Scotland are mainly dry, but still with variable cloud. It'll be humid and become very warm, especially where you see some sunshine in a mostly light South or South Easterly breeze. Maximum temperatures across the East and South 25 to 28C, with 22 to 24C more likely elsewhere.