The frontal rain will be over Scotland, northern England particularly Cumbria and the Pennines by Tuesday morning, heaviest for the west coast but taking its time to reach NE Scotland and over Orkney by mid-afternoon. Rain will continue for Northern Ireland mainly in the northwest and over other counties and more of northern Britain, including north and west Wales, there will be cloud and dampness with blustery winds. If breaks appear in the northeast, it will feel warm in any sunny spells. For much of England and Wales, it will feel a bit warmer than today and in a light SW breeze with sunshine, it will be a pleasant day. Further north it will be a blustery day with gusts up to 50mph for coasts and hills. All the leaves on the trees in summer make it seem more windy. Lunchtime into the afternoon looks windiest for west coast Scotland around Northern Irish coasts, North Channel into the Irish Sea.
Later in the day, the frontal band moves south with heavy rain in the evening for southern Scotland and Northern Ireland with brisk winds. That rain reaches northern England, Manchester and Gwynedd by the evening with strong winds for Anglesey.
However, the frontal band seems reluctant to just clear across the UK, so further waves and pulses are likely through midweek. Don't put too much weight onto rain timings on a weather app because they could alter by a few hours.
Southeast Britain stays fair and sheltered into Wednesday but there will be a lot of cloud and further outbreaks of rain with blustery winds for western areas. The winds do ease down for northern Scotland on Wednesday but there are concerns about the amount of rainfall over some hills for NW Britain and Northern Ireland. Meanwhile, the temperatures begin to rise for southeast England and East Anglia into the high 20sC.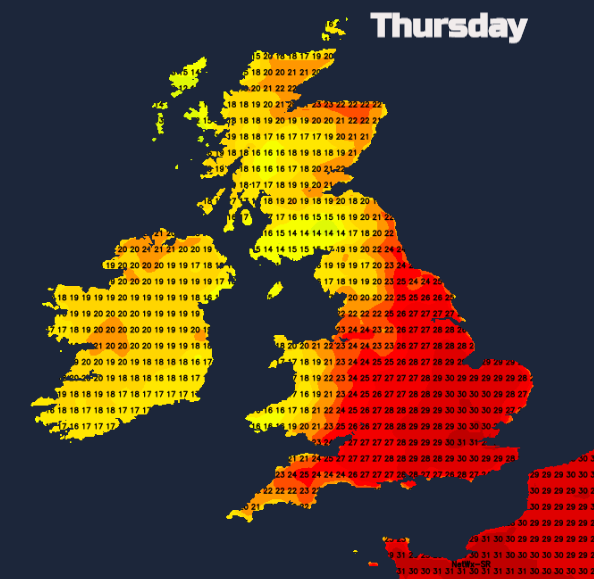 By Thursday there still could be cloud and drizzle lingering thought the Irish Sea, over Northern Ireland and western Scotland but to the east of this in a more southerly flow the heat arrives. Heatwave conditions are declared with three days over locally defined threshold temperatures. This does look likely for the end of this week. Another 38C is possible as the temperatures build throughout the UK on Friday and last in the south on Saturday.