Another traditional seaside resort. There are three piers and at the end of the "Golden Mile" lies the famous South Pier. Blackpool's South Beach itself offers a wide expanse of sand which is generally quieter than the beaches further up The Golden Mile. Along the promenade are a series of sculptures and other installations and it has a Blue Flag Award. Just south of South Pier, behind the promenade, is Blackpool's Pleasure Beach - not a beach at all but a giant amusement park. It is open but with a booking system in place.
SSTs Sea Surface Temperatures UK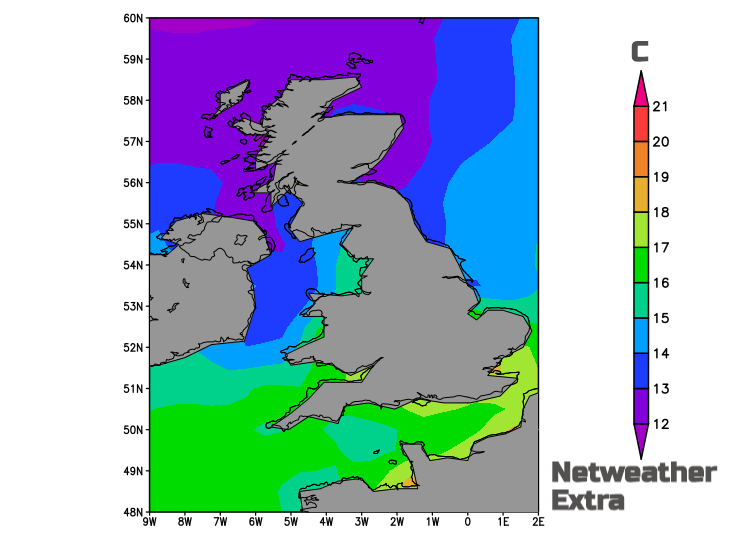 Around the coasts of Northern Ireland and Scotland, the SSTs are 12-14C. Wales varies from 13C around Anglesey to 16 or 17C for south Wales and for Weston Super Mare. Along the North Sea coast, NE and eastern England waters are cool at 13 to 16C then around East Anglian coasts and for southern England 16 to 18C. There is a lag in response times for sea temperatures with the highest coming in September, later than near the longest day in June or when highest air temperatures are seen in July or August here in the UK. Around the coasts of southern Britain it can reach 20C so if you are thinking about sea swimming we are coming up to the best time to give it a go, do not wait until early spring.
Brighton, East Sussex - After an unsettled, blustery start to the week things settle down midweek with sunshine and warmth. By Friday with light SE winds and glorious sunshine temperatures will reach 26 or 27C. Still warm at the weekend with sunny spells but not as hot as on Friday.
A shingle and sand beach right at the centre of one of Britain's most famous and popular seaside resorts. Attractions include the recently refurbished pier, funfairs, arcades, cafes, shops and a host of other attractions. You might want to just relax on a deckchair or walk along to the Royal Pavilion or through The Lanes. The local council do ask that people find less crowded areas if the beach closest to the city centre is busy and there are stewards to help.
Newcastle, Co. Down - A good deal of fine weather this week with sunshine and temperatures in the mid to high teens. However, Thursday looks wet and windy as a warm front moves by. Friday will feel warmer with sunshine and a light southerly breeze, into the high teens once more. The weekend weather looks okay but with rain by Sunday evening.
The main part of Newcastle Beach is backed by a promenade and the seaside town of Newcastle, which has lots of shops, amusements and other attractions. The mixed sand and pebble beach has a very gentle slope with the Mountains of Mourne in the background. Murlough National Nature Reserve can be reached by walking in a northerly direction along the dunes. Newcastle beach is also popular for swimming, sunbathing and a walk along the prom.
By Friday the UV values will be high to very high for many parts of the UK so do remember your sunscreen, hat and shades. Scotland has a Bank Holiday Monday coming up on the 3rd but its a bit far ahead for weather detail at the moment. The start of August does look cooler again across the UK.