Finally, we have high pressure in charge of the UK's weather this weekend, settling things down and allowing temperatures to climb up into the twenties for some at least. It's not going to be a long-lived change though, as into next week it will be squeezed south again, allowing some rain and showers to move in from the west - with the north and west of the country seeing the bulk of them. With the high still fairly nearby to the south of the country, it's here which will see the best of any settled weather, and at the moment it looks likely that the high will move north again by next weekend.
Today, with the high still building in from the southwest, some showers are affecting the north and east of the UK. But, they will become fewer and further between from the west through the day. For most, it'll be a dry day with sunny spells, although the cloud will tend to bubble a bit into the afternoon. It'll be warmest in the south where winds will be lightest, reaching into the low-twenties here. Head north of the midlands and the wind will be more noticeable, which'll help to keep temperatures a bit cooler, peaking at 15-18c.
A mostly dry but cool, if not chilly night follows with some mist patches likely in places by dawn. Sunday then starts with plenty of sunshine and lighter winds than Saturday in most parts. They will pick up again across the northern half of the UK though, especially the northwest. For the majority, the sunny spells will continue throughout with temperatures a few degrees up on Saturday's values. The warmest region will be the southeast with highs of 24-26, with 19-23c elsewhere.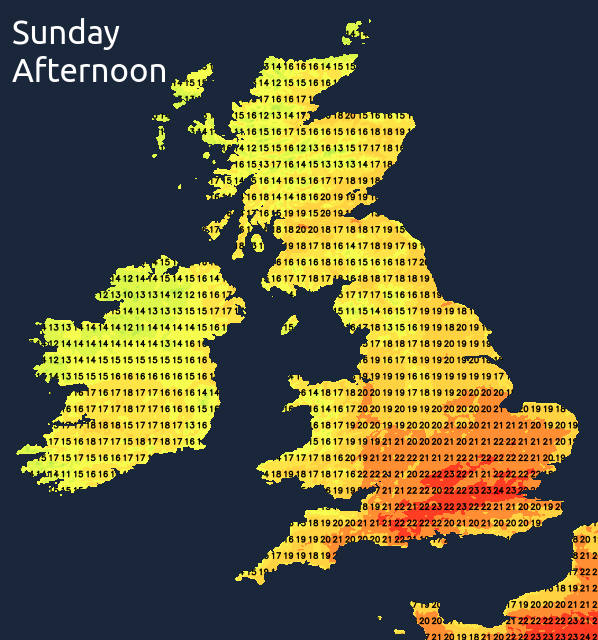 Cloud is going to thicken from the west across the north of the UK and Ireland during the day, with rain getting into western Ireland by lunchtime and the west of Scotland by late afternoon. So, a wet end to the weekend here, while much of the rest of the UK finishes up with lots more sunshine.