Through much of the lockdown during Spring we saw weeks of dry, warm and sunny weather with high pressure in control. But since the beginning of June and the first few days of July and the easing of lockdown in the summer so far, we've seen low pressure in control for much of the time, often bringing wet conditions. Today and much of the coming week continues this theme of low pressure in command. An unseasonably windy Sunday with heavy blustery showers across the north. Monday blustery again with further showers in the north and east. An area of low pressure moving across the UK looks to bring rain at times across most parts on Tuesday and Wednesday. However, for now, it does look an improving picture towards the end of the week, as high pressure builds in by Friday, bringing drier more settled conditions from the west.
Today
For now, a cold front clearing SE England this morning will clear away the cloudy and drizzly start here, replacing the cloudy and humid air that we had on Saturday and overnight with brighter skies and fresher feel from the west this morning in a strong westerly wind, which is gusting to 40-50mph across northern England. Most will see more sunshine on Sunday, but the strong westerly wind reaching gale force across northern England and southern Scotland, with a Met Office yellow warning until 4pm for wind gusting to 50-60mph, particularly to the east of the Pennines.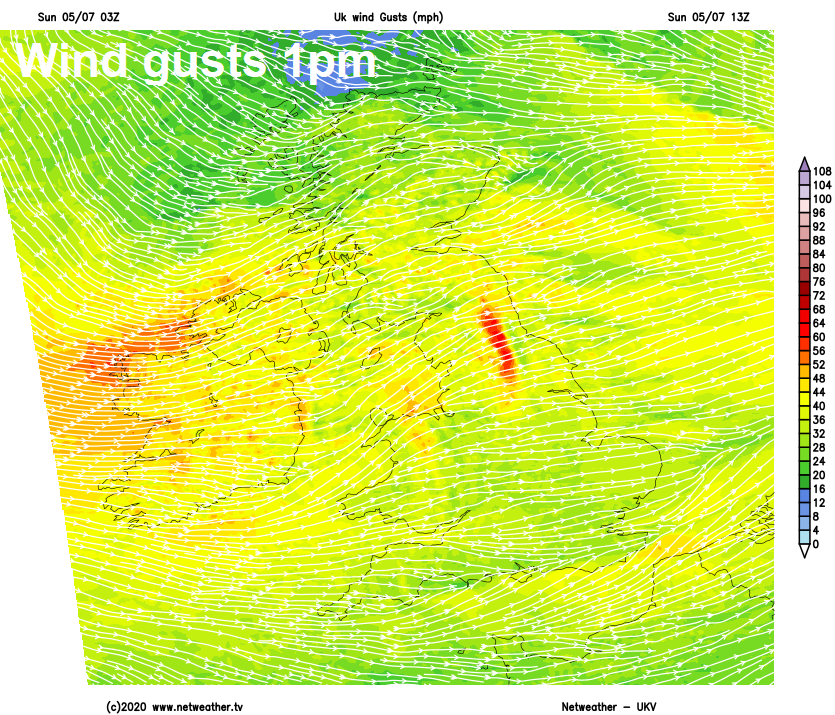 The strong wind will also blow in heavy blustery showers across Scotland, northern England, N. Ireland and north Wales through the day. However, central, southern and eastern England will stay mostly dry and sunny, with just the odd isolated shower. Feeling rather autumnal in the strong wind, particularly in the north where we'll see the showers. Temperatures reaching 14-17C at best across Scotland and N. Ireland, 16-19C generally across England and Wales, perhaps 21-23C for SE England and East Anglia.
Tonight
Gales across the north will gradually ease this evening, as low pressure moves away to the east, but remaining windy for many, winds turning northwesterly, blowing in further showers across the north and west. Central, southern and eastern areas mostly dry with clear spells overnight. A cooler night than of late.
Monday
A bright, cool, fresh and breezy Monday for all, the northwesterly wind will blow scattered showers southeast though the morning, before showers become confined to coastal areas of eastern England and far north and northwest of Scotland in the afternoon. Many places may stay dry for much of the day. Temperatures reaching 13-18C in the north, 18-20C in the south, bit disappointing for early July.