The weather's particularly important today, as it's the time when most of the pubs in England reopen. Although, with many of the lockdown restrictions still in force, enjoying a pint won't be the same, but at least it's a start. You may prefer to sit outside where it'll feel pleasant enough with warm, moist air over England, that's if you don't mind it breezy, or being interrupted by a shower or spit of rain in the wind.
Complex low pressure to the South of Iceland is feeding a conveyor belt of Atlantic fronts across the country that are currently straddling Northern Ireland and the North of England. These are giving a lot of cloud and patchy mostly light rain, at the moment the heaviest bursts of rain are in the West where we have mist and some hill and coastal fog. Most places keep a lot of cloud, but over East Scotland and to the lee of the Pennines and Welsh mountains where you'll have shelter from a stiff wind, skies will break in places to give some sunshine.
A South West wind will be fresh or strong, with gusts in excess of gale force in exposed areas. Despite this, it'll become warm even locally very warm where the sun comes through with 22 to 24C possible on a humid day. Where you keep cloud though 17 to 20C is more likely, with the far North of Scotland seeing a cooler 13 to 16C.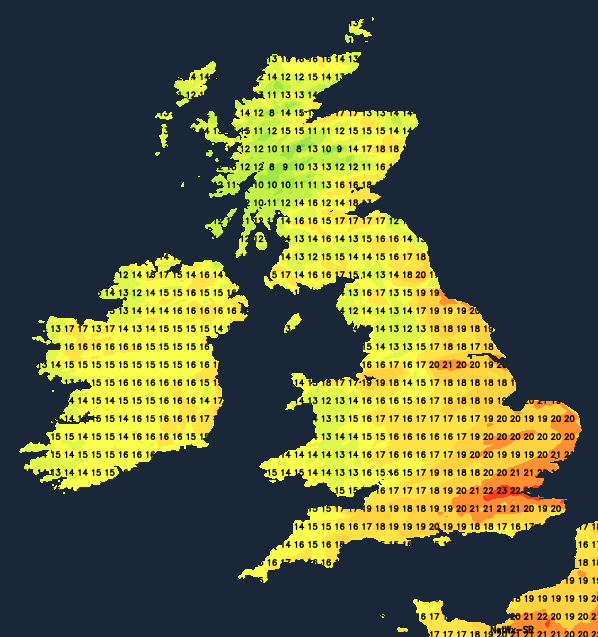 You'll see broken skies for a time in some eastern areas, into a humid but windy evening. Most places though see some rain overnight, as a small but active depression crosses Scotland. The rain will be heavy in the North and West, before Northern Ireland and West Scotland see a change to blustery showers before morning. It'll be unusually windy for July, with a strong to gale South West wind giving damaging gusts up to 60mph across parts of the North. It'll be a very mild night though over England and Wales where temperatures fall no lower than a humid 15 to 17C. Further North 9 to 13C is more likely, with a fresher feel across Northern Ireland and in the West by morning.